JAMES MORRISON (1789-1872)
FRANCES SANDERSON (1799-1859)
(Last Updated: August 17, 2015)
James MORRISON was born on July 12, 1789 in the Orkneys of Scotland (Kiekwall), son of Mary SMITH and John MORRISON (1754-1807).
In the service of the Hudson's Bay Company
James and Frances SANDERSON
1810
In 1810, according to his HBC Archives (HBCA) biography, James entered the service of the Hudson's Bay Company (HBC). The biography fails to give any details of his early career but other sources suggest that by about 1818 he was in a connubial relationship with Frances SANDERSON, allegedly the daughter of an Indian woman and David SANDERSON aka SAUNDERS, an HBC voyageur born around 1780. Son James Jr. was born around that time.
Union of the North West Company with the Hudson's Bay Company
Fort Albany
1821
In 1821 the North West Company (NWC) was absorbed by the HBC, ending the years of bitter rivalry for dominance of the fur trade in Western Canada. George SIMPSON (1786-1860) became the Governor of Rupert's Land.
At the time of the HBC-NWC union James was working as a blacksmith at Fort Albany. In the fall of 1821 daughter Elizabeth was born there.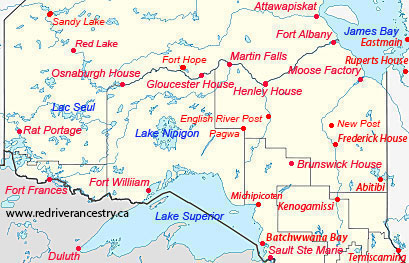 James resided at Fort Albany after 1821 for the rest of his life, working variously as a blacksmith, boat builder, mechanic and carpenter.
In 1840 Reverend George BARNLEY (1816-1867) arrived at Moose Factory and established the first permanent mission there for the Wesleyan Methodist Missionary Society (WMMS). It is said that BARNLEY performed 48 baptisms in four days at Moose Factory, 89 at Fort Albany in two days, 235 in a single day at Rupert's House and similar numbers at Fort George and that he allotted Christian memes to native people (i.e. Matthew, Mark, Luke and John). The European system of names was adopted to facilitate communication with Europeans. Howeve, a Cree was still known to his kinsmen by his nickname, and to Europeans by his adopted names.
On Jul 10, 1840 James formally married Frances SANDERSON at Moose Factory. Some of their children were baptized a few days later.
In 1841 eldest daughter Elizabeth married James PEEBLES in Albany, son of Mary (Indian) and James PEEBLES SR (1780-1840), a deceased HBC voyageur and mechanic who was born in the Orkneys.
** MORE ABOUT JAMES PEEBLES SR
All of their children were born at Albany Factory, the last being Peter, born in 1843.
In 1852 daughter Sophia married Benjamin SWEEZEY in Sudbury (ON), son of Jessie RANKIN and Aaron SWEEZEY (1810-1888).

Also in1852, daughter Margaret married Benjamin LINKLATER in Albany, son of Eleanor THOMAS and William LINKLATER (b-1802).
In 1855 youngest daughter Janet married Thomas TAYLOR of uncertain origins.
Around 1858 eldest son James married Mary TURNER at Moose Factory, probably a daughter of Emma GOOD and Joseph TURNER (1783-1865), an HBC interpreter at Moose. ** MORE ABOUT JOSEPH TURNER
On Aug 5, 1859 Frances (nee SANDERSON) MORRISON was buried at Fort Albany.
Around 1865 son John married Hannah STRUTHERS, daughter of Martha DEWEY and James STRUTHERS (1799-1829) from Quebec.
In 1868 youngest son Peter married Mary WIEGAND in Albany, daughter of Mary CORCORAN and Thomas WIEGAND (1798-1891).
In his Will dated Aug 18, 1870, James states "- - being satisfied that all my sons are in a way to provide for themselves - - and that my daughters are similarly situated except for my youngest, Jennett, the wife of Thomas TAYLOR - - all I may possess be given to her and her children."
On June 10, 1872 James MORRISON died at Fort Albany.
In Dec 30, 1874 son Andrew married Emily SWANSON at Moose Factory, daughter of Frances ROBINSON and William SWANSON (1794-1865).
Comments and queries at this link: FORUM DISCUSSING DESCENDANTS of JAMES MORRISON
========================== Family Details ==========================
Children:
1. 1818 JAMES MORRISON JR (m. Mary TURNER)
** MORE ABOUT JAMES MORRISON JR
2. Aug 18, 1821 ELIZABETH MORRISON (m. James PEEBLES)
3. Apr 29, 1829 JOHN MORRISON (m. Hannah STRUTHERS)
4. May 8, 1831 SOPHIA MORRISON (m. Benjamin SWEEZEY)
5. Mar 3, 1833 MARGARET MORRISON (m. Benjamin LINKLATER)
6. Sep 11, 1835 GEORGE MORRISON
7. Mar 11, 1837 JANET MORRISON (m. Thomas TAYLOR)
8. Nov 30, 1840 ANDREW MORRISON (m. Emily SWANSON)
9.  Mar 11, 1843 JOSEPH MORRISON
10. Sep 23, 1843 PETER MORRISON (m. Mary WIEGAND)