JAMES PEEBLES (1780-1840)
MARY INDIAN (1789-?)
NANCY ANN INDIAN (1801-1852)
(Last Updated: July 18, 2015)
James PEEBLES was born around 1780 in the Orkneys of Scotland, son of James PEEBLES SR.
Employed by the Hudson's Bay Company
Albany River District
1801
In 1801 James PEEBLES was hired by the Hudson's Bay Company (HBC). He began his career as a laborer and a mechanic in the Albany River District. He was based at Fort Albany on the west side of James Bay for his first 16 years.
** MORE ABOUT JAMES PEEBLES in HBC ARCHIVES
When James first arrived at Fort Albany the Chief Factor was John HODGSON (1763-1826).
** MORE ABOUT JOHN HODGSON
In 1810 HODGSON retired and was replaced by Thomas VINCENT (1751-1822).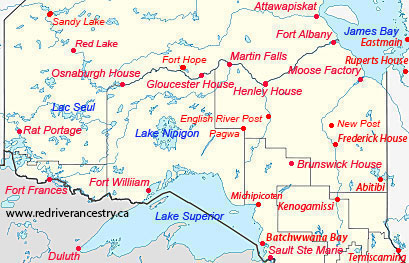 An Indian wife named Mary
1810
By about 1810James's had acquired an Indian wife named Mary. Their first two children were James Jr. and William, born about 1811 and 1812 respectively.
In 1817-18 James was at Wepinaibau, and from 1818 to 1821 he was at Red Lake, both posts located inland along the Albany River.
Union of the North West Company with the Hudson's Bay Company
1821
In 1821 the union of the North West Company (NWC) and the Hudson's Bay Company (HBC) occurred, ending the years of bitter rivalry for dominance of the fur trade in Western Canada.
In 1821-22: James was at Osnaburgh House.
From 1823 until he retired in 1836 James was based at Fort Albany itself.
A second Indian wife named Ann (Nancy)
It is uncertain what became of his first wife Mary, but we know that James had a second Indian wife named Ann or Nancy.by the time he retired.
Red River
1836
In 1836 James PEEBLES retired and settled in Red River (St Andrews Parish). On Nov 29 that year five of his children were baptized; John, Eleanor, Robert, Sophiaand Sutherland.
Around 1838 son William's wife in St Andrews Parish was an Indian woman named Nancy who died in 1841. William then remarried to Mary VINCENT, daughter of Jane RENTON and Thomas VINCENT (1776-1832) from England.
On Feb 15, 1840 the elder James PEEBLES died in Red River.
In 1841 eldest son James Jr. married Elizabeth MORRISON at Albany, daughter of Frances SANDERSON and James MORRISON (1789-1872) from the Orkneys. ** MORE ABOUT JAMES MORRISON
In 1842 Widow Ann (Nancy) PEEBLES remarried to John FIELDING, son of Half-breed Elizabeth COOK and Thomas FIEIDING (born 1770 in England).
In 1845 daughter Sophia married an Indian named William THOMAS of uncertain origins. In 1852 she married a second time to Nicholas SPENCE, son of Margaret TAUSAND (Cree) & Andrew SPENCE (1786-1851).
In 1849 son William, widowed a second time, re-married to Catherine HARCUS, daughter of Margaret RICHARDS and David HARCUS (1798-1845) from the Orkneys.
In 1850 daughter Eleanor (Ellen) married John LINKLATER, son of an Indian woman & John LINKLATER SR (1774-1799) from Scotland.    
Perhaps around 1850 son Robert married Margaret THOMAS, daughter of Eleanor THOMAS and Richard THOMAS (1800-1861). ** MORE ABOUT RICHARD THOMAS
In 1859 son James Jr., widowed, re-married to Isabella McKAY at the St Andrews Mission (Key Indian Reserve), the daughter of Mary BUNN and William McKAY (1793-1864). ** MORE ABOUT WILLIAM McKAY
Comments and queries at this link: FORUM DISCUSSING JAMES PEEBLES and his DESCENDANTS
============================ Family Details ============================
Children:
1. 1811 JAMES PEEBLES (m1. Elizabeth MORRISON, m2. Isabella McKAY)
2. May 12, 1812 WILLIAM PEEBLES (m1. Nancy INDIAN, m2. Mary VINCENT, m3. Catherine HARCUS)
3. 1826 SOPHIA PEEBLES (m1. William THOMAS, m2. Nicholas SPENCE)
4. 1830 ROBERT PEEBLES (m. Margaret THOMAS)
5. 1833 CHARLOTTE PEEBLES
6. Oct 9, 1835 ELEANOR (ELLEN) PEEBLES (m. John LINKLATER)
7. 1836 JOHN PEEBLES (Died in infancy, age 6)
8. SUTHERLAND PEEBLES