JOHN HODGSON (1763-1826)
CREE WOMAN (1783-?)
(Last Updated: January 27, 2017)
John HODGSON was born around 1763 in Westminster (London) England, a son of Ephraim HODGSON and a native of St Margaret's Parish. He was educated at the charity school Grey Coat Hospital in London.
** MORE ABOUT JOHN HODGSON in DCBO
** MORE ABOUT JOHN HODGSON in the HBC ARCHIVES
Recruited by the Hudson's Bay Company
1774
John entered the service of the HBC as an apprentice in 1774. He would only have been about 11 years old at that time. He sailed from the Thames on board the Company's ship Prince Rupert and arrived at Albany Factory via Moose in September that year.
The Company was beginning to establish posts inland in opposition to the Canadian free traders. It was thought that John's superior education in mathematics would prove useful in "making Observations and taking the Distance of Places and making Plans" when he should go on inland service.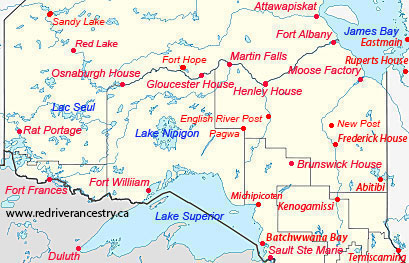 Early HBC Forts along the Albany River
He spent the winter of 1774-75 at Albany, and from the season 1775-76 until the end of the season 1777-78 he was employed at Henley House.
During 1778 John returned to Albany and remained there until 1781, being employed in writing and keeping accounts except for a brief period early in 1779 when he was sent inland to take observations at Henley and Gloucester Houses.
In 1780 John accompanied Philip TURNOR (1751-1799), the newly appointed surveyor of the Company, from Albany to Gloucester House and back. From TURNOR, John gained further experience at surveying and cartography.
Henley House
John's Cree Wife
1782-1793
From Apr 7, 1782 HODGSON was sent to Henley House as second in charge whilst John McNAB,(1755-1820) was  the post master, was absent at Albany.
Somewhere around 1783-85 John began a connubial relationship with a Cree Woman. He would have been in his early 20's by that time. His first child, James was born at Albany around that time.
With the beginning of the trading season 1786-87, John McNAB took charge of Albany and HODGSON succeeded him as Master Trader at Henley; for the next seven years (to 1794) he retained this position, only leaving his post to make brief visits to Albany.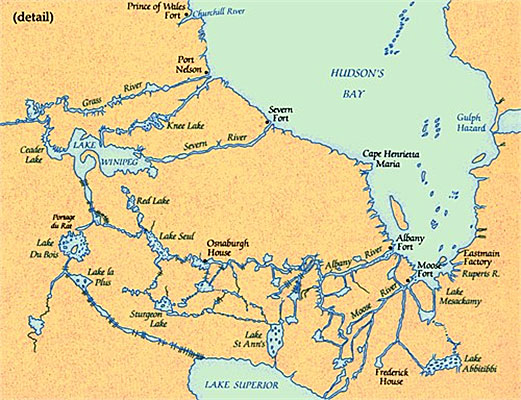 HODGSON Map, 1791 Redrawn
John HODGSON, a HBC trader at Fort Albany, based this map on information from his fellow traders.
For all the distortions of scale and relative location, the map shows the complexities of
trade routes leading to Lake Winnipeg in more detail than any of its predecessors.
At this date the area between the Albany and Severn Rivers was little explored.
Furlough to England
1793-94
HBCA: In the autumn of 1793 HODGSON sailed from Moose Factory to England on the Company's Ship King George. He took his eldest son, James (about eight years old) with him, leaving him there to be educated. The following summer John returned to Hudson Bay on the same ship.
During the winter of 1794-95 John established Ernest House at Martin Falls on the Albany River.
HBCA: In February of 1795 John was obliged to leave for Albany, where his services were needed owing to the death of John KIPLING, (1724-1794) the seconds, in the previous November. HODGSON remained at Albany until the summer of 1796 when he returned to the charge of the post at Martin fall and retained this position.
Post Master and Chief Factor at Albany
1800-1810
In 1800 John became the Post Mater at Albany, succeeding John McNAB. That year his eldest son James arrived from England (where he was educated), having been appointed as an Assistant Writer and Trader at Albany, under his father's supervision.
In 1801 Englishman Robert GOODWIN (1761-1805) was appointed as second in command at Albany, at which time his teen-age half-breed daughter, Caroline GOODWIN began a connubial relationship with John's eldest son, James HODGSON. ** MORE ABOUT ROBERT GOODWIN
By a commission dated May 25, 1803, HODGSON was appointed Chief Factor of Albany, succeeding John McNAB. He remained in this capacity until the autumn of 1807, when he left for England on the King George. Apparently son Tom (about 24 years old) went with him.
In the summer of 1808 he (and son Tom) returned to Hudson Bay on the Prince of Wales and resumed his former charge. Soon after his arrival, son Tom began a connubial relationship with Ann Nancy THOMAS, daughter of Margaret (Cree) and John THOMAS (1751-1822). ** MORE ABOUT JOHN THOMAS
In the summer of 1810 John received intimation from the Governor and Committee that his services would no longer be required. His dismissal was due to his mismanagement at Albany and to the reorganization which had recently taken place within the Company. He has instructed to hand over his charge to Thomas VINCENT (1776-1832).
HODGSON retires to the Ottawa Valley
1810
In August of 1810, John HODGSON, accompanied by most of his family, left Albany to settle in the Ottawa Valley.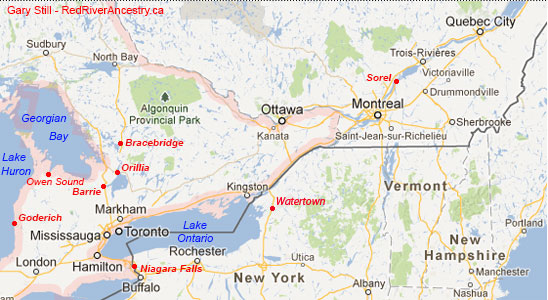 Lac des Chats is northeast of Montreal
John later purchased a farm and settled in the vicinity of the Lac des Chats on the Ottawa River. On May 27, 1815, Colin ROBERTSON made the following entry in his Diary: "…saw Mr. HUDSON & family late of the Hudson's Bay Company. He received us as well as the situation he was placed in would permit, passed some high encomiums on his former employers, and seemed happy at seeing them take active measures to regain their commerce, there appeared to be very little difference in his mode of Life from that of the Indians. One room served him for dining room, bedchamber & kitchen, - he talked upon a grand scale – his boundaries were the Atlantic and Pacific oceans- the produce of the lands, between those great seas, must pass through the Hudson's Bay C Territories, he was very eloquent on this subject, but in the middle of his harangue a large Pig entered the room which cut the thread of his discourse. Just as I was about to leave Mr. H. he informed me that he was many years Gov. of Albany, but really I think the upper works of his Excellency is a little deranged."
In 1815 daughter Ann married Englishman John DAVIS (1785-1824) an HBC Master Trader at Osnaburgh House, far inland along the Albany River. In 1824 John DAVIS died by drowning.
Around 1817 son Thomas married at second time to Angelique (a Salteaux Indian), probably in the Ottawa Valley.
In 1826 John HODGSON died at Lac des Chats.
In 1827 son John Jr. married Charlotte YORKSTON in St Andrews Parish, Red River., said to be the child of an Indian woman and a William YORKSTON from Scotland.
Thanks to the research done by Erin Million, it seems that in 1829 daughter Ann, then a widow, had an illicit affair with Widower Nicol FINLAYSON (1794-1877), an HBC clerk who was born in Scotland. Soon after his affair with Ann HODGSON, FINLAYSON re-married to Betsy KENNEDY (more about all this at the links provided below).
Information about the rest of John HODGSON's children (their marriages, etc.) is difficult to determine. There might well be errors in the list below, most of which came from unsourced family trees on Ancestry.ca.
Comments and queries at this link: FORUM DISCUSSING the JOHN HODGSON FAMILY
=========================== Family Details ===========================
Children:
1. 1785 JAMES HODGSON (m. Caroline GOODWIN)
2. 1789 THOMAS HODGSON (m1. Anne (Nancy) THOMAS, m2. Angelique)
3. c1790 ANN (NANCY) HODGSON (m1. John DAVIS; m2. Nicol FINLAYSON)
** MORE ABOUT JOHN DAVIS
** MORE ABOUT NICOL FINLAYSON
4. 1795 JOHN HODGSON (m. Charlotte YORKSTON)
5. 1797 GEORGE HODGSON (m. Maria UNKNOWN)
6. 1799 JOSEPH HODGSON (m. Domitille LAVOIE)
7. 1802 CATHERINE HODGSON (m. Andrew LARONDE)
8. 1805 CHARLES HODGSON (m. Marie LAVOIE)
9. 1806 SUSAN HODGSON (m1. John LEPAGE, m2. Antoine MAHEN)
10. 1807 MARY HODGSON (m. Samuel FROST)
11. 1808 CHARLES HODGSON (m. Bridget KAVANAUGH)
12. 1810 SOPHIE HODGSON