JOHN DAVIS (c1785-1824)
ANN NANCY HODGSON (c1790-1849)
(Last Updated: March 08, 2017)
John DAVIS was probably born around 1785 in Clerkenwell, London, England. ** Note: The Sprague & Frye birth date for John is 1795 which seems to be an error. In the HBC Archives Bio for John (no bd) it indicates that he began to work for the HBC in 1801-1803. If he was born in 1795 it would mean that he began to work when he was only 6 to 8 years old and that just doesn't seem plausible.
Ann (Nancy) HODGSON was born around 1789-90, the daughter of a Cree Woman and John HODGSON (1763-1826) who was born around 1763 in England. HODGSON was the Chief Factor at Fort Albany around the time that Nancy was born. Again, the Sprague & Frye birth date for Nancy HODGSON is 1804 which also seems an unlikely birth date. According to HBCA Bio for John DAVIS, Nancy was buried on Feb 13, 1849 at the age of 60, making her born about 1789-90 which makes more sense.
John with the Hudson's Bay Company
1801-1803
In 1801 according to HBCA, John entered the service of the Hudson's Bay Company (HBC), and in 1803 he was posted to their Kenogomissi Post (NE of Sault Ste Marie). ** HBC BIO for JOHN DAVIS
John DAVIS therefore would have first met his wife-to-be Nancy HODGSON, and his future father in law John HODGSON who was the Chief Factor at Fort Albany when he first landed there. Of course Nancy would have only been about 11-13 years old then.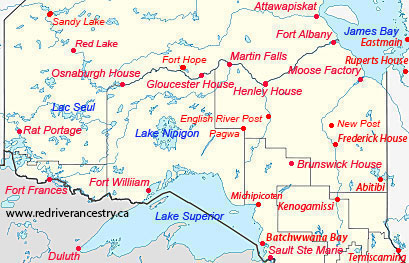 Albany River HBC Forts
From 1810 to 1818 John DAVIS worked a Master Trader in the South River District at Pine Lake, Henley House and Osnaburgh House.
In 1810 Nancy's father, John HODGSON retired from the HBC and settled in the vicinity of Lac des Chats on the Ottawa River. Nancy would have been in her early 20's then. She and her brothers, James, Thomas and John HODGSON remained behind at Albany.
In 1814 both of Nancy's oldest brothers (James & Thomas HODGSON) departed from Albany to join their father in the Ottawa Valley. Nancy and her younger brother John HODGSON JR (by then a Cooper for the HBC at Albany) again remained behind; Nancy undoubtedly because she was by then romancing John DAVIS.
John marries Ann (Nancy) HODGSON
1815
By 1815 John DAVIS was in a connubial relationship with the aforementioned Ann (Nancy) HODGSON, daughter of a Cree woman and John HODGSON (1763-1826), an HBC Chief Factor who was born in England. On July 30, 1816 their first child, Ann Nancy was born (named after her mother). ** MORE ABOUT JOHN HODGSON
In 1818, daughter Frances "Fanny" was born, probably at Martin Falls where John became a Master Trader for the next three years.
It was around 1820 that daughter Mathilda was born, apparently in St Andrews Parish, Red River.
Union of the Hudson's Bay Company and the North West Company
1821
In 1821 union of the North West Company (NWC) and the Hudson's Bay Company (HBC) occurred, ending years of bitter rivalry for dominance of the fur trade in Western Canada. At the time of the union, (Sir) George SIMPSON (1786-1860) became the Governor of Rupert's Land. And John DAVIS was promoted to Chief Factor at Martin Falls.
In 1822 daughter Catherine was born. That was the same year that John retired to Europe on the Eddystone with two children, Mathilda and Elizabeth (re HBCA). We know that Mathilda was educated in England and would return to Red River around 1840 to found the historic Miss Davis School in St Andrews Parish. As for Elizabeth, that is a puzzle!? This would more likely have been daughter Ann or Fanny (Catherine was just a baby then), Elizabeth perhaps being a second name for Ann or Fanny. No other references can be found regarding a daughter simply named Elizabeth.
In 1823 John returned from Europe as the Chief Factor at Escabitchewan and Cat Lake in the Lac Seul District.
John DAVIS Dies by Drowning
1824
In the spring of 1824 John's last child, George was born at Moose Factory. That same year, John was assigned to the position of Chief Factor at Mistassini in the Rupert's River District. In September that year, John DAVIS "Drowned off Hannah Bay while on his way from Moose Factory to take charge at Mistassini."
This would have left Nancy a widow in her mid-thirties with very young children. Who did she turn to for support? Her father and oldest brother James had long since departed from the north country to settle in the Ottawa Valley. Her next oldest brother, Tom was at Green Lake, Saskatchewan.
In 1825 Nancy's younger brother John HODGSON (1795-1875) was still at Fort Albany working for the HBC as a Cooper, but that year he was sent on the Franklin Expedition until 1827 when he settled Red River with a wife and son.
Thanks to Erin Million who solved a long-standing puzzle regarding Widow Nancy as follows: It seems that in 1829 Widow Nancy (nee HODGSON) DAVIS had an illicit affair with Widower Nicol FINLAYSON (1794-1877), an HBC clerk who was born in Scotland. Soon after this affair, FINLAYSON re-married to Betsy KENNEDY.
In 1832 Edward MOWAT (1789-1862), an HBC post master from Scotland retired to Red River after many years of service at various posts in the Albany River district. His son John who later married Frances "Fanny" DAVIS was only about 12 years old when the family retired to Red River but the MOWAT and DAVIS families apparently were well acquainted.
In December of 1835 Joseph FINLAYSON was apparently baptized at Red River. Joseph also stated that he spent five years at James Bay (until 1835) and thereafter 12 years in Winnipeg. That would place his mother Nancy (whichever one it was) and the DAVIS family at Red River during that same period. We do know that son George and daughter Mathilda were in St Andrews Parish by 1840 when George became an HBC employee at Lower Fort Garry and had a house near there that became the historic Miss Davis School with his sister Mathilda as the first teacher therein.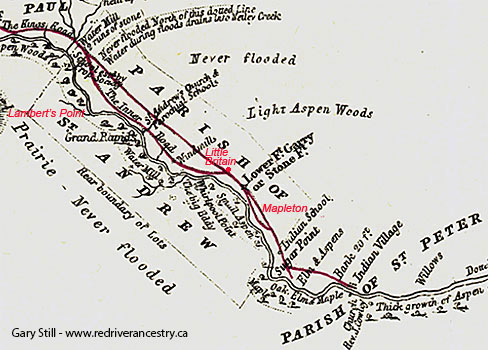 St Andrews Parish from Hind's map of 1857
Around 1840, through the efforts of Dr. John BUNN (1803-1861), physician for the Company, a young ladies' school was started with Miss Mathilda DAVIS as the teacher. Miss Davis School was first located on the property of her brother (George DAVIS). ** MORE ABOUT MATHILDA DAVIS IN DCBO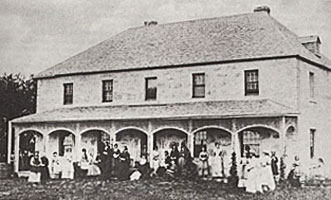 Miss Davis School for Girls (Twin Oaks Historic Site)
Built in 1858 by Stonemason Duncan McRae
This house replaced a frame house built around 1840 in which Miss Davis herself first taught
In 1847 Joseph FINLAYSON began a career with the HBC as an apprentice in the Saskatchewan and English River districts.
In 1849 Nancy DAVIS (the Elder) died.
In 1849 daughter Catherine married John HODGSON, son of Charlotte YORKSTON and John HODGSON SR (1795-1875).
Daughter Fanny married John MOWAT, son of Mary (Indian) and Edward MOWAT (1778-1862).
** MORE ABOUT EDWARD MOWAT
In 1855 son George married Catherine BIRSTON, daughter of Nancy & Magnus BIRSTON (1811-1875) from Mapleton. ** MORE ABOUT MAGNUS BIRSTON
In 1873 daughter Mathilda DAVIS died un-married (the school teacher). In 1875 her sister Nancy DAVIS (also an un-married spinster) claimed Scrip on behalf of the heirs of her sister Mathilda, stating them as 1) Herself, Nancy; 2) Fanny MOWAT, wife of John MOWAT; 3) Catherine wife of John HUDSON; and 4) George DAVIS her brother, all children of Nancy DAVIS (a Half-breed who died before the Transfer of July 15, 1870) and John DAVIS, an Englishman.
In the 1891 and 1901 censuses the younger Nancy DAVIS (age 74, 84) was recorded in St Andrews with her brother George. In the 1901 record her birthdate is stated as June 30, 1816 (same as in her Scrip).
Please post comments and queries at this link: FORUM DISCUSSING the JOHN DAVIS FAMILY
========================= Family Details =========================
Children:
1. July 30, 1816 ANN "NANCY" DAVIS (Never Married)
2. 1818 FRANCOISE "FANNY" DAVIS (m. John MOWAT)
3. 1820 MATHILDA ANNE DAVIS (Never Married)
4. Dec, 1822 CATHERINE DAVIS (m. John HODGSON)
5. Apr 25, 1824 GEORGE DAVIS (m. Catherine BIRSTON)
Child by one of the Nancy DAVIS':
1. 1830 JOSEPH FINLAYSON (m. Flora BELL)