EDWARD MOWAT (1778-1862)
MARY INDIAN (1780-1870+)
(Last Updated: September 27, 2014)
Edward MOWAT was born around 1778 in Scotland (Orphir - Stromness).
Edward recruited by the Hudson's Bay Company
1801
Recruited by the Hudson's Bay Company (HBC) in 1801, Edward sailed from the Orkneys of Scotland to Moose Factory aboard the Prince of Wales. In 1805-06 he was sent to the Red Lake Post in the Albany River District.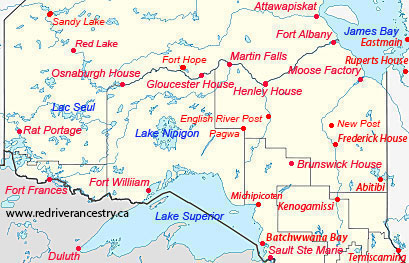 Albany River HBC Trading Posts
Martin Falls
1806-1812
From 1806 to 1812 Edward worked as a voyageur in the Albany District, wintering at Martin Falls.
Home to Scotland
1812-1814
In 1812, his contract expired, Edward returned to Scotland for two years.
In 1814 he re-entered the service as a voyageur and returned to the Albany District where he spent the winter of 1814-15 at Osnaburgh House. He would spend the next 18 years as clerk in charge, Outpost Manager and Post Master at various posts along the Albany River including Red Lake, Big Lake, Cat Lake, Martin Falls and Osnaburgh.
An Indian Wife named Mary
1820
By 1820 Edward had an Indian wife named Mary. Their first child, John, was born that year.
Union of the North West Company with the Hudson's Bay Company
1821
In 1821 the union of the North West Company (NWC) and the Hudson's Bay Company (HBC) occurred, ending the years of bitter rivalry for dominance of the fur trade in Western Canada. George SIMPSON (1786-1860) became the Governor of Rupert's Land.
Edward at Red River
1832
In 1832 Edward retired to Red River (St Andrews Parish) and on Apr 18, 1833 six of their children were baptized: John (age 13), Margaret (9), Andrew (8), Edward, Mary and Isabella. At that time Reverend William COCKRAN (1798-1865) was the resident clergyman at St Andrews where the previous year he built the first Anglican Church (a log structure) at "The Rapids".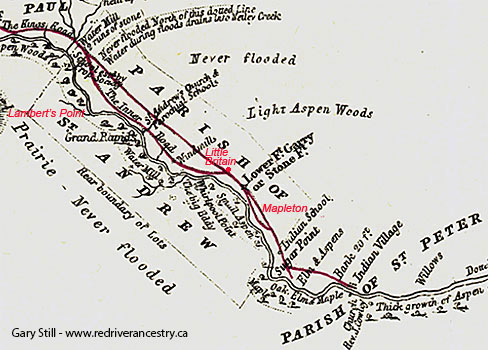 St Andrews Parish from Henry Hind's Map of 1857
In the summer of 1833construction of the boarding school (Red River Academy) was completed. This was the first English-speaking high school in the northwest. John MACALLUM (1806-1849) arrived as a schoolteacher for the boys section. Around the same time, Mrs (Widow) Mary KELLEY-LOWMAN arrived as the new Governess of the girls' section. The school began with only 14 pupils, but by the following year (1834) 20 boys and 21 girls were attending.
On May 30, 1836 son David was baptized, and on Dec 17, 1836 Edward was church-wed to his Indian wife Mary.
On Jan 24, 1840 son Thomas was baptized.
Eldest son John married Frances DAVIS in St Andrews, daughter Of Nancy HODGSON and John DAVIS (1785-1824).
** MORE ABOUT JOHN DAVIS
               
In 1854 son Andrew married Isabella McDONALD in St Andrews, daughter of Jane BEAUDRY & Donald McDONALD (1794-1876), another HBC voyageur from Scotland.
Around 1856 eldest daughter Margaret married James Green STEWART from Quebec, an HBC fur trader and Arctic explorer, son of Eliza Maria GREEN and the Honorurable John STEWART (1773-1858).
** MORE ABOUT JAMES GREEN STEWART in DCBO
In 1861 youngest son Thomas married his sister-in-law Margaret McDONALD in St Andrews, daughter of the aforementioned Jane BEAUDRY & Donald McDONALD (1794-1876).
In 1862 Edward MOWAT died in St Andrews.
In the Census of 1870 Widow Mary MOWAT (age 75) was recorded in St Andrews Parish. Either with her or as next-door were son Thomas MOWAT, his wife Margaret and their daughter. Also son Andrew MOWAT (age 45), his wife Isabella and their children.
In 1873 son Thomas' wife Margaret (nee McDONALD) died, and in 1875 Thomas re-married to her sister, Jessie (nee McCDONALD) CAMPBELL, widow of Roderick CAMPBELL (1842-1873).
Comments and queries at this link: FORUM DISCUSSING this EDWARD MOWAT FAMILY
========================== Family Details ==========================
Children:
1. Sep 20, 1820 JOHN MOWAT (m1. Frances "Fanny" DAVIS)
2. Feb 3, 1824 MARGARET MOWAT (m. James Green STEWART)
3. Jan 3, 1825 ANDREW MOWAT (m. Isabella McDONALD)
4. 1826 EDWARD MOWAT
5. 1827 MARY MOWAT
6. 1831 ISABELLA MOWAT
7. 1836 DAVID MOWAT
8. Jan 3, 1837 THOMAS MOWAT (m1. Margaret McDONALD, m2. Jessie (nee McDONALD) CAMPBELL)