NICOL FINLAYSON (1794-1877)
NANCY KA-NA KA-SHE-WAITE-WAS (?-?)

ANN NANCY (nee HODGSON) DAVIS (1790-1849)
ELIZABETH BETSY KENNEDY (1809-1842)
(Last Updated: July 12, 2016)
Nicol FINLAYSON was born around 1794 in Fodderty, Ross-shire, Scotland, said to be the son of Ann McKENZIE and John Kenneth McKENZIE from Loch Alsh (see map below).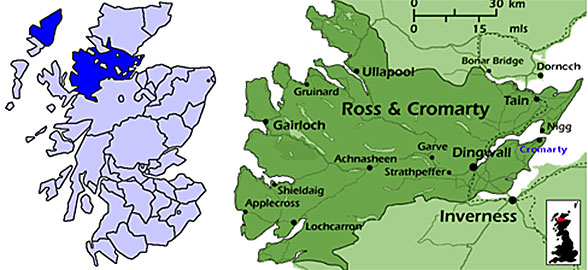 Left: Ross-shire, Scotland (in blue) and Right (in dark green)
Fodderty is located near Dingwall – Nicol's birthplace
Loch Alsh is south of Lochcarron – Nicol's father's birthplace
Nairn is NE of Dingwall – where Nicol retired
Nicol recruited by the Hudson's Bay Company
1815
In 1815 Nicol FINLAYSON arrived at Fort Albany in James Bay with his younger brother, Duncan FINLAYSON (1796-1862), both as employees of the Hudson's Bay Company (HBC). ** MORE ABOUT NICOL FINLAYSON in the HBC ARCHIVES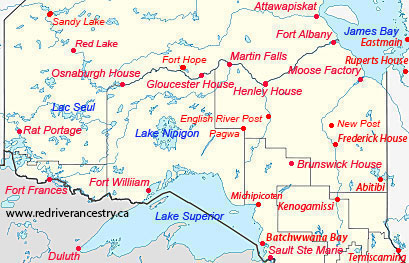 Albany River HBC Forts
From 1815 to 1823 Nicol FINLAYSON served his apprenticeship as a Clerk at Fort Albany and inland at Henley House and Martin Falls along the Albany River system. As a young man in his early 20's, he was an obvious target for the affection of the young Indian maidens wherever he went.
Nicol and Nancy KA-NA KA-SHE-WAITE-WAS
Within a few years after he arrived at Albany, before 1820, Nicol began a connubial relationship with a young Oji-Cree woman named Nancy KA-NA KA-SHE-WAITE-WAS. It is uncertain exactly when their first child, Ann (Nancy) was born (perhaps around 1818). More certain is the birth of son Hector on Nov 6, 1820.
Union of the Hudson's Bay Company and the North West Company
1821
In 1821 union of the North West Company (NWC) and the Hudson's Bay Company (HBC) occurred, ending years of bitter rivalry for dominance of the fur trade in Western Canada. At the time of the union, (Sir) George SIMPSON (1786-1860) became the Governor of Rupert's Land.
Around 1823 son John was born.
From 1824 to 1828 Nicol was clerking inland at the Lac Seul and Osnaburgth Posts.
In 1828 son Benjamin was born.
We don't know what became of Nancy KA-NA KA-SHE-WAITE-WAS after Benjamin was born. Perhaps she died in childbirth because the following year it appears that Nicol had an illicit affair with Nancy (nee HODGSON) DAVIS, daughter of a Cree woman and John HODGSON (1763-1826). Soon after this affair, Nicol re-married Betsy KENNEDY (more below). ** Thanks to Erin Million for solving this puzzling relationship; see her comments on the Forum (link provided below). ** MORE ABOUT JOHN HODGSON
Nicol marries Elizabeth (Betsy) KENNEDY
1828
On Aug 10, 1829 Nicol FINLAYSON married Elizabeth (Betsy) KENNEDY (born c1810 and died Sep 8, 1842), daughter of Alexander KENNEDY (1781-1832). ** MORE ABOUT ALEXANDER KENNEDY
The marriage was performed by Governor George SIMPSON, probably at Red River where Betsy was living with her mother (Widow Aggatha BEAR-KENNEDY).
At the time of their marriage, SIMPSON assigned Nicol the task of planning an expedition to Ungava Bay to establish fur trading with the Eskimos of Hudson Strait together with Erland ERLANDSON (1790-1875) from Denmark, who would be second in command. SIMPSON soon after debarked on a trip to England. ERLANDSON was then the Clerk in Charge at Eastmain House across the Bay. ** MORE ABOUT ERLAND ERLANDSON in DCBO
Nicol's brother-in-law, Captain William KENNEDY (1814-1890) would also be posted to Ungava Bay some 10 years later. ** MORE ABOUT CAPTAIN WILLIAM KENNEDY
On Apr 30, 1830 Joseph FINLAYSON was born at Fort Albany. In a Scrip Affidavit signed by Joseph in 1885, he indicates that his mother was Ann DAVIS and his father was Nicol FINLAYSON.
On Aug 6, 1830 son Roderick was born to Betsy (nee KENNEDY) at Red River. Betsy was apparently then staying with her parents when Nicol departed for Ungava Bay. Her father, Alexander KENNEDY died two years later.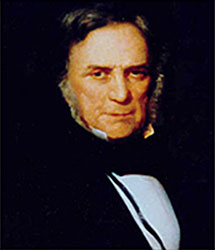 Nicol Finlayson (1794-1877)
Expedition to Ungava
1830-1836
In 1830 Nicol and ERLANDSON departed on their Expedition to Ungava Bay. More details can be seen at this Link:
** MORE ABOUT NICOL FINLAYSON and the UNGAVA EXPEDITION in DCBO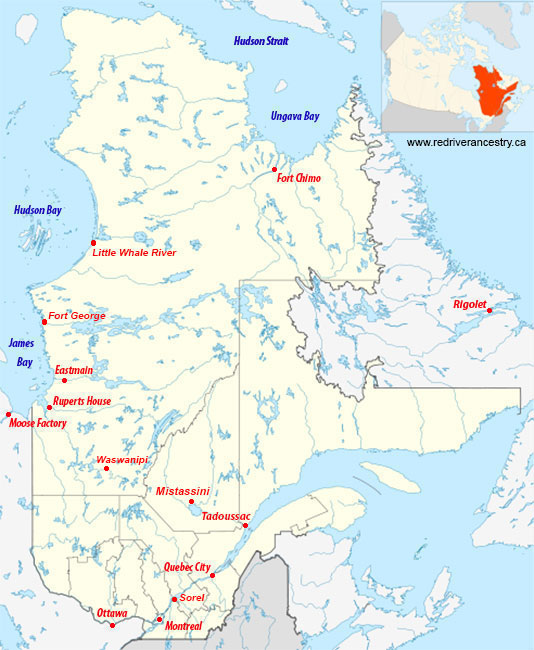 Fort Chimo is now known as Kuujjuaq
In 1833 Nicol was promoted to Chief Trader in charge of the Ungava District. A description of his activities during the next three years can be seen at the link provided above.
Apr 29, 1835 son Benjamin was baptized at Red River, and less than two weeks later on May 11 he died at 'Grand Rapids.' The Grand Rapids mentioned here most likely refers to the Rapids south of Lower Fort Garry and suggests that wife Betsy went there to stay with her mother (Widow Aggathas KENNEDY) while Nicol was away on his expedition to Ungava.
1836-1840
In July of 1836 Nicol left Fort Chimo and returned to Moose Factory. He was granted extended furlough and visited Scotland in 1837–38 before returning to duty as Chief Trader at Michipicoten and York Factory in 1839-40.
Lac la Pluie District
1840-1848
From 1840 to 1848 Nicol was the Chief Trader in charge of the Lac la Pluie District and resided at both Fort Alexander and Fort Frances.
Around 1844 eldest daughter Nancy married Narcisse CHASTELLAINE, the eldest son of Nanette CHARTIER & Nicholas "Old Nick" CHASTELLAINE (1795-1892), a veteran of the War of 1812.
** MORE ABOUT NICHOLAS CHASTELLAINE
Nicol's promotion in 1846 to the rank of Chief Factor entitled him to a seat on the Council of the Northern Department of Rupert's Land.
In 1846 eldest son Hector married Lisette LUCIER of uncertain origins. At that time he was working as an HBC Boatbuilder in the Saskatchewan District.
Saskatchewan, Swan River, English River and Cumberland Districts
1848-1854
In 1848-49 Nicol was moved west to the Saskatchewan District where he was made the Chief Factor in Charge of the district with headquarters at Fort Carlton; at Fort Pelly in Charge of the Swan River District during 1849-50; and at Ila a la Crosse in Charge of the English River District from 1850 to 1852.
Son John remained in the Lac la Pluie District where around 1852 he married Angelique SHEBAGIJIG, an Oji-Cree woman from Rat Portage (Kenora, Ontario). ** These are the ancestors of James FORTIER, owner of Tuttle Island Productions whose excellent research about his FINLAYSON Ancestors is frequently referred to in my own narratives.
** MORE ABOUT TURTLE ISLAND PRODUCTIONS
/
In 1853-54, Nicol's last posting was at Cumberland House where he was the Chief Factor in Charge of the Cumberland District.
Nicol Retires to Scotland
1855
Nicol never fully recovered from his ordeals at Ungava, and in 1855, at the end of his fourth visit to Scotland, he was retired by the Company. He retired to Nairn, Scotland (NE of Dingwall).  His youngest daughter, Mary went with him.
Around 1857 son Hector married a second time to Sarah BRASS at Fort Alexander (MB), daughter of Suzanne and Peter BRASS (1794-1871). That same year, son Joseph married Flora BELL in the English River District of Saskatchewan, daughter of Half-breed Ann DEASE and John BELL (1799-1868) from Scotland. ** MORE ABOUT JOHN BELL
Around 1859 youngest daughter Mary married James Dunbar LAMB in Nairn, Scotland, a Solicitor & Bank Agent.
Scotland Census of 1871: High Street National Bank Building, Nairn Burgh Parish, County of Nairnshire: Household of James Dunbar LAMB, age 41 (born c1830 in Elgin, a Solicitor & Bank Agent), his wife Mary, age 31 (born c1840 in Hudson Bay Territory; daughter of Nicol FINLAYSON). Children (all born in Nairn): Elizabeth Kennedy LAMB (age 11), Isabel Finlayson LAMB (8) and twins Anne and James LAMB (both age 7). Father-in-law Nicol FINLAYSON, age 77 (born c1794 in Lcchlash, Ross-shire; retired HBC Chief Factor). Brother-in-law Roderick FINLAYSON, age 40 (born c1831 in Hudson Bay; retired HBC Clerk). Domestic Cook: Margaret McGREGOR, age 34 (born c1837 in Glen Urquhart, Inverness-shire). Household Domestic Sarah McKENZIE, age 34 (born c1837 in Kiltarlity, Inverness-shire). Domestic Laundry Maid Isabella GRANT, age 35 (born c1836 in Bolaskine). General Domestic Servant Catherine KERR, age 23 (born c1848 in Forres). Nursery Maid Jane McLEAN, age 79 (born c1792 in Cory, Nairnshire).
On May 17, 1877 Nicol FINLAYSON died in Nairn, Scotland.
Please post comments and queries at this link: FORUM DISCUSSING the NICOL FINLAYSON FAMILY
============================ Family Details ============================
Children by NANCY KA-NA-KA-SHE-WAITE:
1. c1818 ANN "NANCY" FINLAYSON (m. Narcisse CHASTELLAINE)
** MORE ABOUT NARCISSE CHASTELLAINE
2. Nov 6, 1820 HECTOR FINLAYSON (m1. Lisette LUCIER, m2. Sarah BRASS)
** MORE ABOUT HECTOR FINLAYSON
3. 1823 JOHN FINLAYSON (m. Angelique SHEBAGIJIG)
4. 1828 BENJAMIN FINLAYSON (Died in 1835, age 7)
Child by Ann (nee HODGSON) DAVIS:
1. Apr 30, 1830 JOSEPH FINLAYSON (m. Flora BELL)
** MORE ABOUT JOSEPH FINLAYSON
Children by ELIZABETH "BETSY" KENNEDY :
1. Aug 6, 1830 RODERICK FINLAYSON
2. Aug 10, 1834 KENNETH FINLAYSON (Died in infancy 1836)
3. c1839 MARY FINLAYSON (m. James Dunbar LAMB)