JOHN BELL (1799-1868)
ANN "NANCY" DEASE (1806-1846)
(Last Updated: March 06, 2017)
John BELL was born around 1799 on the Isle of Mull in Scotland. ** MORE ABOUT JOHN BELL IN DCBO


John with the North West Company - Hudson's Bay Company
1818-1821
In 1818 John joined the North West Company (NWC) as a Clerk.
In 1821 the union of the North West Company (NWC) and the Hudson's Bay Company (HBC) occurred, ending the years of bitter rivalry for dominance of the fur trade in Western Canada.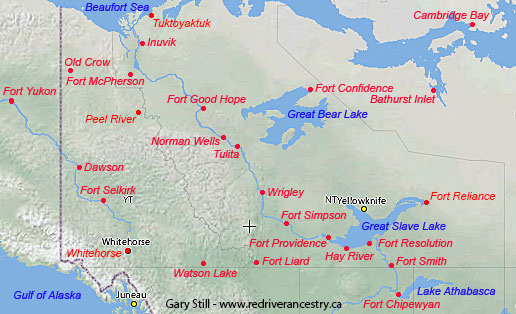 Mackenzie River District
1824
In 1824 John's northern career began when, as an officer of the reorganized Hudson's Bay Company (HBC), he was transferred to the Mackenzie District.
Encyclopedia Historica: John BELL became chief clerk of Fort Good Hope (1825-26), the HBC's most northerly post.
Peter Warren DEASE was with Sir John FRANKLIN on his Second Arctic Expedition (1825-27). Peter's wife (Elizabeth nee CHOUINARD) and their family must have accompanied him on that trip, because John BELL was united with DEASE's daughter Nancy soon after the explorers arrived on the McKenzie River.  Their son William was born while Nancy's father was away on the expedition.
John and Nancy Ann DEASE
1829
Around 1829 John was united with Nancy Ann DEASE, the daughter of Elizabeth CHOUINARD & Peter Warren DEASE (1788-1863). ** MORE ABOUT PETER WARREN DEASE in DCBO


Nancy dies at Norway House
1846
On Sep 20, 1846 Nancy (nee CHOUINARD) BELL died at Norway House.
Around 1847 daughter Christina was united with Augustus Richard PEERS at Red River Post, an HBC clerk from England. ** This would be the Arctic Red River Post south of Inuvik in the Mackenzie River district. See map above.
** MORE ABOUT AUGUSTUS RICHARD PEERS in HBC ARCHIVES
Boon: On Oct 26, 1849 Bishop ANDERSON (1814-1885) moved into one wing of the Red River Academy with his family, and seems to have conducted the school himself during the winter. He disposed of two girl pupils, Jane and Flora, the daughters of Chief Factor John BELL of Cumberland House, by sending them into the care of Rev Robert HUNT and his wife at the Lower Fort.
John leaves the Mackenzie District
Oxford House – Cumberland House
1851
DCBO: In 1851, at his own request, and in line with the views of RAE who did not consider BELL fitted to the command of the district because of his fear of responsibility and insufficient knowledge of business methods, BELL left Mackenzie River, first for Oxford House and then Cumberland House where he took charge of the district, 1852–53.
From 1853 to 1857 BELL supervised the company's Athabasca District from Fort Chipewyan. Following a year's furlough (1857–58), spent at least partly in Montreal, BELL's final years with the HBC were spent in Canada East at Sept-Îles and at Weymontachingue in the Saint-Maurice District.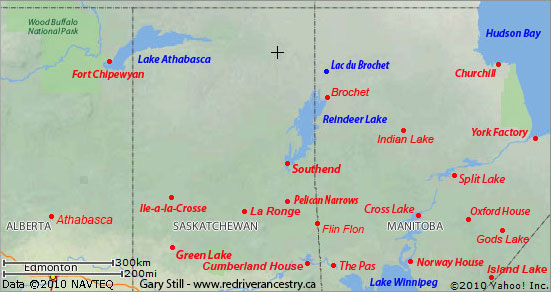 In 1857 daughter Flora married Joseph FINLAYSON in the English River district of Ontario, son of Ann DAVIS and Nicol FINLAYSON (c1794-1877) of Scotland. ** MORE ABOUT NICOL FINLAYSON
Also in 1857 daughter Jane married Lawrence CLARKE (1831-1890), an HBC trader of Irish origins.
** MORE ABOUT LAWRENCE CLARKE in HBC ARCHIVES
Around 1859 widowed daughter Christina (her first husband Augustus PEERS died in 1853) remarried to Alexander Black McKENZIE at Fort Liard (NWT), son of Angelique MALLOTTE and Roderick McKENZIE (1772-1859).
** MORE ABOUT RODERICK McKENZIE
John Retires to Saugeen, Ontario
1860
In 1860 BELL retired due to ill health and settled in Saugeen, Ontario. Saugeen is located on the east side of Lake Huron, southwest of Owen Sound.
In 1866 son Peter married Ellen DUPONT in the Lake Superior region. She was born around 1840 in Quebec, of uncertain parentage.
On June 24, 1868 John BELL died in Saugeen, Ontario
Comments and queries at this link: FORUM DISCUSSING the DESCENDANTS OF JOHN BELL
========================== Family Details ==========================
Children:
1. Nov 7, 1829 CHRISTINA JANE BELL (m1. Augustus PEERS, m2. Alexander (BLACK) McKENZIE)
** MORE ABOUT ALEXANDER BLACK McKENZIE
2. Dec 21, 1831 PETER WARREN WENTWORTH BELL (m. Ellen DUPONT)
3. Dec 6, 1833 WILLIAM BELL (m. Mary MORRIS)
4. 1836 FLORA BELL (m. Joseph FINLAYSON)
** MORE ABOUT JOSEPH FINLAYSON
5. 1838 ARCHIBALD BELL
6. Sep 14, 1840 JANE BELL (m. Laurence CLARKE)
7. 1843 ANNE BELL
8. 1845 SUSAN BELL