JOSEPH FINLAYSON (1830-1901)
FLORA BELL (1835-1920)
(Last Updated: March 06, 2017)
Joseph FINLAYSON was born on Apr 30, 1830 at Fort Albany, son of Ann (nee HODGSON) DAVIS and Nicol FINLAYSON (1794-1877).  ** MORE ABOUT NICOL FINLAYSON
On Dec 28, 1835 Joseph was baptized at Red River.
From 1840 to 1848 Joseph's father (Nicol) was the Chief Trader in charge of the Lac la Pluie District and resided at both Fort Alexander and Fort Frances.
Recruited by the Hudson's Bay Company
1847
On June 22, 1847 Joseph was recruited by the Hudson's Bay Company (HBC), and for the next 14 years he was posted to the Saskatchewan District where he first apprenticed as a millwright and carpenter later as a boat builder.
** BIO FOR JOSEPH FINLAYSON in HBC ARCHIVES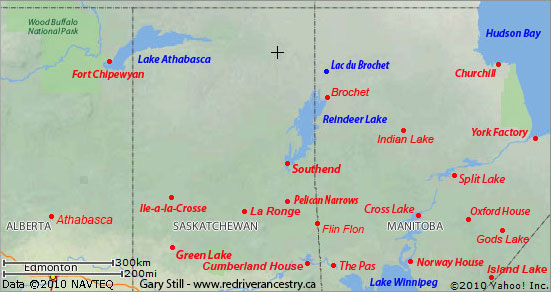 From 1853 to 1861 Joseph served in the English River District as a Post Master at Green Lake in the winter, and Ile a la Crosse in the summer.
Marriage to Flora BELL
1857
On Aug 7, 1857 Joseph married Flora BELL, daughter of Half-breed Ann DEASE and John BELL (1799-1868) from Scotland. ** MORE ABOUT JOHN BELL
From 1861 through to his retirement in 1872 Joseph served in the Swan River District as a clerk in charge of posts at Egg Lake, Fort Pelly and Touchwood Hills.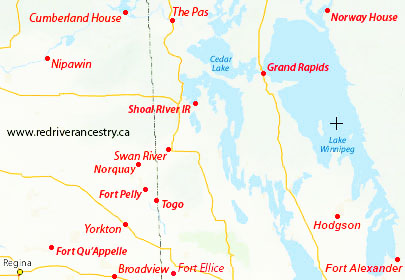 Canadian Confederation
Red River Metis Rebellion
Manitoba becomes a Province
1867-1870
On July 1, 1867 the British colonies in North America were united under the British North American Act to become the Dominion of Canada. Sir John A MACDONALD (1815-1891) was appointed as Canada's first Prime Minister. William McDOUGALL (1822-1905) became the Minister of Public Works, and he began negotiations to acquire Rupert's Land from the HBC, sending out surveyors to prepare the way for an expected influx of settlers.
In 1867 Joseph was a clerk at Touchwood Hills (south of the Qulll Lakes and Wynyard).
On Oct 11, 1869, Louis RIEL (1844-1885) placed his foot on the surveyors' chain to tell them their work was finished. This marked the beginning of a Red River Metis Rebellion.
On July 15, 1870 Manitoba became the fifth province of Canada, the Canadian Government having acquired the territory previously governed by the HBC. The Rebellion was essentially over.
There are no indications that Joseph had any direct involvement in the events related to the Red River Rebellion. Isaac COWIE (1848-1917) in his book 'The Company of Adventurers' does mention that around 1870 Joseph FINLAYSON intercepted a letter at Fort Pelly that contained an offer to put, in spring, 500 horsemen on the field to join RIEL. By that time the Rebellion was reaching its climax anyway.
** MORE ABOUT the RED RIVER REBELLION in WIKIPEDIA
About Joseph FINLAYSON, Isaac COWIE remarked "He was a man who could do everything himself that a Company servant, interpreter or accountant, could be expected to do; he did everything excellently, and took pains and pleasure in training others to their duties. His geniality and kindness endeared him to everyone with whom he came in contact, and he was universally known, not as Mr. FINLAYSON, but by the popular name of "Joe."
Around 1873-74 Joseph is mentioned in a narrative about William McKAY (1852-1932) as trading at Touchwood Hills and coming to Red Sandy Hills (west of Dundurn, SK) seeking to trade provisions. FINLAYSON was unaware of McKAY being already on the ground with an outfit, or he would not have come. He was accompanied by a young easterner named BROWN. BROWN was taking the round-about route by the North Saskatchewan to Edmonton, owing probably to Sioux hostility. BROWN remained behind when FINLAYSON returned to Touchwood.
The HBC Archives indicate that in 1872-73 Joe retired at Fort Pelly and was thereafter a 'Freeman'. He later became an Indian Agent with the DIA. In 1882-83 I have seen mention of Joseph FINLAYSON being an agent at the Mistawasis Resrve (west of Shellbrook). HBCA indicates that after 1886 he was an Indian Agent at Snake Plains, Mistawasis (Prince Albert).
Prince Albert District
The Northwest Rebellion
1885
1885 was the year of the North-West Rebellion. ** MORE ABOUT THE NORTH-WEST REBELLION in WIKIPEDIA

In 1885 both Joseph and Flora claimed Half-breed Scrip at Prince Albert. In his Affidavit he states his mother as Ann DAVIES (DAVIS), a half-breed, and his father as Nicol FINLAYSON, Scotchman. Flora states her parents as Ann DEASE, a Half-breed; her father as John BELL, a Scotchman. She lists their children as follows: Children living, four: Harriet A L, Marguerite, Peter Warren and Florence Bell. Children deceased as Caroline C, John N, N.A. (Nancy Ann), Flora Bell, Catherine C, Catherine Helen two more (twins born Nov 19, 1874 died without being christened).
Archives Canada makes reference to a textual record dated 1887 titled "Joseph FINLAYSON, Claim for Rebellion Losses.Another document dated March 12, 1888 Joseph FINLAYSON of PA, Indian Agent at the Muskeg Indian Reserve (SW of Shellbrook), regarding a surrender of land. **Note: I can't seem to get access to these documents.
Census 1891 in Carlton District, SK: Joseph FINLAYSON, Indian Agent, age 61; wife Flora, age 58. Children: Harriet L (age 28), Margaret (20), Peter Warren (19). Sister-in-law: Susan BELL, age 35. Seemingly in same household: Madaline BISHOP, age 31 (born 1860 in NWT) and her children: Henry BISHOP (age 7), Aleneice (5) and Bernard BISHOP (age 2).
Census 1901, Prince Albert: Joseph FINLAYSON, age 71; wife Flora, age 65.  Children:  Harriet (age 42) and Florence (age 24). They have a "lodger" Alexander McKENZIE, age 33 (born Sep 9, 1867).
On Aug 4, 1901 Joseph FINLAYSON died at Prince Albert, Saskatchewan.
Census 1916, Prince Albert: Widow Flora FINLAYSON, age 80; daughter Harriet, age 58.
On Aug 27, 1920 Flora (BELL) FINLAYSON died in Prince Albert.
Comments and queries at this link: FORUM DISCUSSING the JOSEPH FINLAYSON FAMILY
========================= Family Details =========================
Survived Children by Flora BELL:
1. June 7, 1857 HARRIET ANN LOUISA FINLAYSON
2. Aug 26, 1868 MARGUERITE FINLAYSON
3. Apr 29, 1872 PETER WARREN FINLAYSON (Delia BIRD)
4. Jan 22, 1876 FLORENCE BELL FINLAYSON