NICHOLAS "OLD NICK" CHASTELLAINE (1795-1892)
ANNE "NANETTE" CHARTIER (c1799-)
(Last Updated: February 04, 2016)
Nicholas CHATELAIN/ CHASTELLAIN was born around 1795, likely in the vicinity of Grand Portage, Minnesota, son of Saulteaux-Ojibwe (or half-breed) Josephte PINAUD & Jacques CHATELAIN, a French Canadian. The HBC Archives refers to him as "Native".  Due to his longevity Nicholas was often referred to as "Old Nick".
** MORE ABOUT JACQUES CHASTELAIN
Nicholas was born during the War between Great Britain and France which raged between 1793 and 1815 with few interruptions. As a part of the British Empire, Upper Canada was unable to escape this broader conflict and when, on June 18, 1812, the United States declared war on Britain, Canada was brought to the front line of what had become a world war.
Fort William was the operational headquarter of the North West Company (NWC), with William McGILLIVRAY (1764-1825), its namesake, in charge. Shareholders such as McGILLIVRAY were often referred to as Nor'Westers. Nick began working seasonally for this company in his mid-teens, as a voyageur and interpreter. He was fluent in both French and Ojibwe, the languages of his parents.
Nick becomes a soldier in the War of 1812
The Corps of Canadian Voyageurs
1812-1814
On June 18, 1812, the Americans stunned the world by declaring war on Great Britain. William McKAY (1772-1832), a retired former Nor'Wester and shareholder, immediately offered his services to the British Army. McKAY would serve under Major General Isaac BROCK (1769-1812). The NWC offered many of its employees into the service of Canada and its King. The Corps of Canadian Voyageurs was created under the command of the Lieutenant-Colonel William McGILLIVRAY with the assistance of William McKAY. Among the first recruits was Nicholas (Nick) CHASTELLAINE who was selected to lead a group of Ojibway warriors who participated in the first event in the War, the Capture of Fort Mackinac on July 17, 1812. Caught by surprise and badly outnumbered, the Americans under Lieutenant HANKS were forced to surrender there without a fight. On Aug 15-16, the Seige of Detroit took place, again with a decisive victory for the British, this time under Major BROCK and the famous Shawnee leader, TECUMSEH (1768-1813).
On Oct 5, 1813, William Henry HARRISON (1773-1841) and his American Army crossed into Upper Canada and won a decisive victory over the British and Native Americans at the Battle of the Thames near Moraviantown. TECUMSEH was killed, and shortly after the battle, the tribes of his confederacy surrendered to HARRISON at Detroit.
In December of 1814, the failure by either side to win a decisive victory led to the Peace Treaty of GHENT. The war had the effect of uniting the peoples of the U.S. as well as the people of Canada, and opened a long era of peaceful relations between the United States and the British Empire. However, conflict of another kind would continue to plague McGILLIVRAY and the Nor'Westers for the next seven years.
Civil War in Red River
1814-1821
In the fall fur-traders and their voyageurs made their way west from Grand Portage by way of the Pigeon and Rainy Rivers to Lake of the Woods, down the Winnipeg River to Lake Winnipeg and beyond, their canoes laden with trade-goods, to the far reaches of the great Northwest. In the spring and summer, this time loaded with bundles of furs, they returned along the same route back to Fort William, across Lake Superior and down the St Lawrence River to the eastern ports for shipment to European markets.
Selkirk Settlers were arriving by the hundreds at Red River under the sponsorship of the Hudson's Bay Company (HBC), threatening NWC dominance of the fur trade in the Northwest.
On Jan 8, 1814, Governor Miles MacDONELL issued his "Pemmican Proclamation". Not long after, Sheriff John Hodges SPENCER (1790-1881), his cohort, seized 600 bags of pemmican at the NWC's Fort Souris (SE of Brandon). One can easily imagine the indignation of the Nor'Westers at the big meeting at Fort William that summer. "It is the first time the Nor'Westers have permitted themselves to be insulted," said William McGILLIVRAY, an insult to the proud "Lords of the Lakes and Forests" was more galling than financial loss. From that day there would be civil war in the North-West.
On June 19, 1816, the Battle (Massacre) of Seven Oaks occurred at Frog Plain.  Governor SEMPLE and twenty of his men were killed when Cuthbert GRANT and his Métis soldiers took Fort Douglas.On Aug 12 Lord SELKIRK and his soldiers arrived at Fort William where he arrested all of the NWC Partners who were present. On Aug 18 NWC Partners William McGILLIVRAY, John McLAUGHLIN, Allan MacDONELL, Simon FRASER, John McDONALD, Hugh McGILLIS, Kenneth MacKENZIE and Alexander MacKENZIE were all sent off for Upper Canada as prisoners. All of these men were later released.
In 1817 William McGILLIVRAY led an expedition that recaptured Fort William for the NWC.
Nick marries Nanette CHARTIER
I haven't found any mention of Nick being involved in the troubles at Red River (1814 through to 1820) but he was undoubtedly still working at least seasonally with the NWC as a voyageur and interpreter, and it was during that period that he was united with Anne "Nanette" CHARTIER. After much searching I have come up with very little information about Anne Nanette CHARTIER's origins. A Joseph CHARTIER (no birth-date) is mentioned in regard to COLTMAN's investigations into the Red River troubles around 1817 (could he have been Nanette's father?). Another Joseph CHARTIER (1813-1863) who married Marie Angelique LAVIOLETTE might be also be a clue. He was born around the same time as our Nanette (perhaps a brother?) and became an HBC voyageur. If anyone has more information about these people I would be very grateful if they would post it on the Forum.
HBC - NWC Union
1821
William McGILLIVRAY, with his brother Simon, helped to negotiate the HBC-NWC union of 1821. Lac la Pluie House (previously Fort Lac la Pluie) was established after the NWC-HBC union of 1821. In December that year Nick's first child, Narcisse, was born there.
Nick becomes an HBC employee
1822
In 1822 Nick first appears in the HBC records as a "Canadian Servant". His entire career with the HBC was in the Lac la Pluie District. From 1824 through to 1860 he was in charge of the Guard House and later the post at Lac de Bois Blanc where he became a Postmaster. Bois Blanc Post (HBC), near Basswood Lake.
It wasn't until 1830, after a visit by Governor George SIMPSON and his wife "Lady Frances SIMPSON", that Lac la Pluie House was renamed Fort Frances.
Around 1844 Nick's eldest son Narcisse married Nancy FINLAYSON, probably a daughter of an Ojibwe-Cree woman from Red River country and Scottish born Nichol FINLAYSON (1794-1877) who was an HBC Chief Trader in the Fort Alexander and Lac la Pluie districts at the time. In October that year they presented Nick with his first grandson, Narcisse Jr.
In 1847 daughter Marie married in St Boniface (MB) to Jean Baptiste RITCHOT
In 1850 Nick was present at the signing of the Robinson Treaty with the Ojibwe at Sault Ste Marie. He was then a member of the Indian Band at Fort William, which included a large number of Métis members. He was in his mid 50's now and he was finished fathering children.
Around 1850 eldest daughter Nanette was living in Carlton, SK, married to Francois PELLETIER (1826-1871).
Public Archives of Canada, 1861 Census: HBC Post Fort William, Roman Catholic Mission, Algoma District, Mining Locations on Lake Superior: Nicholas CHASTELLAIN; born Rupert's Land; his wife, age 65. Children: Joseph 23; William 19; Xavier 12.
On July 24, 1862 son Joseph married in St Boniface (MB) to Josephte MORRISON.
From 1863-68 Nick was Postmaster at Hungry Hall (Historic Hudson Bay Hungry Hall at Oak Grove Camp). Hungry Hall Post (HBC) located at the mouth of the Rainy River at Lake of the Woods.
Canadian Confederation
The Red River Rebellion
Manitoba becomes a Province
1867-1870
On July 1, 1867 the British colonies in North America were united under the British North American Act to become the Dominion of Canada.  Sir John A MacDONALD (1815-1891) was appointed as Canada's first Prime Minister.
During 1868-69 Nick was at Fort Frances and finally at Eagle Lake until 1870. It was during this period that the Red River Rebellion occurred, led by Louis RIEL (1844-1885).
Correspondence found in the Library of Archives Canada (LAC): A letter dated Dec 17, 1869 indicates that Simon James DAWSON (1818-1902) in conjunction with Robert PITHER (an HBC employee) recommended the employment of CHASTELLAINE to counter-act any evil influence that might be brought to bear upon the Saulteaux Indians in conjunction with the troubles at Red River; and also to prepare the minds of the Indians for negotiation of a Treaty with them. DAWSON described CHASTELLAINE as "a halfbreed - - who is highly esteemed by the tribe - - who has on previous occasions rendered valuable service in dealing with them. PITHER and CHASTELLAINE (as Indian Agents) were to distribute tobacco among the Saulteaux, determine their expectations, and explain that a Treaty would follow.
By letter of Jan 3, 1870, DAWSON was authorized to employ Messrs PITHER and CHASTELLAINE. DAWSON informed PITHER of his appointment on Jan 6, 1870 and at the same time instructed him to employ as his assistant CHATELAIN , but before doing so to ascertain from the Officer in Charge of the HBC whether CHATELAIN was in the employment of that Company. and if so whether his duties might not be combined with those which he, PITHER, would assign him. To this letter PITHER replied on Feb 8, 1870 stating that he would employ CHASTELAIN when he required his services, and keep his time when so employed. On Mar 11, 1870 PITHER was informed of the intervention of the Government to send a Commissioner to deal with the Saulteaux Indians and that in the meantime it would be the duty of himself and CHASTELAIN to do everything in their power by friendly intercourse with the Indians to secure a favourable reception for the Commissioner on his arrival.
On July 15,1870 Old Nick CHASTELLAINE was about 75 years old when Manitoba officially became the fifth province of Canada, the Canadian Government having acquired the territory previously governed by the HBC. RIEL and his Provisional Government accepted the terms that were established and prepared to relinquish their powers.
Old Nick serves as an Interpreter during Treaty Negotiations
1871
By order in Council, of Mar 16, 1871 CHASTELAINE was appointed Indian Interpreter at Fort Frances at a salary of $250 per annum, the same amount also to be paid for his past services; signed by S STEWART.
In 1871, Wemyss SIMPSON (1824-1894) was selected by the Department of Indian Affairs (DIA) as General Indian Agent, (Indian Commissioner) to make Treaties with the Indian Tribes, and to represent the Government in the Northwest. Robert PETHER was to be sent as soon as possible as an Indian Agent to Fort Frances to procure the services of CHATELAIN (Old Nick). SIMPSON said "Mr CHATELAIN who I have often seen before, is a half-breed much given to favour the Indians in any negotiation and I do not think much to be trusted, but kept down by Mr PITHER who has been very useful".
SIMPSON, DAWSON & PITHER were authorized to treat with the Ojibway Indians for the surrender to the Crown of the lands they inhabited--covering the area from the watershed of Lake Superior to the north-west angle of the Lake of the Woods, and from the American border to the height of land from which the streams flow towards the Hudson's Bay. In July of 1871 SIMPSON met the Indians at Fort Frances but by 1872 the Indians were still not ready for the making of a treaty.
Signing of Treaty No. 3 (North-West Angle Treaty)
1873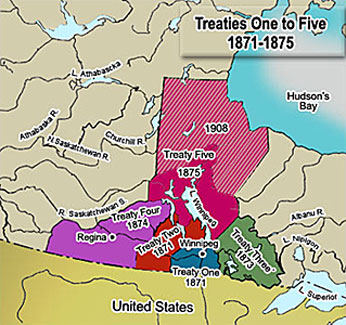 In 1873 a Commission was issued to Hon. Alexander MORRIS (1826-1889), then Lieutenant Governor of Manitoba and the NWT. DAWSON, now MP for Algoma, was appointed as Indian Commissioner.
During the negotiations the Ojibwas had asked that the local Métis be allowed to join the Treaty, and although MORRIS refused he recommended that Métis who wished to be considered Indians could adhere to it. On 12 Sept. 1875 CHATELAIN, acting for the Rainy Lake and Rainy River Métis, signed a memorandum of agreement with John Stoughton DENNIS (1820-1885), Surveyor General of Canada.
Morris' Report (of Oct 14, 1873): On Oct 2 they again assembled, when I (MORRIS) again explained the object of the meeting, through Mr. McPHERSON, an intelligent half-breed trader, whose services I secured. This was George McPHERSON (1814-1891). CHATELAIN, the Government interpreter, was also present. They had selected three spokesmen, and had also an Indian reporter, whose duty was to commit to memory all that was said. They had also secured the services of Joseph NOLIN, of Point du Chene, to take notes in French of the negotiations, a copy of which notes I obtained from him and herewith enclose.
On Oct 3, 1873, the "North-West Angle Treaty," or Treaty No. 3 was signed. Under the agreement, known as the "Half-Breed Adhesion to Treaty No.3," the Métis, by virtue of their "Indian blood," were to have two reserves set aside for them and were to receive the benefits of the Treaty, such as annuities, cattle, and farm implements. The next day the Indians were paid by Messrs. PITHER and GRAHAM, of the Dept. of Public Works.
In 1875 son Narcisse began a connubial relationship with Fanny HOURIE, daughter of Jessie DENNETT and John HOURIE (1810-1896). ** MORE ABOUT JOHN HOURIE
LAC: 1889, from a letter from Ebenezer McCOLL (1835-1902), Inspector of Indian Agencies, Winnipeg: Mr CHASTELLAINE is not fit to perform the duties; a report to that effect should be made with a view to steps being taken for his retirement. - - In a later letter McCOLL stated "on account of Mr CHASTELLAINE being unable to interpret only Ojibwa into French but not into English. I understand that the amount of $250 was given to this veteran of the War of 1812 as an acknowledgement of the great services he had rendered to his Country, not only during the invasion of Canada in that year by Americans, but also for his great influence over the Indians of the District, in their allowing the volunteers to pass through their territory in 1870 and afterwards in inducing the Indians to make a Treaty with the Government in 1873. Mr CHASTELLAINE is a French Half-Breed, one of nature's noblemen of commanding presence, being six 6' 4" in height, 98 yrs of age and totally blind.  Even now, neither agent, nor any other person within the District has a greater influence over the Indians than this remarkable man.  I (McColl's description) would therefore recommend that whether he be placed on the retired list or not, the amount paid to him not be interfered with until he is gathered to his fathers.
In the Census of 1891, Algoma District, Nichol CHATELLAIN (widowed) was recorded with his daughter, Widow Maggie GUIMOND. His was reportedly 105 years old.
On March 6, 1892 Nicholas CHATELAIN died in Fort Frances where he had spent most of his adult life.
Please post comments & queries at this link: FORUM DISCUSSING NICHOLAS CHASTELLAINE FAMILY
========================== Family Details ==========================
Children:
1. Dec, 1821 NARCISSE CHASTELLAINE (m1. Nancy FINLAYSON, m2. Frances "Fanny" HOURIE)
** MORE ABOUT NARCISSE CHASTELLAINE
2. c1824 DAVID CHASTELLAIN (m. Marie GRANT alias LA-MANCHE-COURTE)
3. c1826 NANETTE CHASTELLAIN (m. Francois PELLETIER)
4. Nov 11, 1831 MARIE-ANNE CHASTELLAINE (m. Jean-Baptiste RITCHOT)
5. 1832 JOSEPH (SHOTLEY) CHASTELLAIN (m. Josephte "Josette" MORRISON)
6. 1842 WILLIAM CHASTELLAINE
7. Mar, 1847 LOUIS CHASTELAINE  (m. Margaret)
8. 1849 XAVIER CHASTELLAINE