JOHN HOURIE (1810-1896)
JESSIE JANET "JANE" DENNETT (1815-1896)
(Last Updated: July 01, 2016)
John HOURIE was born around 1810 on Hudson's Bay, the eldest son of Margaret BIRD & John HOURIE SR (1799-1857). By about 1815 the family had moved to Red River Settlement. ** MORE ABOUT JOHN HOURIE SR
Marriage to Jessie DENNETT
1833
John married 1833 at St Johns (Wpg) to Jessie DENNETT, daughter of Sophia BALLENDINE & William DENNETT (1780-1864). ** MORE ABOUT WILLIAM DENNETT
In 1835 John was living on Lot 60 in St Paul Parish (3 persons in household; five cattle). These would have been Jessie, John and son John Jr. who was born that year.
On Aug 12, 1842 daughter Fanny was born in St Andrews Parish.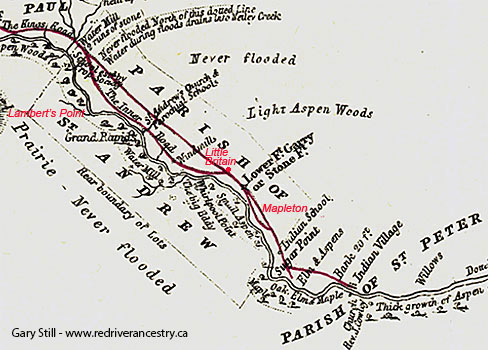 St Andrews Parish from Hind's Map of 1857
By about 1859 son John was married to Margaret McKAY, daughter of Mary England and John McKAY (1816-1922), both half-breeds. ** MORE ABOUT JOHN McKAY
In 1859 daughter Jane married Thomas KIPLING, son of Isabella LANDRY and George KIPLING (1805-1878). 
** MORE ABOUT GEORGE KIPLING
On Aug 27, 1868 daughter Fanny married William TODD (1823-1871) at St Clements Church in Mapleton where TODD was a Free-trader, son of Isabella DENNET and Dr. William TODD SR (1784-1851).
** MORE ABOUT DR WILLIAM TODD SR
TODD Jr. had been previously married to Sarah Jane JOHNSTONE who died in 1865, leaving William with about 6 children. On Nov 27, 1870, Fanny gave birth to Mary Jane TODD, and on July 18, 1871 William TODD died; buried in Mapleton.
In 1875 both John & Jessie (of St Clements Parish) claimed their Scrip as husband & wife.
Around 1875 widowed daughter Fanny began a connubial relationship with Narcisse CHASTELLAINE, the eldest son of Nanette CHARTIER & Nicholas "Old Nick" CHASTELLAINE (1795-1892), a veteran of the War of 1812.
** MORE ABOUT NICHOLAS CHASTELLAINE
Census of 1881 in St Andrews (Mapleton): John HOURIE, age 74; wife Jessie, age 63. With them are Sabina TAIT, age 48 (born c1833 in MB) and Caroline SANDISON, age 12. Sabina (nee DENNETT) was Jessie's sister, widow of George TAIT).
Around 1885 daughter Fanny and son-in-law Narcisse CHASTELLAINE left Dog Head and returned to live in Mapleton. Narcisse and his daughter Bella died at Lower Fort Garry in 1888, and daughter Fanny and her two teenage children (John & Mary) moved in with her parents.
Census of 1891 in St Andrews (Mapleton): John HOURIE, age 86; wife Jessie, age 77.  Widowed daughter Frances CHATELAINE, age 30 and her children: John (age 16) and Mary (age 13).
It is said that both Jessie & John HOURIE died in 1896.
Comments and queries at this link: FORUM DISCUSSING THE JOHN HOURIE FAMILY
========================== Family Details ==========================
Children:
1. 1835 JOHN HOURIE JR (m. Margaret McKAY)
2. June 15, 1836 JANE HOURIE (m. Thomas KIPLING)
3. 1838 ANDREW HOURIE (Died age 5)
4. Aug 12, 1842 FANNY HOURIE (m1. Joseph CHARTIER, m2. William TODD, m3. Narcisse CHASTELLAINE)
** MORE ABOUT NARCISSE CHASTELLAINE
5. c1847 THOMAS HOURIE (Died in infancy)