JOHN McKAY (1816-1922)
MARY ENGLAND (1817-?)
(Last Updated: February 04, 2016)
John McKAY was born on Nov 12, 1816 at Brandon House, the eldest son of Harriet BALLENDINE & John Richards "Little Bearskin" McKAY (1792-1877). John was baptised at Brandon House in 1821, the same day his parents were church-wed. ** MORE ABOUT JOHN RICHARDS McKAY
On Jan 20, 1821 John (age 5) was baptized (and his parents were married) at Brandon House by Reverend John WEST (1778-1845), the first Anglican Clergyman in Rupert's Land.
John and Mary ENGLAND
1840
Around 1840 John was united (at Green Lake, SK) with Mary ENGLAND from Ile a la Crosse area, daughter of Margaret MOREAU and James ENGLAND  (b-1792) who at one time was a voyageur with the North West Company at Ile a la Crosse.
On Dec 26, 1840 daughter Margaret was born in the English River District (English River was the fur trader's name for Churchill River).
In 1843 son William was born at Norway House (MB); son Edward was born in 1845.
Partridge Crop (Fairford)
1847-1855
Between 1846 and 1848 it is said that John's father was at Partridge Crop (Fairford). In 1847 daughter Harriet was born there, followed by Alexander in 1852, then Eliza and Mary around 1853-54.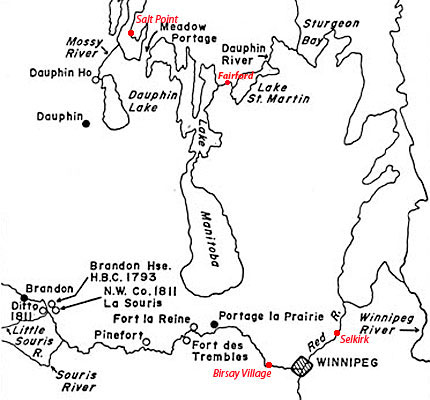 Red River
1855
It was probably around 1855 that John moved his family to St Clements Parish in Red River. In 1857 their last child, Charles Albert was born there.
Around 1859 daughter Margaret married John HOURIE, son of Jessie DENNETT and John HOURIE (1810-1896).
In 1865 son William was married to Sophia DENNETT in St Andrews, daughter of Margaret CALDER and William DENNETT (b-1827).
Canadian Confederation
The Riel Rebellion
Manitoba becomes a Province
1867-1870
On July 1, 1867 the British colonies in North America were united under the British North American Act to become the Dominion of Canada. Between 1869 and 1870, The Red River Rebellion occurred; led by Louis RIEL (1844-1885).
In 1867 eldest son John Jr. married his cousin, Widow Elizabeth (nee McKAY) MOORE at St Paul (Middlechurch), daughter of Mary BUNN and William McKAY (1793-1864). Elizabeth was previously married to Thomas MOORE who died in 1864, son of Clementine ROSS and John MOORE (1777-1843).  ** MORE ABOUT JOHN MOORE
Also in 1867 son Edward married Caroline WALLER in St Andrews, daughter of Nancy BIRSTON & James WALLER (1800-1876). ** MORE ABOUT JAMES WALLER
On July 15,1870 Manitoba became the fifth province of Canada, the Canadian Government having acquired the territory previously governed by the HBC.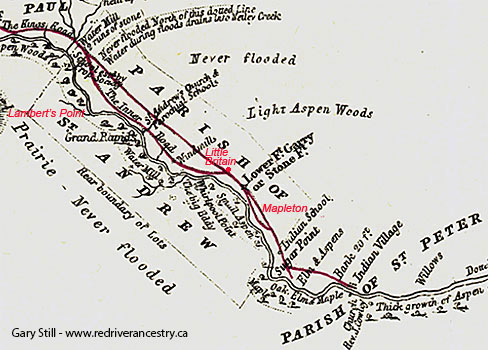 St Andrews Parish from Hind's Map of 1857
In 1870 the family was recorded on Lot 85 in St Clements Parish (near Little Britain-Lockport). Children at home: Harriet (age 21), Alexander (19), Mary (16) and Charles (age 12). Daughter Eliza had died in 1866 at the age of 13.
In 1870 daughter Harriet married John SPENCE, probably the son of Margaret DENNETT and John SPENCE (b-1811).
In 1871 daughter Mary married William SMITH in St Andrews, son of Charlotte MOWAT and William SMITH (1828-1884).** MORE ABOUT WILLIAM SMITH
In 1872 son Alexander married Sarah ADHEMAR in St Clements, daughter of Nancy DEASE & Patrick ADHEMAR (1807-1868).
In July of 1875 both James and his wife Mary (ENGLAND) applied for their Half-breed Scrip.
Census 1881: St Andrews/ Lisgar: John McKAY, age 65 (born c1816 in NWT); wife Mary b-c1821 (age 60). Annie ROLPH b-c1876 (age 5)
In 1882 youngest son Charles married Catherine ANDERSON, daughter of Maria COOK and Charles Thomas ANDERSON (1840-1909).
Census records for 1891 and 1901 have John McKAY (age 75, 84) and his wife Mary (age 74, 81) listed in Carlton, Saskatchewan.
It has been said that John McKAY died around 1922 in Selkirk (Apparently at the age of 105).
Comments and queries at this link: FORUM DISCUSSING this JOHN McKAY FAMILY
=========================== Family Details ===========================
Children:
1. Dec 26, 1840 MARGARET McKAY (m. John HOURIE)
2. Jun 5, 1842 JOHN McKAY JR (m. Elizabeth (nee McKAY) MOORE)
3. Nov 14, 1843 WILLIAM HENRY McKAY (m. Sophia DENNETT)
4. Nov 14, 1845 EDWARD RICHARD McKAY (m. Caroline VOLLER aka WALLER)
** MORE ABOUT EDWARD RICHARD McKAY
5. 1847 HARRIET McKAY (m. John SPENCE)
6. July 16, 1852 ALEXANDER DENNETT McKAY (m. Sarah ADHEMAR)
7. 1853 ELIZA ESTHER McKAY (Died age 13)
8. Mar 29, 1853 MARY McKAY (m. William SMITH)
9. Mar 23, 1857 CHARLES ALBERT McKAY (m. CATHERINE "KATE" ANDERSON)