JOHN HOURIE (1835-?)
MARGARET McKAY (1840-1889)
(Last Updated: February 04, 2016)
John HOURIE was born Feb 12, 1835 in St Paul Parish (Red River), son of Jessie DENNETT and John HOURIE SR (1810-1896) who were both half-breeds. ** MORE ABOUT JOHN HOURIE SR
Marriage to Margaret McKAY
1859
By about 1859 John was married to Margaret McKAY, daughter of Mary England and John McKAY (1816-1922), both half-breeds. Son Oliver was born on Dec 29, 1860 in St Andrews Parish (Mapleton). ** MORE ABOUT JOHN McKAY
In 1862 daughter Elizabeth Jane was born.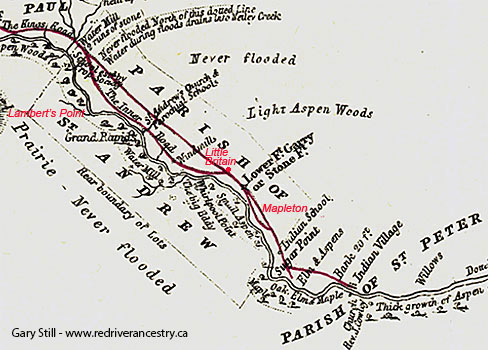 St Andrews Parish from Hind's Map of 1857
Canadian Confederation
The Riel Rebellion
Manitoba becomes a Province
1867-1870
On July 1, 1867 the British colonies in North America were united under the British North American Act to become the Dominion of Canada. Between 1869 and 1870, The Red River Rebellion occurred; led by Louis RIEL (1844-1885).On July 15,1870 Manitoba became the fifth province of Canada, the Canadian Government having acquired the territory previously governed by the HBC.
In 1875 John HOURIE claimed his Half-breed Scrip.
Around 1880 eldest daughter Elizabeth Jane married Alexander CALDER, son of Charlotte LYONS & George CALDER (1823-1906). ** MORE ABOUT GEORGE CALDER
The Red River Census of 1881 recorded John HOURIE (age 46) and  his wife Margaret (age 42) with children as Oliver (age 20), George (14), Frances (12), Mary (9), Margaret (7), Jessie (5) and John Robert (age 1).
On June 15, 1882 the Town of Selkirk was incorporated.
In 1882 eldest son Oliver married Mary CHASTELLAINE, daughter of Sarah SPENCE & Narcisse CHASTELLAINE (1844-1919). ** MORE ABOUT NARCISSE CHASTELLAINE
The family was completed with the birth of daughter Alice in 1882 and son William in 1884.
In 1887 daughter Frances married John Edward SLATER, son of Catherine COOK and William SLATER (1833-1884) from the Orkneys. ** MORE ABOUT WILLIAM SLATER
In 1888 John HOURIE is listed as renting a pew at St Clements Church in Mapleton.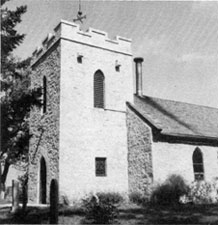 St Clements Anglican Church built in 1860-61
On Nov 16, 1889 Margaret HOURIE died. She would have been about 49 years old; John about 54.
Matlock
1891
In the 1891 Census John HOURIE was enumerated in the Matlock area as a 57 year-old widowed farmer. Children at home were Mary (age 19), Margaret (17), Annie (15), Alice (9) and William (age 6).
In 1892 son George married his sister-in-law, Mary Ellen CALDER, daughter of Charlotte LYONS & George CALDER (1823-1906). ** MORE ABOUT GEORGE CALDER
In 1892 daughter Margaret married John SCOTT in Selkirk. John SCOTT was from Ireland. On Apr 6, 1895 Margaret gave birth to a son named James SCOTT. This marriage did not last; John SCOTT would later marry an Irish lady named Margaret Ann McKINNEY.
In 1896 daughter Mary married Thomas FOLSTER, son of Isabel BROWN & John FOLSTER (1813-1873).
Around 1898 daughter Margaret married for a second time to Joseph DENNETT, son of Isabelle Elizabeth LOUTIT and William DENNETT (1844-1916).
In 1906 John HOURIE (age 73) was with his eldest son Oliver, in the Matlock area.
In 1910 son Willam married Mary Alice FOLSTER, daughter of Mary Ann Gray STEVENS and William FOLSTER (b-1852).
In the 1911 Census John (age 76) is a "lodger", with son William (and his wife & baby son), at the residence of Mary Ann & William FOLSTER b-1852 (his daughter-in-law Mary Alice's parents)
I don't have any information regarding when and where John HOURIE died.
Please post comments and queries at this link: FORUM DISCUSSING the JOHN HOURIE FAMILY
========================== Family Details ==========================
Children:
1. Dec 29, 1860 OLIVER ADOLPHUS HOURIE (m. Mary Elizabeth CHASTELLAINE)
2. Oct 29, 1862 ELIZABETH JANE HOURIE (m. Alexander CALDER)
3. Feb 21, 1865 JOHN EDWARD HOURIE (Died in infancy)
4. Dec 28, 1866 GEORGE HOURIE (m. Mary Helen "Ellen" CALDER)
5. Dec 30, 1869 FRANCES HARRIET HOURIE (m. John Edward SLATER)
** MORE ABOUT JOHN EDWARD SLATER
6. Aug 6, 1870 MARY ISABELLE HOURIE (m. Thomas FOLSTER)
7. 1874 MARGARET HOURIE (m1. John SCOTT, m2. Joseph DENNETT)
8. 1875 ANNIE (JESSIE?) HOURIE (m. George William FOLSTER)
9. 1876 JAMES BRUCE HOURIE
10. 1880 JOHN ROBERT HOURIE
11. Apr 2, 1882 ALICE HOURIE
12. Dec 23, 1884 WILLIAM "BILL" HOURIE (m1. Mary Ann FOLSTER, m2. Daisy SWAN)
** MORE ABOUT WILLIAM "BILL" HOURIE