JOHN EDWARD SLATER (1862-1945)
FRANCES HARRIET HOURIE (1868-1927)
(Last Updated: June 17, 2013)
John Edward SLATER was born on Feb 4, 1862 in St Paul Parish, Red River, eldest son of Catherine COOK and William SLATER (1833-1884). ** MORE ABOUT WILLIAM SLATER
John Edward grew up in the Parkdale area, near Lambert's Point as shown on the map below.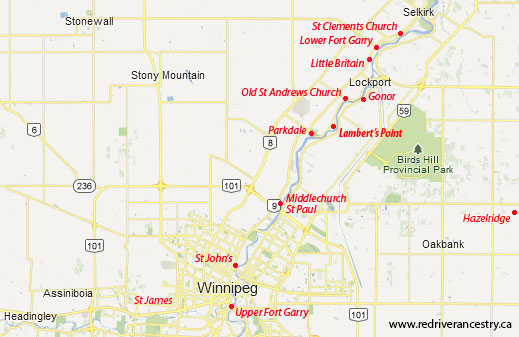 Marriage to Frances HOURIE
1887
On Feb 17, 1887 John Edward SLATER married Frances Harriet HOURIE, daughter of Margaret McKAY and John HOURIE (b-1835). ** MORE ABOUT JOHN HOURIE
In 1911 John Edward and all of his surviving children were together on Strathnaver Avenue in Selkirk. These were Maggie (age 22), William (20), John (16), Lawrence (8), Kate (14), Mary (12), Bertha (10) and Nellie (age 4). Two others had died in infancy. That same year, eldest daughter Maggie married John James PARKS in Selkirk, son of Mary (nee SABISTON) TAYLOR and John PARK (1847-1921).
World War I
1914-1919
On Aug 4, 1914 Great Britain (Canada on Aug 5) declared war on Germany and Austria-Hungary to uphold treaties with France and Belgium which were under German attack. This marked the beginning of World War I.
In 1915, when sons William James & John Edward SLATER Jr. enlisted, they stated their next of kin as their parents who were still living in West Selkirk.
On Jan 24, 1916 eldest son William James married Janet Gray McKILLOP in Winnipeg.
In the census of 1916 John Edward MASSEY (age 53) and his wife Frances Harriet (age 47) were enumerated on Vaughan Avenue in Selkirk. Children at home were William James (age 22), John Edward Jr. (19), Catherine (18), Isabella (16), Bertha (14), Samuel Lawrence (12) and Nellie (age 10).
In 1918 daughter Mary Elizabeth married Arthur William PRUDEN, son of Elizabeth McDONALD and John Peter PRUDEN (1855-1949).
November 11,1919, Armistice Day (Remembrance Day) marked the end of the First World War.
In 1920 daughter Catherine married Benjamin MASSEY, son of Sophia SMITH and John Edward MASSEY (1857-1934). ** MORE ABOUT JOHN EDWARD MASSEY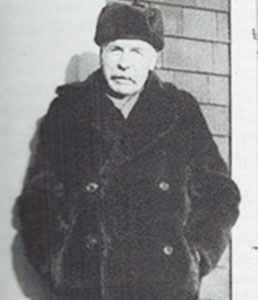 John Edward Slater (From Doreen Massey)
On May 23, 1927 Frances Harriet SLATER died in Selkirk at the age of 58.
On Feb 17, 1945 John Edward SLATER died in Selkirk.
Please post comments and queries at this link: FORUM DISCUSSING the JOHN EDWARD SLATER FAMILY
========================== Family Details ==========================
Children:
1. May 10, 1888 MARGARET JANE "MAGGIE" SLATER (m. John James PARKS)
2. Feb 17, 1890 EDITH SLATER (Died in infancy)
3. Apr 24, 1891 WILLIAM JAMES SLATER (m1. Janet McKILLOP, m2. Jean COGHILL)
4. Jan 30, 1896 JOHN EDWARD SLATER (Died age 23)
5. Dec 30, 1896 CATHERINE "KATE" SLATER (m. Benjamin MASSEY)
6. Mar 18, 1899 MARY ELIZABETH (ISABELLA) SLATER (m. Arthur William PRUDEN)
7. Mar 22, 1901 BERTHA ANN SLATER (m. Colin NEWTON)
8. Apr 9, 1903 SAMUEL LAWRENCE SLATER
9. 1906 NELLIE SLATER (m. Walter POPIEL)
10. 1910 NORMAN CHARLES SLATER (Died in infancy)