WILLIAM SLATER (1833-1884)
CATHERINE COOK (c1843-1895)
(Last Updated: June 17, 2013)
William SLATER was born in October of 1833; baptised Oct 7, 1833, son of half-breed Elizabeth DENNETT & John SLATER (1799-1873) from the Orkneys.
Marriage to Catherine COOK
1863
On Feb 12, 1863 William married Catherine COOK in St Paul (Middlechurch), half-breed daughter of Catherine ANDERSON & Charles COOK (1810-1881). ** MORE ABOUT CHARLES COOK
** These are the maternal great-great grandparents of Chantal KREVIAZUK, the internationally respected, Juno award-winning singer, songwriter, and musician. Chantal herself tells us all about her SLATER ancestors in the following Video:
Canadian Confederation
The Riel Rebellion
Manitoba becomes a Province
1867-1870
On July 1, 1867 the British colonies in North America were united under the British North American Act to become the Dominion of Canada. Between 1869 and 1870, The Red River Rebellion occurred; led by Louis RIEL (1844-1885).On July 15,1870 Manitoba became the fifth province of Canada, the Canadian Government having acquired the territory previously governed by the HBC.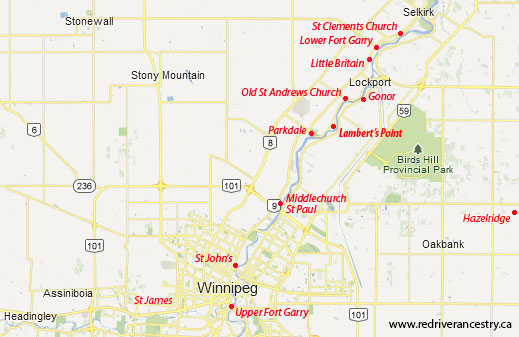 In 1870 William's family was recorded on Lots 91-92 in St Paul Parish. Their children were John (age 9), Albert (8), William (2) and George (age 1).

Riverlot Occupancy 1870 St Andrews Parish: William SLATER lived on Lot 28 (Lambert's Point).
Treaty Number One
1871
In 1871, Wemyss McKenzie SIMPSON was selected by the Department of Indian Affairs (DIA) as General Indian Agent, to make Treaties with the Indian Tribes, and to represent the Govt in the Northwest; as Commissioner he assisted Hon Alex MORRIS in negotiating a treaty with the Indians for a surrender of their land. On July 25, 1871, negotiations began at Lower Fort Garry.
On Aug 3, 1871, Chief Red Eagle (Mis-koo-ki-new) Henry PRINCE (1819-1899) signed Treaty One on behalf of the St Peters Band.
In the 1881 Census William and Catherine (both recorded as age 45) and their family were recorded still living in St Paul Parish; children as John (age 18), David (16), Catherine (14), William Charles (12), George (10), Wilhilmina (9), Margaret J (7), Isabella (4) and baby Jeremiah.
William becomes a Treaty Indian
Apparently at some time after 1881 William SLATER became a member of the St Peters Band, a Treaty Indian. When and/or how this came about is somewhat puzzling. Catherine's father (Charles COOK) had been living in St Peters in 1870, but his activities are difficult to trace properly. He seems to have had a third wife named Nancy who was an Indian, and he also seems to have moved to The Pas for a short time during that period. William SLATER may have acquired Treaty status by living at the COOK home on the Reserve and receiving Treaty Annuities in some fashion.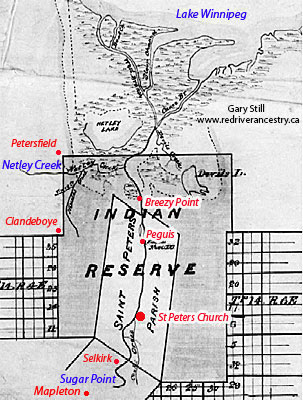 Plan showing St Peters Reserve No.1, Date 1877
William SLATER SR may have died in 1884.
In 1887 eldest son John Edward married Frances HOURIE daughter of Margaret McKAY & John HOURIE (b-1835).
Around 1889 daughter Catherine may have conceived a child with Andrew DUNNING, son of Elizabeth SPENCE and Andrew DUNNING SR (1840-1921). Catherine may have had more children by several other men (more work to be done on that; check back later)
In 1893 daughter Margaret married Frank KOCHEN from Denmark, a Cook by profession. Following her marriage to a 'white man" Margaret chose to withdraw from Treaty as a member of the St Peters Band of Indians. She received a Commutation of $50 in lieu of Treaty annuity payments and became eligible for Half-breed Scrip. This situation supports and validates the fact that the SLATER family had become Treaty Indians before that time. Her Commutation was approved by Chief William ASHAM and Councillors W.D. HARPER and William GREYEYES.
** MORE ABOUT CHIEF ASHAM and the ST PETERS RESERVE
Descendant Chantal KEVIAZUK comments: Chantal is most interested in uncovering the truth to a family rumor regarding their First Nations ancestry. According to family lore, Isabel's mother (Chantal's great grandmother), Alice May SLATER was Métis - a fact that has always been a taboo subject in their family. Chantal visited Grandmother Isabel to see if she could tease out the truth. Isabel explained that the SLATERs originally came from Scotland, and that it was custom at the time for the men in Canada to marry native women.
Catherine SLATER (mother) is said to have died in 1895.
In 1903 son George married Maud LEASK in Selkirk, daughter of Fanny COCHRANE & William LEASK (1839-1901).
In 1911 daughter Wilhelmina "Minnie" married William John GLOVER in Selkirk.
In 1912, youngest child, daughter Alice May, married in Selkirk to George Thomas FREEMAN, an Engineer from Ontario.
Please post comments & queries at this link: FORUM DISCUSSING the WILLIAM SLATER FAMILY
========================== Family Details ==========================
Children:
1. Feb 4, 1862 JOHN EDWARD SLATER (m. Frances HOURIE)
** MORE ABOUT JOHN EDWARD SLATER
2. Mar 2, 1867 WILLIAM DAVID SLATER (m. Mary UNKNOWN)
3. 1869 WILLIAM CHARLES SLATER (Died age 13)
4. 1871 GEORGE SLATER (m. Marguerite Maud LEASK)
5. 1872 WILHELMINA "MINNIE" SLATER (?m. William John GLOVER)
6. Mar 26, 1873 CATHERINE SLATER (?1. Andrew DUNNING , ?2. Andrew LAMBERT, ?3. SINCLAIR,
?4. CORRIGAL, ?5. Thomas FAVEL)
7. Mar 3, 1876 MARGARET JANE "MAGGIE" SLATER (m. Frank KOCHEN)
8. Jan 8, 1876 ELIZABETH "ISABELLE" SLATER
9. Dec, 1880 JEREMIAH SLATER
10. Dec 6, 1882 ALICE MAY SLATER (m. George Thomas FREEMAN)
** MORE ABOUT GEORGE THOMAS FREEMAN