CHARLES COOK (1810-1881)
MARY ANN LYONS (1818-1840)
CATHERINE ANDERSON (1820-1851)
(Last Updated: February 07, 2013)
Charles COOK was born somewhere between about 1805 and 1810 in the Nelson River District, son of Englishman William Hemmings COOK (1768-1846) and one of his Indian wives, either KAHNAPAWANAKAN or Mary/ Agathas COCKING. His father became the Hudson's Bay Company (HBC) Chief Factor at York Factory.
** MORE ABOUT WILLIAM HEMMINGS COOK
Birth and marriage dates for Charles and his children are very poorly documented and various sources present widely divergent information.
** These are ancestors of Chantal KREVIAZUK, the internationally respected, Juno award-winning singer, songwriter, and musician. Chantal herself tells us all about her COOK  ancestors on the following Video:
In 1818 Charles' father and the COOK family were sent to the Swan River District with headquarters at Fort Hibernia (on the Assiniboine River near Kamsack, Saskatchewan. HBC records noted: "Sent KILCOOL, Uckachen (GADDY's son) & Charles COOK - - to fetch some meat." Charles was probably about 10 years old at the time.
In the spring of 1819 Charles' father resigned and the COOK family settled in Red River (St Paul Parish; Middlechurch).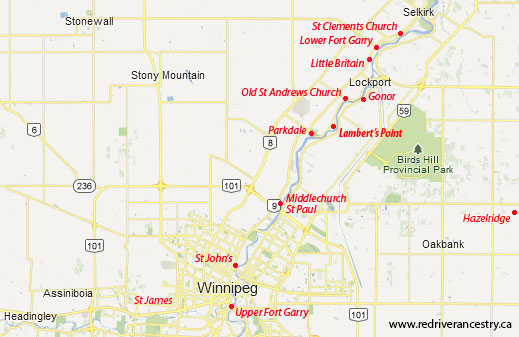 In 1820 Reverend John WEST (1778-1845) arrived at Red River from England, the first HBC Chaplain to Rupert's Land. James HOPE and Henry BUDD (Charles' step-mother's child by Muskego Cree BUDD) were the first two students at the Mission School started by WEST.
In 1821 the union of the North West Company (NWC) and the HBC occurred, ending years of bitter rivalry for dominance of the fur trade in Western Canada.(Sir) George SIMPSON (1786-1860) soon became the Governor of Rupert's Land.
In 1823 Reverend WEST left Red River for good. His replacement that year was Reverend David JONES (1796-1844).
During the summer of 1824 Rev. JONES built a second church, Middle Church (St Paul's) and a day-school, a few miles (6 miles or so) downstream (Image Plain) from the original mission at the Upper Church (St John's). In 1825 Reverend William COCKRAN (1798-1865) arrived at the Red River as the assistant to Rev. JONES at the Upper and Middle Churches.
Marriage to Mary Ann LYONS
1836-1840
On Mar 5, 1836 Charles married at St Andrews to Mary Ann LYONS b-1818, daughter of Margaret KIPLING & John LYONS (1786-1875). ** MORE ABOUT JOHN LYONS
In 1838 daughter Letitia was born in St Paul (Middlechurch).
On Apr 11, 1840 Mary Ann died in Red River.
Marriage to Catherine ANDERSON
1844
On Mar 3, 1844 Charles re-married to Catherine ANDERSON in St Andrews, daughter of Mary DEMORAN (a Saulteaux Indian) and James ANDERSON (1775-1856), an HBC Tailor from the Orkneys of Scotland.
On Feb 22, 1846 Charles' father, William HEMMINGS COOK died; buried at St Johns Anglican Cemetery.
In 1848 daughter Christiana was born at Poplar Point, MB
On Sep 11, 1849 daughter Annie was born in St Paul (Middlechurch).
On Aug 16, 1854 daughter Wilhelmina was born in St Paul.
In 1857 daughter Letitia married Andrew SPENCE in St Andrews, son of Nancy WARD & George SPENCE (1792-1845).
On Jun 5, 1858 Charles' youngest child, William Hemmings, was born in St Paul.

In 1863 daughter Catherine married William SLATER in St Paul, son of half-breed Elizabeth DENNETT & John SLATER (1799-1873) from the Orkneys.
Canadian Confederation
The Riel Rebellion
Manitoba becomes a Province
1867-1870
On July 1, 1867 the British colonies in North America were united under the British North American Act to become the Dominion of Canada. Between 1869 and 1870, The Red River Rebellion occurred; led by Louis RIEL (1844-1885).On July 15,1870 Manitoba became the fifth province of Canada, the Canadian Government having acquired the territory previously governed by the HBC.
Around 1867 daughter Christiana married John INKSTER, son of Elizabeth SUTHERLAND and James INKSTER (1804-1865) from the Orkneys.
In 1870 Charles was recorded in St Peters Parish (Sprague & Frye). No children were shown in the entry.
The Pas
1871
From Reverend Henry BUDD's Diary, 1871: April 10, Monday. I prepared to go up to the Big-Eddy to administer private Communion to the sick man and family. Arriving at the Eddy I found that James COOK, brother to the sick man had made every thing ready for the Service. Poor Charles COOK looks exceedingly weak. Commencing the Service at once we solemnly approached the Table which was covered with a clean white Cloth, and I administered the holy Communion to the family. I stayed some time with Charles COOK endeavouring to encourage him to a patient endurance of the chastisements of the Lord, after which I had to return home to the Village.
Census 1881: Charles COOK, age 75 (born c1806 in Nelson River district), a widower, with his son-in-law, Andrew SPENCE b-1837 in Burnside/ Marquette (west of Portage la Prairie).
On July 20, 1881, when Charles COOK died he was a resident of Burnside district.
Please post comments & queries at this link: FORUM DISCUSSING the CHARLES COOK FAMILY
========================== Family Details ==========================
Children by Mary Ann LYONS:
1. bapt. Mar 19, 1837 JOHN COOK (Died age 15)
2. Nov 13, 1838 LETITIA COOK (m. Andrew Frederick SPENCE)
Children by Catherine ANDERSON:
1. c1845 CATHERINE COOK (m. William SLATER)
** MORE ABOUT WILLIAM SLATER
2. 1846 CHRISTIANA COOK (m. John "Jock" INKSTER)
3. Sep 11, 1849 ANNIE COOK (m. Joseph PAUL)
4. Aug 16, 1854 WILHEMINA COOK
5. Jun 5, 1858 JOSEPH HEMMINGS COOK