JAMES ANDERSON (1775-1856)
MARY SUZETTE DEMORAN (1789-1854)
(Last Updated: December 05, 2016)
On Feb 10, 1775 James ANDERSON was born in Walls or Sternness in the Orkneys of Scotland (baptized Aug 25, 1775 in Quoys), the son of Katherine CORRIGAL and Harry ANDERSON (1741-1819).
In 1796, at the age of 21 James was hired by the Hudson's Bay Company (HBC) as a Tailor. He left Orkney on June 29 that year, sailing on the Prince of Wales, and arrived at Albany on Hudson Bay two months later. For the next two years he worked as a Tailor at Albany House, or at its dependencies on the Albany River, Martin Falls and Osnaburgh House. He sewed cloths (usually coats) and made shoes (moccasins) for the men. He made the captain coats that the Company gave to leaders of the Native bands with whom they traded. In addition to his tailoring duties he also worked as a Labourer cutting brush, sawing wood, and hunting.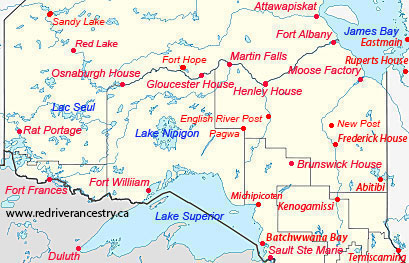 In March of 1799, James was sent to Brandon House, a post on the Assiniboine River, in what is today western Manitoba. There he continued his work as tailor, and was sometimes sent out to trap or to deliver furs.
James marries Mary DEMORAN
1801
It was while he was at Brandon House that he took a native woman as his wife: Mary DEMORAN, an Ojibway or Saulteaux Indian. Since there were no clergy in the Hudson's Bay Company at this time, they were married 'a la facon du pays, according to the custom of the country'.  By Indian tradition, they danced around a fire to seal their union and James presented her with many gifts, including a silver wedding ring.  Their marriage was documented in the book Many Trails to Manitou-Wapah.
In 1802 their first child, daughter Elizabeth, was born. In 1804 son John was born, and in 1806 son Thomas was born in Turtle Mountain. In 1808 son James was born at Brandon House.
Arrival of the first Selkirk Settlers at Red River
1812
In the fall of 1812, Peter FIDLER (1769-1822) became the Postmaster at Brandon House (Manitoba), but he was soon sent to assist Lord SELKIRK by bringing in homesteaders, survey river lots and building houses for a new settlement near the Forks of the Red and Assiniboine rivers (Kildonan).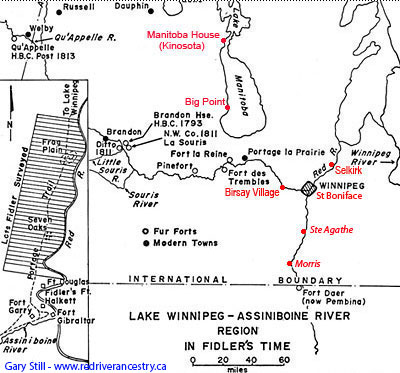 In 1812 daughter Euphemia ("Effie") was born at Fort Ellice (near the confluence of the Assiniboine and Qu'Apelle Rivers, now St Lazare, MB, east of the SK border). Around 1813 daughter Mary Polly was born at Brandon House.
Around 1820 son John married Mary Anne DESMARAIS, daughter of Mary (Indian) and Francois DESMARAIS (1770-1849), a French Canadian
James & Mary Anne are Legally Wed and their children Baptized by Reverend John WEST
Union of the North West Company with the Hudson's Bay Company
1821
On Jan 20, 1821 Reverend John WEST (1778-1845) arrived at Brandon House on his first trip west of Red River. WEST was the first HBC clergyman in Rupert's Land (Assiniboia). Two days later (Jan 23) he performed the marriage of James ANDERSON and his wife, Mary Suzette DEMORAN, and baptized most of his children. According to Gail Morin these were Elizabeth (age 19), John (17), James, (13), Hannah (11),  Mary (8),) and Effie (age 9). WEST continued on to Fort Qu'Appelle and on his return trip (Feb 2) he stopped again at Brandon House, recording in his Journal "During our stay, a Sunday intervened, when we all met for divine worship in the morning and evening, and I had an opportunity of baptizing several more children, whose parents had come in from the hunting grounds, since my arrival at the Post, in my way to Qu'Appelle". Son Thomas ANDERSON (age 15) was baptized on Feb 4, thus accounting for the seven of James' children who were born before that date.On Feb 5 WEST departed on his return to Red River.
In 1821 union of the North West Company (NWC) and the Hudson's Bay Company (HBC) occurred, ending years of bitter rivalry for dominance of the fur trade in Western Canada. (Sir) George SIMPSON (1786-1860) became the Governor of Rupert's Land.
After the merger, almost 1,300 employees lost their jobs since the single HBC organization that emerged had no need for most of the voyageurs and retired fur traders.
James retires to Red River
1823
In 1823 James (about 48 years old) retired from HBC service and became a Red River settler.
In 1823 Reverend WEST departed Red River for good. His replacement was Reverend David JONES (1796-1844).
On Jan 26, 1826 eldest daughter Elizabeth married William SINCLAIR at St Johns, an Orkney man like her father.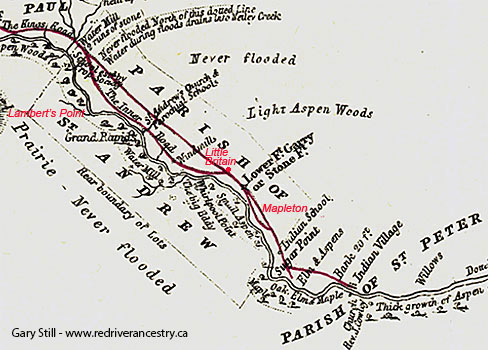 St Andrews Parish from Henry Hind's Map of 1857
1827
In the 1827 Red River Census James and his wife were recorded on Lot 147-48 (probably in the vicinity of Lambert's Point as shown on the above map). Their children indicated as one adult son; one adult daughter, one son under 16 and four daughters under the age of 15. In my estimation these would be James Jr. (age 19), Hannah (17), Thomas (11), Effie (15), Mary (14), Catherine (5) and Christie (age about two). He has a house and stable; two horses, three cows and two calves; two oxen and one pig. He has a plough and harrow and a canoe. He has three acres under cultivation.
Around 1827 son Peter wase born in St Andrews.
Around 1827 son Thomas married Catherine LANDRY, daughter of Louise DESCOTEAUX & Louis LANDRY.
In 1829 daughter Hannah married James CORRIGAL, son of Margaret (Indian) and Peter CORRIGAL.
Around 1831 son Henry was born.
In 1832 son James married Jane TRUTHWAITE at St John, daughter of Elizabeth VINCENT & Jacob TRUTHWAITE (1790-1873). 
Around 1833 their last child, Caleb, was born in St Andrews.
In 1837 daughter Effie married Richard FAVEL, son of Sarah TROUT & Richard FAVEL SR (1812-1873).
In 1837 daughter Mary Polly gave birth to an illegitimate child (John NORQUAY) in St Francois Xavier. The father was Henry NORQUAY, son of Jane MORWICK & OMAN NORQUAY (1773-1820)
Around 1840 daughter Christy married Robert HOURIE, son of Margaret BIRD and John HOURIE (1779-1857).
In 1840 daughter Mary Polly gave birth to a second illegitimate child (Elizabeth DESMARAIS), this time the father was her brother-in-law, Francois DESMARAIS, her sister Mary Ann's husband.
In 1844 son James, widowed, remarried to Harriet SMITH, daughter of Mary (Indian) and Englishman John James SMITH (1791-1850). ** MORE ABOUT JOHN JAMES SMITH
In 1844 daughter Catherine married Charles COOK, son of William Hemmings COOK (1768-1846).
In 1847 daughter Mary Polly gave birth to yet another illegitimate child (James JOHNSTON) by James JOHNSTON SR (1810-1859) of uncertain origins.
In 1850 son Peter married Letitia McKAY in Portage la Prairie, daughter of Harriet BALLENDINE & John Richards McKAY (1792-1877). ** MORE ABOUT JOHN RICHARDS McKAY
In 1854 Suzette died and in 1856 James died, both in St Andrews.

In 1856 son Caleb married Isabella DENNETT, daughter of Ellen MOORE & Andrew DENNETT (1807-1886).
Please post comments & queries at this link: FORUM DISCUSSING the JAMES ANDERSON FAMILY
============================ Family Details ============================
Children:
1. 1802 ELIZABETH ANDERSON (m. William SINCLAIR)
** MORE ABOUT WILLIAM SINCLAIR
2. Sep 4, 1804 JOHN ANDERSON (m. Mary Anne DESMARAIS)
3. Jun 15, 1806 THOMAS ANDERSON (m. Catherine LANDRY)
4. c1808 JAMES ANDERSON JR (m1. Jane TRUTHWAITE, m2. Harriet SMITH)
5. 1810 HANNAH ANDERSON (m. James CORRIGAL)
6. 1812 EUPHEMIA "EFFIE" ANDERSON (m. Richard FAVEL)
7. c1813 MARY POLLY ANDERSON (a1. Henry NORQUAY, a2. Francois DESMARAIS, a3. James JOHNSTON)
8. c1822 CATHERINE ANDERSON (m. Charles COOK)
** MORE ABOUT CHARLES COOK
9. 1825 CHRISTIANA (CHRISTINE) "CRISTY" ANDERSON (m. Robert HOURIE)
10. 1827 PETER ANDERSON (m1. Letitia McKAY, ?m2. Margaret MOUSSEAU)
11. c1831 HENRY ANDERSON
12. May 3, 1836 CALEB ANDERSON (m. Isabella DENNETT)