JOHN JAMES SMITH (1791-1850)
MARY INDIAN (1794-1832)
NANCY FAVEL (1816-1901)
(Last Updated: January 26, 2016)
John James SMITH was born around 1791 in Westminster, England.
John begins his career with the Hudson's Bay Company
1808
In 1808 John signed a contract with the Hudson's Bay Company (HBC). The 17 year old sailed to Albany Factory on the Prince of Wales to begin his career as an assistant Writer and Labourer there.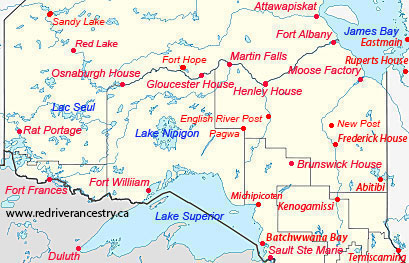 In 1810 the HBC divided Rupert's Land into two new jurisdictions, the Northern and Southern Departments. Thomas THOMAS (1765-1828) was appointed Superintendant of the Southern Department (Fort Albany, Moose Factory and Eastmain Factory).William AULD (1770-1830) was appointed Superintendant of the Northern Department (Churchill, York Factory, Winnipeg and Saskatchewan Districts).
From 1813 to 1818 John spent most of his time as a Labourer at trading posts inland from Albany along the Albany River, mainly at Marten Falls, Gloucester House and Henley House. 
John and an Indian Woman named Mary
1818
During this period John was "country wed" to an Indian woman simply named Mary. Around 1818 their first child Richard was born.
In 1818 John was placed in charge at Marten Falls; in 1819 he was Assistant at Lower Henley House; and in 1820 he was placed in charge of the post at Attawapiskat, north of Albany near the mouth of the Attawapiskat River. In 1821 his second son John was born there.
Union of the Hudson's Bay Company and the North West Company
1821
In 1821 union of the North West Company (NWC) and the Hudson's Bay Company (HBC) occurred, ending years of bitter rivalry for dominance of the fur trade in Western Canada. After the merger, almost 1,300 employees lost their jobs since the single HBC organization that emerged had no need for most of their voyageurs and retired fur traders.
In 1822 John was discharged from service and became a "Free Hunter" in the Albany district.
At the time of the HBC-NWC union, (Sir) George SIMPSON (1786-1860) became the Governor of Rupert's Land. On May 20, 1822, SIMPSON reported to the board of governors of the HBC that he had established a fort at the junction of the Red and Assiniboine Rivers. He named it Fort Garry (the Upper Fort). Around this fort was to grow the city of Winnipeg.
John James settles in Little Britain, Red River
1824
By 1824 JJ retired to Red River and settled in the Lockport – Little Britain area.
On July 12, 1825 John was church-wed at St John's to his country wife Mary. By this time they had two more children, (William & Harriet).
The Red River Census of 1827 indicated that John had a house and a canoe, and that he had two acres of land under cultivation. The family consisted of three sons under the age of 16 (Richard, John and William) and a daughter under 15 (Harriet). In 1831 daughter Mary was born.
In 1832 construction of Lower Fort Garry was begun on the HBC reserve land right next to John's property. John's wife Mary died that year.
Marriage to Nancy FAVEL
1835
On Apr 29, 1835, John James SMITH re-married to Nancy FAVEL, daughter of Jenny-Jane "Pawpitch" and Humphrey Martin FAVEL (1775-1850). Jenny Jane was only about 19 years old; JJ was then about 44 years old.
In 1835 Parish Map shows John James SMITH as the owner of Lot 39, just to the south of the Lower Ft Garry HBC Reserve land.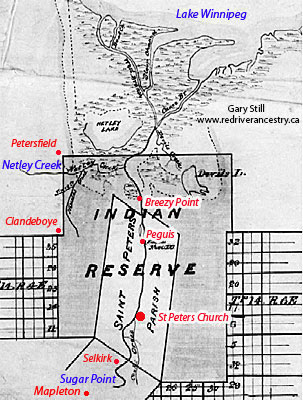 Part of Henry Hind's Map based on his observations of 1857
In Pieces of the Past, pg 2, Frank Walters (born 1898) speaks of a James SMITH:  He says "Many of the settlers heated limestone to make their own lime wash (whitewash), but others made a business of it.  One of the first to construct a kiln was James SMITH, who built his kiln near where the St Andrews Locks are now and sold lime to his neighbours."
In 1837 son Henry was born, John's first child with Nancy.
In 1839 son Richard married Nancy Ann ROBERTSON, daughter of Clementine HARPER & John ROBERTSON (1786-1828).
In 1844 daughter Harriet became the 2nd wife of James ANDERSON, son of Mary & James ANDERSON SR (1775-1856). ** MORE ABOUT JAMES ANDERSON SR
St Peters Indian Settlement
It appears that John & Nancy moved at some point to the St Peters Indian Settlement where son James was born in 1841. He was baptized there on Aug 8, 1841 by Reverend John SMITHURST(1807-1867) and was actually later referred to as an 'Indian'.
By 1846 Nancy had given birth to two more children; Thomas and Ann Elizabeth.
In 1847 son John Jr. married Mary TAYLOR, daughter of Jane PRINCE & surveyor George TAYLOR(1800-1844).
John's last child was Samuel, born in 1848.
Around 1848 son William married Charlotte MOWAT, daughter of Margaret (Indian) and EDWARD MOWAT (1786-1857). ** MORE ABOUT EDWARD MOWAT
On Oct 15, 1850 John James SIMTH died; buried at St. Andrews.
Around 1852 daughter Mary married Roderick SAUNDERS, son of Margaret COOK & William SANDERSON aka SAUNDERS (1806-1843). ** MORE ABOUT WILLIAM SANDERSON aka SAUNDERS
In 1857 daughter Catherine married her brother-in-law, David MOWAT.
Around 1863 son James married Nancy SMITH (of so far unknown origins). James was among the first settlers near Clandeboye (Medicine Creek).

Around 1865 daughter Ann Elizabeth married John SANDERSON, son of Elizabeth ANDERSON & James SANDERSON (1816-1850). ** MORE ABOUT JAMES SANDERSON
Canadian Confederation
Manitoba becomes a Province
1867-1870
On July 1, 1867 the British colonies in North America were united under the British North American Act to become the Dominion of Canada.  Sir John A MACDONALD (1815-1891) was appointed as Canada's first Prime Minister; a month later he won the first federal election.William McDOUGALL (1822-1905) became the Minister of Public Works, and he begannegotiations to acquire Rupert's Land from the HBC.
On Feb 14, 1867 son Samuel married Mary Ann DESMARAIS at St Mary's Anglican Church in Portage la Prairie, daughter of Sophia ERASMUS & Jean Baptiste DESMARAIS (1812-1897).
** MORE ABOUT JEAN BAPTISTE DESMARAIS
Around 1867 son Thomas was at Fort Vermillion on the Peace River in northern Alberta, where he married Madeleine LIZOTTE, daughter of Sophie TOURANGEAU and Michel LIZOTTE (1818-1916) from Quebec. 
Around 1870 son Henry married Mary (nee STEVENS) LYONS, daughter of Mary MEENISH & Richard STEVENS (1796-1872).
On July 15,1870 Manitoba became the fifth province of Canada, the Canadian Government having acquired the territory previously governed by the HBC.
Widow Nancy SMITH would spend the rest of her life with the family of her son Thomas in St Andrews where she died on Aug 18, 1901.
Please post comments & queries at this link: FORUM DISCUSSING the JOHN JAMES SMITH FAMILY
=========================== Family Details ===========================
Children by Mary INDIAN:
1. 1818 RICHARD SMITH (m1. Nancy-Ann ROBERTSON, m2. Catherine (nee THOMAS) COOPER)
2. June 9, 1821 JOHN SMITH (m. Mary TAYLOR)
3. c1823 WILLIAM SMITH SR (m1. Charlotte MOWAT, m2. Louisa THOMAS)
4.  Oct 11, 1825 HARRIET SMITH (m. James ANDERSON)
5. 1830 CATHERINE SMITH (m. David MOWAT)
6. 1831 MARY "MINNIE" SMITH (m. Roderick SAUNDERS)
** MORE ABOUT RODERICK SAUNDERS
Children by Nancy FAVEL re HBCA:
1. Feb 6, 1837 HENRY SMITH (m. Mary (nee STEVENS) LYONS)
2. Jul 18, 1841 JAMES SMITH (m1. Nancy SMITH, m2. Jane Harriet "Jennie" FLETT)
3. July 30, 1844 THOMAS JAMES SMITH (m. Madeline Louise LIZOTTE)
** MORE ABOUT THOMAS JAMES SMITH
4. Jan 9, 1846 ANN ELIZABETH SMITH (m1. John Henry SANDERSON)
5. Dec 29, 1848 SAMUEL SMITH (m. Mary Ann DESMARAIS)