RODERICK SAUNDERS (1826-?)
MARY "MINNIE" SMITH (c1831-1911)
(Last Updated: September 09, 2015)
Roderick SAUNDERS was born 1826, the only child of Margaret (nee COOK) and William SANDERSON aka SAUNDERS.(1806-1843)  His mother drowned in 1827, when Rod was just a baby.  Mary (nee ALDER) would marry his widowed father to become Rod's step-mother. ** MORE ABOUT WILLIAM SANDERSON aka SAUNDERS
Marriage to Mary SMITH
1852
Around 1852 Roderick married Mary "Minnie" SMITH, the daughter of an Indian woman named Mary, and Englishman John James SMITH (1791-1850). ** MORE ABOUT JOHN JAMES SMITH
On Nov 2, 1852 daughter Mary Ann was born in St Andrews.
Canadian Confederation
Red River Rebellion
Manitoba becomes a Province
1867-1870
On July 1, 1867 the British colonies in North America were united under the British North American Act to become the Dominion of Canada.  Sir John A MACDONALD (1815-1891) was appointed as Canada's first Prime Minister.
In 1868 William McDOUGALL (1822-1905) became the first Minister of Public Works for the new Dominion of Canada, and he began negotiations to acquire Rupert's Land from the HBC. He sent surveyors out to prepare the way for an expected influx of settlers.
On Oct 11, 1869, Louis RIEL (1844-1885) placed his foot on the surveyors' chain to tell them their work was finished! This marked the beginning of another Red River Métis Rebellion.
** MORE ABOUT the RED RIVER REBELLION in WIKIPEDIA
On July 15,1870 Manitoba became the fifth province of Canada, the Canadian Government having acquired the territory previously governed by the HBC.The Rebellion was essentially over.
In 1870 Roderick and his family lived on River Lot 92 in St Andrews Parish, not far south of the Lockport Bridge. Children recorded with them that year were: William (age 15), Isabel (13), Catherine (11), Flora (8), Jemima (6), John (4) and George (age 2). Missing is daughter Mary Ann who had married about 1868 to George TURNER, a white settler who was born in 1835 in England.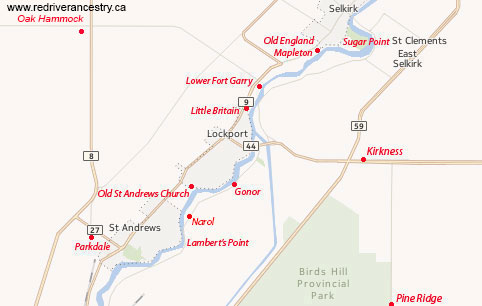 In 1875 both Roderick and Minnie (of St Andrews) claimed Half-breed Scrip for themselves and for their children.
Around 1878 son William married Mary MORWICK, daughter of Mary ATKINSON and George MORWICK (b-1842). Also around 1878 daughter Isabella married James MUIR, son of Elisabeth STUART aka JOHNSTONE and John MUIR (1810-1875) who was born in Scotland. ** MORE ABOUT JOHN MUIR
In the Census of 1881 Roderick SAUNDERS (age 53), wife Mary (age 45) and children at home: Jemima (age 17), John Henry (15), George (13) and Caroline (age 2).
In 1885 son John Henry married Caroline PRUDEN, daughter of Maria FIDLER and William Albert PRUDEN (1832-1890). ** MORE ABOUT WILLIAM ALBERT PRUDEN
In 1887 daughter Jemima married William CLARK (1853-1905) who was born in England.
In the census records of 1891, 1901 and 1906, George and Mary SAUNDERS were recorded in St Andrews.
In 1902 son George married Margaret (nee STEVENSON) LEASK, the widow of Alfred LEASK (1865-1892). Margaret was the daughter of Margaret BALLENDINE and Peter STEVENSON (1830-1918).
** MORE ABOUT PETER STEVENSON
It must have been after 1906 that Roderick SAUNDERS died.
On Apr 7, 1911 Mary SAUNDERS died in St Andrews, age 79.
Comments and queries at this link: FORUM DISCUSSING the RODERICK SAUNDERS FAMILY
=========================== Family Details ===========================
Children:
1. Nov 2, 1852 MARY ANN SAUNDERS (m. George TURNER)
2. Mar 9, 1856 WILLIAM SAUNDERS (m. Mary MORWICK)
3. Feb 12, 1858 ISABELLA HARRIET SAUNDERS (m. James MUIR)
4. Feb 12, 1859 CATHERINE SAUNDERS
5. Jun 2, 1862 FLORA SAUNDERS (Died age 11)
6. Feb 15, 1863 JEMIMA SAUNDERS (m. William CLARK)
7. Feb 1, 1866 JOHN HENRY SAUNDERS (m. Caroline "Carrie" PRUDEN)
8. Nov 25, 1868 GEORGE SAUNDERS (m. Margaret "Maggie" (nee STEVENSON) LEASK)
9. 1874 CAROLINE SAUNDERS