PETER STEVENSON (1830-1918)
MARGARET BALLENDINE (1835-1918)
(Last Updated: August 05, 2014)
Inspiration to develop this lineage was provided by a donation from, and the cooperation of Merrily who is a descendant.
Peter STEVENSON was born around 1830 in what later became the St Peters Indian Reserve. From the 1870 census in St Peters we find that his father's name was William STEVENSON, an Indian who was born about 1807 in the St Peters Indian Reserve. His mother is alleged to have been Mary WILLIAMS, believed to be a daughter of Sarah FIDLER and Governor William WILLIAMS (1771-1837). ** MORE ABOUT MARY WILLIAMS and WILLIAM STEVENSON
Marriage to Margaret BALLENDINE
1854
On March 19, 1854 Peter married Margaret BALLENDINE (Sprague & Frye), a half-breed who was born around 1835 in Red River. ** Merrily says she has a copy of their marriage and death certificates which provide no other information except that witnesses at their marriage were a Catherine STEVENSON and a David STRANGER.
Margaret was a daughter of Mary STEVENS and William BALLENDINE (1790-1869).
** MORE ABOUT WILLIAM BALLENDINE
Their first child was Samuel, born about 1855.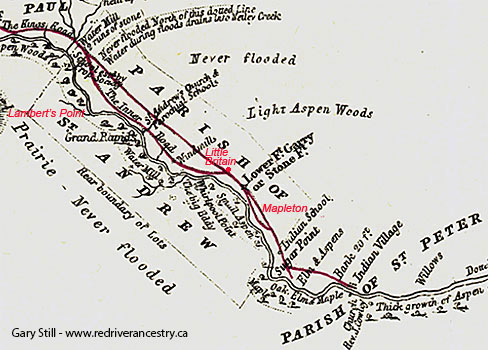 St Andrews Parish from Hind's Map of 1857
Canadian Confederation
A Red River Rebellion
Manitoba becomes a Province
Signing of Treaty Number One
1867-1871
On July 1, 1867 the British colonies in North America were united under the British North American Act to become the Dominion of Canada.  Sir John A MACDONALD (1815-1891) was appointed as Canada's first Prime Minister.William McDOUGALL (1822-1905) became the Minister of Public Works, and he began negotiations to acquire Rupert's Land from the HBC; surveyors were sent to Red River to prepare the way for an expected influx of settlers.
On Oct 11, 1869, Louis RIEL (1844-1885) placed his foot on the surveyors' chain to tell them their work was finished! This marked the beginning of the historic Red River Métis Rebellion. The Rebellion ended when RIEL's Provisional Government accepted the terms of the Manitoba Act and on July 15,1870 Manitoba became the fifth province of Canada.
In 1870 Peter STEVENSON and his family were recorded in St Peters with children as Samuel (age 17), Mary (10), Margaret (4) and Roderick (age 2). ** Note: There were other children who died in infancy.
In 1871 Chief Henry PRINCE or RED EAGLE (1819-1902) signed Treaty Number One on behalf of the St Peters Indians. ** MORE ABOUT CHIEF HENRY PRINCE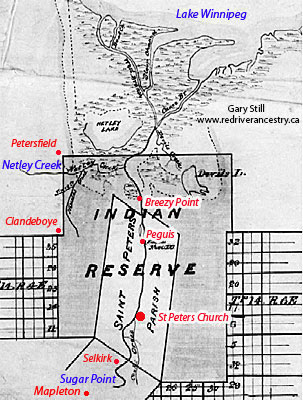 St Peters Indian Reserve Boundaries after signing of Treaty Number One in 1871
The Daily Free Press: A list of St Peters Indian Reserve Band Members in 1871 included a Peter STEVENSON and both a Samuel STEVENSON SR as well as a Samuel STEVENSON JR.
In 1874 eldest son Samuel married Sarah BEAR in the St Peters Reserve, daughter of John BEAR. Sarah BEAR died in 1875 after giving birth to a child who also died. This is probably John BEAR (1804-1864) who married Catherine ERASMUS. ** MORE ABOUT JOHN BEAR
In 1880 daughter Mary married George TAIT in St Peters, son of Catherine (nee CUMMINGS) PEEBLES and William TAIT (1827-1863), a half-breed.
The 1881 Census recorded Peter STEVENSON (age 40), wife Margaret (age 38) and children: Samuel (age 28), Margaret (15), Roderick (12), James (10), Esther (4) and Caroline (age 3).
In 1881 widowed son Samuel re-married to Rachel Harriet WEST, daughter of Maria THOMAS & Morrison WEST (an Indian born around 1821). ** MORE ABOUT MORRISON WEST
In 1885 daughter Margaret married Alfred James LEASK, son of Fanny COCHRANE and William LEASK(1839-1901). Alfred LEASK died in 1892.
In December of 1890 teenage daughter Esther gave birth to a child (Henry) out of wedlock. The father was probably James Robert SANDERSON, son of Fanny and George SANDERSON (b-1840).
** Note: Cannot find Peter and his family in the Census records for 1891.
In 1898 youngest daughter Caroline married James William ASHAM, son of Jane Mary THOMAS & Chief William ASHAM (b-1853). ** MORE ABOUT CHIEF WILLIAM ASHAM
In 1901 son James was married to Christie Bella SINCLAIR by Reverend ANDERSON at the St Peters Church, Dynevor. Christie Bella was the daughter of Victoria THOMAS and Charles SINCLAIR (1847-1926).
In 1902 widowed daughter Margaret remarried to George SAUNDERS, son of Mary SMITH and Roderick SAUNDERS (b-1826).
In 1904 youngest son Benjamin married Edith KIPLING of uncertain origins.
In 1908 son James' wife Christie died at the age of 26. James then began to have children with a teenager named Mary TOBORUK who emigrated from Russia in 1904.
Peter and Margaret can be found in the census records for 1906, 1911 and 1916 in the St Peters Reserve. In the 1906 and 1911 they had a grandson named Harry STEVENSON with them (born around 1893).
On Nov 10, 1918 Peter STEVENSON died (age 87), and Margaret died three days later (Nov 13, 1918, age 80) in St Andrews Parish.
Comments and queries at this link: FORUM DISCUSSING the PETER STEVENSON FAMILY
========================== Family Details ==========================
Children re Censuses:
1. 1855 SAMUEL STEVENSON (m. Rachel Harriet WEST)
** MORE ABOUT SAMUEL STEVENSON
2. Mar 24, 1861 MARY ELIZABETH STEVENSON (m. George TAIT)
3. 1866 MARGARET STEVENSON (m1. Alfred James LEASK, m2. George SAUNDERS)
4. 1869 RODERICK STEVENSON
5. 1871 JAMES STEVENSON (m1. Christie Bella "Christine" SINCLAIR; m2. Mary TODORUK)
6. 1877 ESTHER STEVENSON (m. James Robert SANDERSON)
7. 1878 CAROLINE STEVENSON (m. James William ASHAM)
8. Dec 12. 1881 BENJAMIN STEVENSON