JAMES STEVENSON (1871-1949)
CHRISTIE BELLA SINCLAIR (1886-1908)
MARY TODORUK (1893-1963)
(Last Updated: December 27, 2015)
James STEVENSON was born around 1871 in the St Peters Indian Reserve where he lived all his life, a son of Margaret BALLENDINE and Peter STEVENSON (1830-1918). ** MORE ABOUT PETER STEVENSON
In the 1881 Census James (age 10) was recorded with his parents in St Peters.
** Note: Cannot find James or his parents in the Census records for 1891 when he would have been about 20 years old.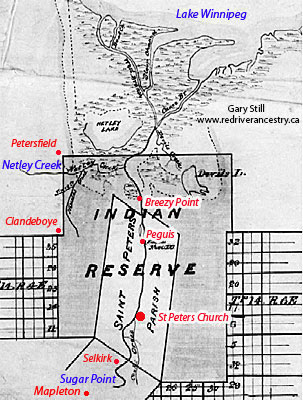 St Peters Indian Reserve Boundaries after signing of Treaty Number One in 1871
Marriage to Christie Bella SINCLAIR
1901-1908
On Sep 14, 1901 James was married to Christie Bella SINCLAIR by Reverend ANDERSON at the St Peters Church, Dynevor. Christie Bella was the daughter of Victoria THOMAS and Charles SINCLAIR (1847-1926).
It was said that James served for 30 years on Lake Winnipeg ships, first as a Mate on the old ship Majestic and later as Captain on other craft.
Census of 1906 in the St Peters Reserve: James STEVENSON (age 31); wife Christabella (age 23). Children: Alfred (age 4) and Lillian (age 1).
On Nov 15, 1908 Christie Bella (nee SINCLAIR) STEVENSON died (age 26 according to Vital Stats).
James and Mary TODORUK
Not long after Christie Bella died, James began a common-law relationship with Mary TODORUK, daughter of Matrina and Maxin TODORUK (b-1863) who came from Austria to Canada in 1901 and settled in Poplar Park (See map below).

Census of 1911 in St Peters: Cree family of James STEVENSON, age 32 and widowed. Children: Alex H Larance (age 10) and Victoria (age 6).
In 1915 advertisements in the Winnipeg Free Press offered passage (for $6) aboard the SS Majestic to and from the Norwood Bridge in Winnipeg to Victoria Beach on Lake Winnipeg. James was a Mate on the SS Majestic.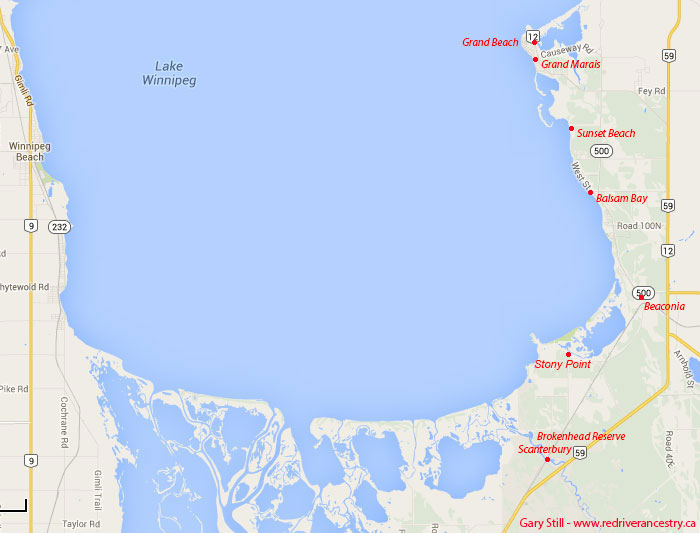 Census of 1916 in St Peters (Lot 56): James STEVENSON (age 44). Children: Alfred (age 13) and Victoria (age 10).
Census of 1921 in St Peters (Lot 56): JamesSTEVENSON (age 50), his wife Mary (age 28) and children: Clarence (age 18), Victoria (15), Mary (10), Lena (5), Annie (4) and Agnes M (age 1).
Around 1926 daughter Mary Martha became the second wife of Elzear George McPHERSON, son of Marianne JOURDAIN and Pierre "Peter" CYR (b-1882).
James STEVENSON Dies
1949
On June 3, 1949 James STEVENSON died at his home on Lot 56 in St Peters at the age of 78. The funeral service was held in the Old Stone Church with Reverend G.C. SMITH officiating. He was buried in the cemetery there. His obituary indicates that he was survived byhis widow Mary, three sons, Bert and Charles of Selkirk, James of Red Lake; nine daughters: Mrs. J. ATKINS (Margaret) of New Zealand, Mrs. W.A. WALKER (Minnie) of Vancouver, Mrs. Jack McGILLIVRAY (Lena) in Quebec, Mrs. G. McPHERSON of Fort Frances, ON, Mrs. H. WEGNER of Winnipeg, Anne of Toronto, Ethel, Irene and Shirley all at home. Two sisters: Mrs. R. SANDERSON of St Peters and Mrs. James ASHAM of Hodgson, MB.
Widow Mary STEVENSON marries Frederick LECLAIR
1952
On Jan 16, 1952 Widow Mary (nee TODORUK) STEVENSON married Frederick LECLAIRE (also widowed) at St George's Anglican Church in St Peters, son of Margaret PEEBLES and Alexander LECLAIR (b-1865).
Mary Martha (nee TODORUK) STEVENSON - LECLAIR Dies
1963
On Aug 13, 1963 Mary Martha (nee TODORUK) STEVENSON - LECLAIR died at her residence in St Peters at the age of 74. Her obituary indicates that she had lived in St Peters since coming to Canada in 1910, and is survived by two sons, Bert STEVENSON of Hay River and James STEVENSON in the Yukon; eight daughters, Mrs. Lillian WEIBE of Altona, Mrs. Mary McPHERSON of Rainy Lake (ON), Mrs. Lena MacGILLIVRAY of Dorchester (ON), Miss Anne STEVENSON of Toronto, Mrs. Margaret ATKIN of New Zealand, Mrs. Minnie WALKER of Vancouver, Mrs. Ethel HORSLEY and Mrs. Shirley LAKATOS of Winnipeg; two sisters: Mrs. Andrew PEARSON and Mrs. Dorothy HANSON.
Comments and queries at this link: FORUM DISCUSSING the JAMES STEVENSON FAMILY
========================== Family Details ==========================
Children with Christie Bella SINCLAIR:
1. 1902 ALFRED (ALEX CLARENCE) STEVENSON
2. 1905 VICTORIA LILLIAN STEVENSON (m. WEIBE)
Children of Mary TODORUK:
1. Nov 15, 1908 STEWART STEVENSON (Died in infancy)
2. 1911 MARY MARTHA STEVENSON (m. Elzear George McPHERSON)
** MORE ABOUT ELZEAR GEORGE McPHERSON
3. 1911 LENA STEVENSON (Jack McGILLIVRAY)
4. 1912 ANNIE STEVENSON
5. 1915 MARY AGNES STEVENSON (m1. William Alfred SNYDER; m2. George SINCLAIR)
6. Nov 27, 1927 JAMES ELWYN STEVENSON (m. Anastasia PRUDEN)
7. BERT STEVENSON
8. CHARLES STEVENSON
9. ETHEL STEVENSON (m. HORSLEY)
10. IRENE STEVENSON
11. SHIRLEY STEVENSON (m. LAKATOS)