ELZEAR GEORGE McPHERSON (CYR) (1898-1977)
NANCY MOORE (1897-1924)
MARY MARTHA STEVENSON (1907-1982)
(Last Updated: August 18, 2014)
Elzear George McPHERSON (CYR) was born in 1898 in the Couchichg First Nation Reserve, son of Marianne (aka) QUESANCE) JOURDAIN and Pierre "Peter" CYR (b-1882). The Couchiching Reserve is located to the north of Fort Frances – International Falls on map below.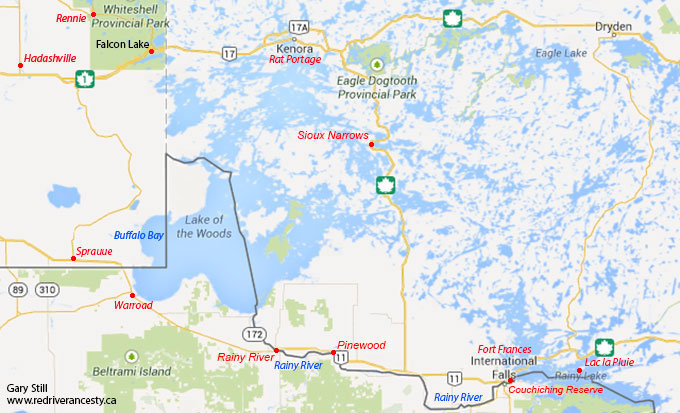 Elzear and  Nancy MOORE
1918-1924
Around 1917-18 Elzear was united with Nancy MOORE, daughter of Alexander MOORE of uncertain origins.
JC Briere: According to Nancy MOORE's Death Cert. (1897-1924) she was born in the Kenora area, her father being Alex was also born in the Kenora district, there was NO name given to her mother.
Census 1921 in Couchiching Reserve: Elsior McPHERSON, age 24; wife Nancy, age 21. Children: Marjorie (age 4) and baby Leopold (age 1 month).
The third and last child born of this union was Rudolph who was born in 1924, the year that Nancy (MOORE) died.
Marriage to Mary STEVENSON
1926
Around 1926 Elzear re-married to Mary Martha STEVENSON from Peguis, daughter of Mary TODORUK and James STEVENSON (1871-1949) from St Peters Parish (MB). ** MORE ABOUT JAMES STEVENSON
These were the maternald Grandparents of JC Briere on the Forum. Their first child together, Amelia, was born that year (JC's mother).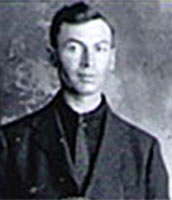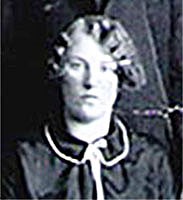 Elzear and Mary (nee Stevenson) McPherson (Algoma Archives)
World War II
1939-1945
On Sept 4, 1939 Canada and Britain declared war on Germany, and almost immediately new recruits began pouring into Winnipeg to sign up with the Winnipeg Grenadiers and the Royal Rifles of Canada.
In 1944 soldier son Rudolph died overseas (killed in action).
In 1944 daughter Amelia married Clifford BRUYERin Fort Frances, son of Veronica MORRISSEAU and Gabriel BRUYERE (1879-1956). These are the parents of JC Briere on the Forum. ** MORE ABOUT GABRIEL BRUYERE
On May 7, 1945 Germany surrendered and the War in Europe ended; the next day, May 8, is declared VE Day.
On August 14, 1945 Japan surrendered - VJ Day. The Second World War was officially over.

In 1977 Elzear George McPHERSON died in Couchiching. In 1982 Mary Martha (nee STEVENSON) McPHERSON died.
Comments and queries at this link: FORUM DISCUSSING the ELZEAR McPHERSON FAMILY
========================== Family Details ==========================
Children of Elzear and Nancy MOORE:
1. 1918 MARJORIE McPHERSON
2. 1921 LEOPOLD (LEO) McPHERSON
3. 1924 RUDOLPH McPHERSON
Children of Elzear and Mary STEVENSON:
1. 1926 AMELIA McPHERSON (m. Clifford BRUYERE)
2. 1941 EDNA McPHERSON
3. 1943 PHYLLIS McPHERSON