GABRIEL BRUYERE (1879-1956)
VERONICA MORRISSEAU (1878-1945)
(Last Updated: August 18, 2014)
Gabriel "Gabe" BRUYERE was born about 1879 in Fort Alexander, Manitoba, son of Maria Ann CALDER and Alexander BRUYERE (1847-1933).
Transferred from Fort Alexander to Couchiching
1891
In 1891 Gabriel (age 12) and his family were transferred from the Fort Alexander Reserve to the Couchichng First Nation Reserve in Ontario. This reserve is located to the north of Fort Frances (International Falls) on map below.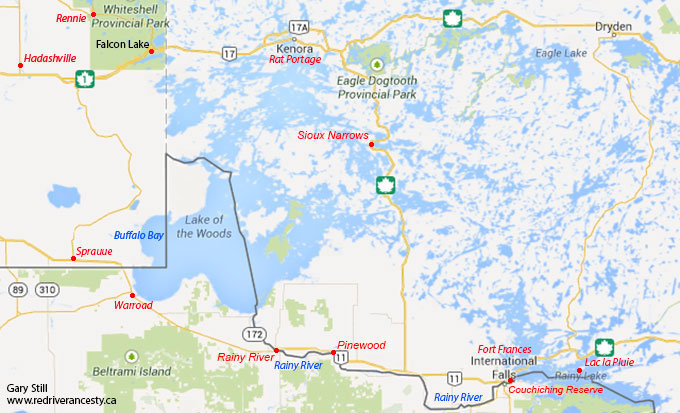 Gabriel and Veronica MORRISSEAU
1900

Around 1900 Gabe was united with Veronica Sarah MORRISSEAU, daughter of Isabelle JOURDAIN and William MORRISSEAU (1859-1931).

Census of 1901 in Couchiching:Gabriel BRUYERE (age 22); wife Veronique (age 22) and their baby Mary Jane.

Census of 1911 in Couchiching:Gabriel BRUYERE, age 33; wife Veronica, age 32. Children: Charles (age 6), Roderick (3) and baby Lottie (3 months).

Census of 1921 in Couchiching:Gabe BRUYERE, Fisherman, age 42; wife Veronique, age 43. Children: Charles (age  17) and Laura (age 2).

Their last child was Clifford, born in 1923.

Marriage to Veronica Sarah MORRISSEAU
1924

On Dec 15, 1924 Gabriel and Veronica Sarah MORRISSEAU were church-wed in the Rainy River District. On the same day, son Roderick married Connie CLEMONS, daughter of Mary Elizabeth SINCLAIR and Ralph CLEMONS (1874-1938). ** MORE ABOUT RALPH CLEMONS

Also around 1924 son Charles married Ann Jane PERREAULT, daughter of Ann Alice SPENCE and William PERREAULT (1874-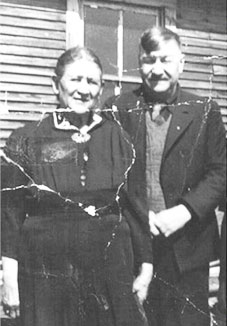 Veronica (nee Morrisseau) and Gabriel Bruyere (Algoma Archives)
In 1944 youngest son Clifford married Amelia McPHERSON in Fort Frances, daughter of Mary Martha STEVENSON, the scond wife of Elzear George McPHERSON (CYR) (1898-1977). ** These are the parents of JC Briere on the Forum.
** MORE ABOUT ELZEAR McPHERSON
Comments and queries at this link: FORUM DISCUSSING the GABRIEL BRUYERE FAMILY
========================== Family Details ==========================
Children:
1. 1901 MARY JANE BRUYERE (Died before 1911)
2. 1905 CHARLES BRUYERE (m. Ann Jane PERREAULT)
3. 1908 RODERICK BRUYERE (m. Constance "Connie" CLEMONS)
4. 1909 LOTHEE ROSANNA BRUYERE (Died age 4)
5. 1917 ALVINE CLEMINTINE BRUYERE (Died age 2)
6. 1919 LAURA BRUYERE (m. Jean Marie (John) McPHERSON)
7. 1923 CLIFFORD BRUYERE (m. Amelia Engeline McPHERSON)