RALPH CLEMONS (1874-1938)
MARY ELIZABETH "MOPE" SINCLAIR (1898-1970)
(Last Updated: August 04, 2017)
Edward Ralph CLEMONS was born Feb 20, 1874 in the St Peters Indian Reserve, son of Margaret BEAR, a half-breed, and John CLEMONS (1830-1817), an American born fur trader and boat builder. ** MORE ABOUT JOHN CLEMONS
From 1875 to 1888 Ralph's family spent their winters at their father's trading post at The Pas and their summers in St Peters. From his early teens until adulthood, Ralph often accompanied his father on his fur trading trips around Lake Winnipeg (Grand Rapids, Norway House, etc). Nevertheless, St Peters would be home for Ralph his entire life.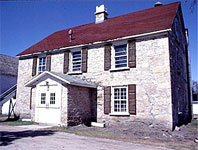 St Peters-Dynevor Anglican Church Rectory, built by1865 for Reverend Abraham Cowley (1816-1887)
The Clemons family home was located not far south of this historic site
Ralph marries Mary Elizabeth "Mope" SINCLAIR
1898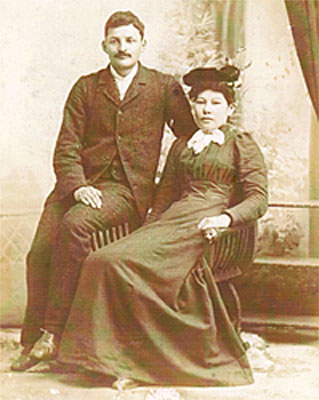 1898 Wedding Picture of Ralph Clemons & Mope Sinclair
(Photo courtesy of Great Granddaughter Bonnie)
(Clipped with minor restoration work by Gary Still)
On Jun 9, 1898 Ralph married Mary Elizabeth SINCLAIR, daughter of Elizabeth THOMAS & William SINCLAIR (1856-1924). Mary's father (William SINCLAIR) was a councillor of the St Peters Indian Band and had previously served a term as the Chief (1892). On July 4, 1899, daughter Stella was born. ** MORE ABOUT WILLIAM SINCLAIR
Surrender of the St Peters Reserve
1907
On October 14, 1907, the surrender of the St Peters Indian Reserve was accepted by Order in Council, according to an agreement signed by Chief William PRINCE, four councilors and ex-chief William ASHAM. The same month, the Band and representatives of the department selected the site of the new reserve, near Fisher River, Manitoba.
In 1908 Ralph's parents moved to Selkirk where they remained the rest of their lives. It was Ralph who thereafter essentially inherited the original family home on Lot 55 in St Peters.
In 1915 daughter Stella married John Lawrence SABISTON, son of Mary McDONALD and William SABISTON (1872-1958). ** MORE ABOUT JAMES WILLIAM SABISTON
Ralph becomes a Steamboat Captain
Previously recorded as a fisherman, when the 1916 Census was taken, Ralph was recorded as a "Steamboat Captain". He was living on Lot 55 in St Peters with the following children at home: Louisa (age 14), Constance (12), Thomas (8), Leonard (6), Howard (4) and Evelyn Pearl (age 2). Mary Elizabeth was not recorded in the same household. She (age 35) was recorded on Lot 53 that year (near or at the St Peters-Dynevor Hospital), suggesting she may have been ill or, perhaps, she worked there.
Around 1920 daughter Connie married Roderick BRUYERE from the Couchiching Indian Reserve near Fort Frances, Ontario.
On Jan 4, 1922 daughter Louisa married James Orton WALKER, son of Eliza Anne THOMAS & Thomas Daniel WALKER (1862-1934), a fisherman born in Ontario, son of Veronica MORRISSEAU and Gabriel BRUYERE (1879-1956).  ** MORE ABOUT GABRIEL BRUYERE
On Oct 15, 1929 son Thomas married in Selkirk to Ruth KIPLING, daughter of Eliza CAMERON & William KIPLING (1863-1943). ** MORE ABOUT WILLIAM KIPLING
On Mar 11, 1932 daughter Evelyn Pearl married in Selkirk to John George SINCLAIR, son of Caroline PRINCE & John George SINCLAIR (1878-1929). ** MORE ABOUT JOHN GEORGE SNCLAIR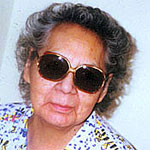 Irene (nee Black) Clemons
Perhaps around 1938 son Howard married Irene BLACK, daughter of Grace & George BLACK. Irene was from the Hollow Water Reserve (Manigotagan, MB). I met Irene and Howard at their home in St Peters around the time I chummed around with their nephew, Glen CLEMONS and Sammy SINCLAIR. That was in the 1950's. We had a jamming session (guitars and singing) at their place. I remember Irene singing "Rose a Day – You're my finagamoosh from skinamaroosh, my rolla-rolla-bump-to-dee-yay." (Irene died in 2006)
Ralph CLEMONS died on Sep 21, 1938.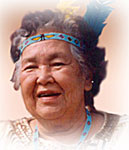 Amy (nee Sinclair) Clemons (1906-1989)
In 1942 son Leonard (then a soldier) married Amy SINCLAIR, daughter of Caroline PRINCE & John George SINCLAIR (1875-1925). Amy, a descendant of Chief PEGUIS (1774-1864), was the driving force behind the Friendship Centre Movement in Selkirk, MB. She died in Selkirk on Sep 14, 1989, buried in the St Peters Cemetery. Amy is a very well known Manitoba personality. ** MORE ABOUT JOHN GEORGE SNCLAIR
Ralph's wife, Mary Elizabeth (Mope), died on Jan 31, 1970 in the Selkirk General Hospital.
Plesase post comments & queries at this link: FORUM DISCUSSING RALPH CLEMONS and his FAMILY
======================= Family Details =======================
Children:
1. July 4, 1899 STELLA MARGARET CLEMONS (m1. John Lawrence SABISTON, m2. Alfred Henry HANCOCK)
2. Dec 29, 1901 FLORENCE LOUISA CLEMONS (m. James Orton WALKER)
3. Sep 8, 1903 CONSTANCE LAURINA "CONNIE" CLEMONS (m. Roderick BRUYERE)
4. 1905 RUBINA "RUBY" CLEMONS (Died in infancy, age 1)
5. Aug 10, 1907 THOMAS EDWARD CLEMONS (m. Ruth KIPLING)
** MORE ABOUT THOMAS EDWARD CLEMONS
6. Oct 11, 1909 LEONARD WILLIAM RALPH "BILL" CLEMONS (m. Amy SINCLAIR)
7. 1912 HOWARD CLIFFORD CLEMONS (m. Irene BLACK)
8. 1914 EVELYN PEARL CLEMONS (m. John George "Jack" SINCLAIR)