JOHN LEFOY CLEMONS (1830-1917)
MARGARET BEAR (1849-c1915)
(Last Updated: August 13, 2013)
John Lefoy CLEMONS was born around 1830 in the USA (NY). Variations of the surname in related documents: CLEMENS and CLEMENTS.
One of John's grandsons was named Mark Twain, namesake used by Samuel Langhorne CLEMENS (1835-1910), the famous novelist who wrote 'The Adventures of Huckleberry Finn' and 'Tom Sawyer'. After doing a little research on Samuel CLEMENS , I find that it wasn't possible for John to have been a descendant of this man. For one thing, Mark Twain was younger than our John CLEMENS, and although he was married, he apparently had no surviving male descendants whatsoever. That however doesn't rule out the possibility of some other family connection.
In 1862 our John CLEMONS (about 32 years old) arrived in Canada as an independent fur trader and boat builder. For most of his life he lived in what was then the 'Indian Settlement' or the St Peters Indian Reserve of the famous Chief PEGUIS (1774-1864).  PEGUIS died in 1864 and was succeeded by his youngest son, Chief Henry "Red Eagle" PRINCE (1819-1902).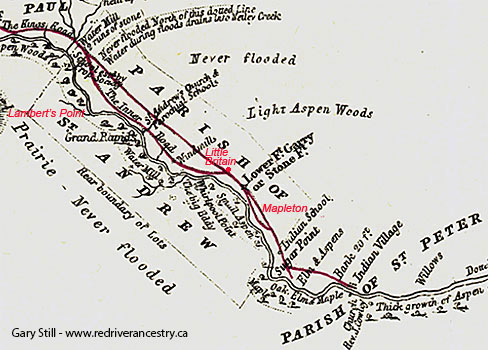 John Clemons' home was located in the Parish of St Peters, about where the
Indian Village is indicated (Part of Hind's map of 1856)
Marriage to Margaret BEAR
1866
Around 1866 John was married to Margaret BEAR, daughter of Catherine (nee ERASMUS and John BEAR (1804-1864).Daughter Esther was born on Jan 8, 1867. ** MORE ABOUT JOHN BEAR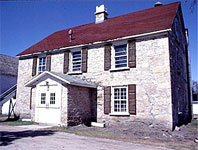 St Peters Anglican Church Rectory, built by1865 for Reverend Abraham Cowley (1816-1887)
John Clemons' home was located not far south of this historic site
Canadian Confederation and a Red River Rebellion
Manitoba becomes a Province
1867-1870
On July 1, 1867 the British colonies in North America were united under the British North American Act to become the Dominion of Canada.  Sir John A MACDONALD (1815-1891) was appointed as Canada's first Prime Minister.
On Oct 11, 1869, Louis RIEL (1844-1885) placed his foot on the surveyors' chain to tell them their work was finished! This marked the beginning of another Red River Métis Rebellion. Most of the conflict related to the rebellion occurred in the southern parts of the Red River region and involved French speaking Métis who were supported by the North West Company (NWC) in opposition to the Hudson's Bay Company (HBC). The half-breed population north of Kildonan was mostly English speaking people who mostly supported the HBC.
On Nov 27, 1869, John's second child, Leonard, was born.
The Rebellion ended when RIEL's Provisional Government accepted the terms of the Manitoba Act and on July 15,1870Manitoba became the fifth province of Canada, the Canadian Government having acquired the territory previously governed by the HBC.
In 1870 John CLEMENS was recorded on Lot 56 in St Peters Parish with two children, Esther (age 4) and Leonard  (age 1).
On Jul 8, 1875, John's wife, Margaret (nee BEAR) CLEMONS of St Peters, applied for her Half-breed Scrip. By this time two more sons had been born to Margaret, John Jr. and Edward Ralph.
The Pas
1875-1889
Although John maintained a permanent home in St Peters, he spent much of his time at various locations on Lake Winnipeg (i.e. Norway House and Grand Rapids) and around 1875 he established a trading post at The Pas where he would spend his winters not far from the Devon Mission there.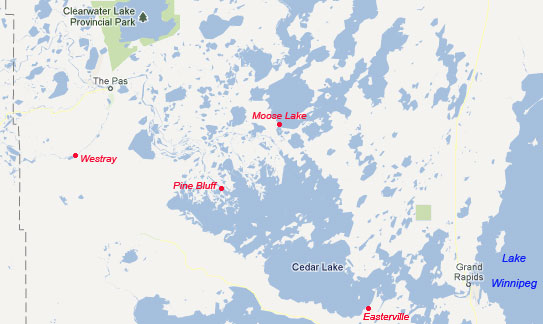 In 1875 Rev Henry COCHRANE (1834-1898), a Cree missionary, assumed direction of the Devon Mission at The Pas from his father-in-law, Rev Henry BUDD (1814-1875)., the first Indian ordained to the Church of England ministry in western Canada. The mission was located just west of the Bignell Bridge that connects the town of The Pas to the Opasquia Cree Nation Reserve.
Controversial Birth and Death of Baby Mary
1876
Around Dec 5, 1876 at The Pas, John's wife Margaret gave birth to Baby Mary who died about two weeks later on Dec 18, 1876. The whole story surrounding this event would not come to light for another 26 years, when in 1902 John (about 72 years old) made a claim for Half-breed Scrip as the heir of his deceased daughter Mary. Responsibility for investigating and validating the claim fell upon Half Breed Scrip Commissioner J.A.J. McKENNA. That, if you don't mind me saying so, is when 'the shit hit the fan'. Over the next three years, McKENNA.was flooded with conflicting and controversial information (at least 40 documents) relating to John's claim.  I will attempt to present some of the details as simply and briefly as I can, because they are certainly intriguing and includes much information about John's activities and the people he was associated with.
Associated evidence presented in 1902 regarding events of 1876
Samuel STEVENSON (1855-1914) of Clandeboye [son of Margaret BALLENDINE & Peter STEVENSON (1830-1914)] wrote: "I was employed by John L CLEMENS at The Pas when his daughter Mary was born there, that was on the 20th of November, 1876. That was my first year with CLEMENS, and I continued working for him for four years at The Pas. It was in July 1880 I left his employ. He had a house and home there. The Pas was his home for six years after I left him and he continued the store that time." ** MORE ABOUT SAMUEL STEVENSON
Alexander COCHRANE (1845-1927) [son of Emma & Joseph COCHRANE (1802-1862)] wrote: "I have known John CLEMENS  - - He has lived off and on at St Peters. He would live there when he came back from the north. I was working for Mr. CLEMENS in 1876. I was on a trip buying furs and when I returned to his place at The Pas some time in November I saw a baby girl that had been born while I was away. I remained three days I think and did not return until the latter end of December. They told me that the child was dead."
Certificates copied from the Devon Mission Register by J HINES, Missionary in Charge (in 1902): Baptism by Rev Henry COCHRANE on Dec 5th, 1876, describing Mary as "Adopted Child of Maria & Charles MARLES"; abode: Devon, The Pas; with a note "The Register only gives date of Baptism, not the birth." Burial by Rev Henry COCHRANE, naming the child as Mary MARLES of Devon, The Pas; buried Dec 18, 1876; age 2 weeks.
Maria MARLES (Wife of Charles MARLES): In 1902 John HINES, Missionary in Charge stated "I searched the Mission Registers and certificates on the other side is the result – "I (presumably referring to COCHRANE and his  notes on the other side of the baptism record) first sent for Mrs Maria MARLES and questioned her about the child in question - the reply she said the birth of said child in question - the reply she said the birth of said child caused some unpleasantness between the husband & wife, John & Margaret CLEMONS, and that the child was given to her and her sister, Mrs Albert JEBB to bring up. She also said the name of the child was Mary, and not Maria – and was entered as her Adopted Child – taking her surname – MARLES instead of CLEMONS." I (HINES) have not the least doubt in my own mind that this is the child asked for in the Application.
Letter from McMEANS to J.A.J. McKENNA (letter of Sep 9, 1902): "You will notice that Rev HINES, the missionary in charge at the Devon Mission, The Pas, has on the back of the certificate copied the letter of Mr James MONKMAN who had written on behalf of CLEMENS and attached his reply to the letter at the bottom. "This will sufficiently explain the certificate. It appears that this Mary, the daughter of CLEMENS was a deformed child and the husband expressed such displeasure at the time that the child was handed over to Mrs MARLES who had it baptised and who assumed to take it away in order to avoid the husband's anger."
Letter to McKENNA (Dated Oct 24, 1902. Not sure who this is from; perhaps James MONKMAN):  - - "The declarations of John L CLEMENS and Alex COCHRANE contain an entirely different explanation. CLEMONS denies that the child was given to Mrs MARLES. It seems to me that Mrs MARLES' competency to make a statement in this matter would give her explanation greater weight that would be attached to Mr COCHRANE's corroboration of the father's explanation. In any event there is a contradiction between their statements and leaves at present some slight ground for doubt as to the legitimacy of the child. I do not think therefore that the declarations filed meet the requirement of your letter of Sep 20. The declaration of Mrs MARLES should also be required, or as she lives at Peguis P.O., St Peters, we might have personal enquiry made from her and her sister by the Inspector or Agent.
Letter from McKENNA to HINES: (Dated Oct 27, 1902)  - - I beg to advise you that John CLEMONS in a declaration of the 25th ultimo states as follows: " I know of no reason why the name MARLES should have been given her (the child in question) unless that the said Charles & Maria MARLES carried the child over to the Minister at the Mission House owing to the dangerous illness of the mother Marguerite CLEMONS and the extreme weakness of the child. That the said child was nursed with a bottle which the mother gave Maria MARLES so that the child might be properly fed. That the mother the said Marguerite CLEMONS nee BEAR was confined to her bed for the remainder of the winter and was not permitted to see the child when it died. That I, the said John CLEMONS and the father of the child, provided everything that could be provided for the sustenance of the said child and furnished the milk upon which the child was fed." You will observe that there is a great difference between the statement of Mrs MARLES and that of John CLEMONS. I should be obliged also if yourself or Mrs MARLES could give me further particulars as to the child for whom you furnished the certificate referred to.
================================= // =================================
On Sep 7, 1876 at The Pas John CLEMONS signed as a witness to the Adhesion, Treaty #5 between the Saulteaux and Swampy Cree Indians at Berens River and Norway House with Adhesions by Saulteaux & Cree Indians. Other signees of interest were Henry COCHRANE, Missionary; Robert BALLENDINE and A.M. MUCKLE.
On Mar 20, 1878, son Luke was born at The Pas.
In the 1881 Census John and his family were enumerated as residents in St Peters. He was recorded as a 'Trader', age 50, born in the USA; his wife Margaret, age 30. Children: Esther (age 14), Leonard (age 11), John (age 8), Ralph (age 7) and Luke (age 3). Margaret's mother, Widow Catherine BEAR (age 58), was recorded next-door.
Town of Selkirk is Incorporated
1882
The Town of Selkirk legally incorporated in 1882, the Town of East Selkirk in 1883. It was anticipated that the CPR main line to the west would pass through Selkirk (it never did), making it a major industrial centre. That created a rush of land speculators into the area. The St Peters Reserve would soon be surrounded by corporate authority, business and industry. William Henry PRINCE became Chief of the St Peters Band, succeeding his father, Henry (Red Eagle). Disputes about land ownership on the Reserve would last for well beyond the next century
Around 1883 daughter Rhoda Minnie was born; this baby died on July 4, 1884 in St Peters, only about a year old.
On Aug 14, 1885, son Walter was born (he died on Nov 12, 1886). John and Margaret would have no more children.
On Feb 22, 1887 daughter Esther married Alexander George MONKMAN, son of Mary LELAND & Joseph MONKMAN JR (1836-1910). ** MORE ABOUT JOSEPH MONKMAN JR
On Oct 31, 1887, John received patent for Lot 55 in St Peters Parish.
By 1888 John had closed his trading post at The Pas.
Around 1892 son Leonard married Mary Jane SANDERSON and later moved to the Gypsumville area.
On June 9, 1898 son Ralph married Mary Elizabeth SINCLAIR, daughter of Anne Elizabeth THOMAS & William SINCLAIR (1856-1924). On Nov 17, the same year, son Luke married Mary Elizabeth ASHAM, daughter of Jane Mary THOMAS & Chief William ASHAM (1853-?)
It was on June 6, 1902, that John filed the controversial Scrip claim as the heir of his deceased daughter Mary who died in 1867. It wasn't until Feb 15, 1905, that the Claim was finally allowed; issued on Feb 17. ** See story above **
Surrender of the St Peters Reserve
1907
On October 14, 1907, the surrender of the St Peters Indian Reserve was accepted by Order in Council, according to an agreement signed by Chief William PRINCE, four councilors and ex-chief William ASHAM. The same month, the Band and representatives of the department selected the site of the new reserve, near Fisher River, Manitoba.
John moves to Selkirk
On June 20, 1908, daughter-in-law Mary Elizabeth (son Luke's wife) died. Luke was left with three young children. John, Margaret (and son John Jr.) then moved to Rosser Avenue in Selkirk (probably Luke's home at the time) in order to care for the youngsters.

By the time the 1911 census was taken, John Sr. (age 80), his wife Margaret (age 60) and son John (age 39) were living at 184 Rosser Avenue in Selkirk. At that time he had grandchildren (son Luke's children), Mark Twain (age 10), Reginald (age 8) and Jeanette (age 6).On Dec 25, 1911, Luke re-married in St Clements to Catherine ANDERSON, daughter of Sophia (nee BIRD) SABEL & George ANDERSON (1863-1892).
Son John CLEMONS Jr. died in Selkirk on Feb 18, 1913. He was only 39 years old
We don't know when John's wife Margaret died. It was probably before the census was taken in 1916 at which time daughter Esther and her husband, Alex MONKMAN had moved in with John on Rosser Ave. Granddaughter Jeanette (age 9) is still with them. We now find grandson Reginald CLEMONS down the street at 170 Rosser Ave, a 'Boarder' in the household of Isabella (nee BEAR) and her husband, Steamboat Engineer John BRUNEAU.
John died 1917 in Selkirk, aged 86.
If you have any questions or comments about the CLEMONS Families, please post them here:
CLEMONS FAMILY FORUM
======================= Family Details =======================
Children:
1. Jan 18, 1867 ESTHER CLEMONS (m. Alexander George MONKMAN)
3. Nov 27, 1869 LEONARD CLEMONS (m. Mary Jane SANDERSON)
4. Dec 25, 1872 JOHN CLEMONS
5. Feb 20, 1874 RALPH CLEMONS (m. Mary Elizabeth SINCLAIR)
6. Dec 5, 1876 MARY CLEMONS (Died in infancy 2 weeks old)
7.  Mar 20, 1878 LUKE CLEMONS (m1. Mary Elizabeth ASHAM, m2. Catherine ANDERSON, m3. Nancy SINCLAIR)
8. c1883 RHODA MINNIE CLEMONS (Died in infancy)
9. Aug 14, 1885 WALTER CLEMONS (Died in infancy, age 1)