LUKE CLEMONS (1878-1950)
MARY ELIZABETH ASHAM (c1880-1908)
CATHERINE RML "KATE" ANDERSON (1890-)
NANCY SINCLAIR
(Last Updated: December 30, 2015)
Luke CLEMONS was born Mar 20, 1878 at The Pas, MB, the youngest surviving child of a Margaret BEAR & John Lafoy CLEMONS (1830-1917), an independent trader and boat builder who was born in the USA.
When Luke was born his father was spending the winter at his trading post at The Pas, but the permanent home of the CLEMONS family was along the Red River in the St Peters Reserve, north of Selkirk, a short distance south of they Dynevor Anglican Church Rectory (River Lot 55). The old St Peters Church was just across the river.
By 1888, when Luke was 10 years old, his father had closed his trading post at The Pas and the CLEMONS family were year-round residents in St Peters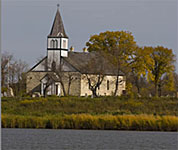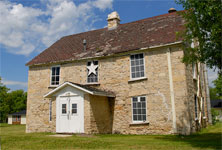 St Peters Church and Dynevor Anglican Church Rectory
Marriage to Mary Elizabeth ASHAM
1898
On Nov 17, 1898, Luke married in St Peters to Mary Elizabeth ASHAM, daughter of Jane Mary THOMAS & Chief William ASHAM (1853-). ** MORE ABOUT CHIEF WILLIAM ASHAM
In 1901 Luke claimed his Half-breed Scrip. In the census that year he was enumerated as a 23 year old fisherman with two youngsters; Lorinda (age 1) and baby Mark Twain. Daughter Lorinda died on Feb 25, 1902, only two years old. In November that year son Reginald was born.
In the Census of 1906 Luke was recorded as age 28; wife Mary, age 27. Children were recorded as Martin (Mark Twain), age 6, and Reginald (age 4). An 18 year old "hired man" named George KIPLING was enumerated in their household. Another child, daughter Jeanette, was born, probably soon after the census was taken.
On June 20, 1908, wife Mary died during, or soon after, giving birth to another child (William). She was only 29 years old. Baby William died four months later. Difficult child-births plagued Mary throughout her married life. Of the five children she birthed, only three survived; Mark (age 8), Reginald (age 6) and Jeanette (age 3). These youngsters were taken in by their grandparents (Margaret & John CLEMONS) who moved into town (Rosser Avenue in Selkirk) to take care of them (perhaps Luke had been living there himself at the time). When the old man moved into town, Luke's brother, Ralph CLEMONS (1874-1938), essentially inherited the original family home in St Peters.
Marriage to Catherine ANDERSON
1911
When the 1911 census was taken, Luke was not at home but his grandparents and his three children were on Rosser Avenue in Selkirk. Apparently on Christmas Day that year, Luke re-married to Catherine ANDERSON, daughter of Sophia (nee BIRD) SABEL and George ANDERSON (1863-1892). In 1914 their first child together (Helen) was born.
Around 1915 Luke's mother (Margaret) died.
In 1916 we find Luke's 85 year old father (John Lafoy CLEMONS) still at 184 Rosser Avenue. Luke's sister and brother-in-law, Esther & Alex MONKMAN (1863-1949), along with their 23 year old daughter, Emma MONKMAN, had moved in with the old man and, according to the census information, they had 'adopted' Luke's nine year old daughter (from his first marriage) Jeanette. Son Reginald (age 14) was just down the street (170 Rosser), a "boarder" in the household John BRUNEAU (a 29 year old Steam Boat Engineer from Quebec) only recently married to Isabella BEAR. Luke's third living child by his first wife, Mark Twain, who would have been 16 years old, is nowhere to be found in this census. He was old enough now that he was probably living on his own somewhere.
That same year (1916) we find Luke (age 38) and his 2nd wife Catherine (age 25) and their two year old daughter Helen on Lot 101 in the RM of St Andrews. . Lot 101 in 1870 was essentially Steven Avenue (the Lockport Road).
On March 31, 1917, Luke's father died in Selkirk. At the time of his death old John had been living at 184 Rosser Ave.
On Aug 23, 1920, son Mark Twain died in Selkirk. He was only 19 years old. He was buried in the St Peters Cemetery. It would be interesting to know the circumstances surrounding this young man's death.
Catherine and Luke would have four children together; Helen, Edward, Sophie and Mary. I don't have birth-dates for the latter three, but I'm guessing they were all born before about 1921-22. It was around this time that Luke followed in his father's footsteps by becoming a Trader at The Pas.
Kettle Rapids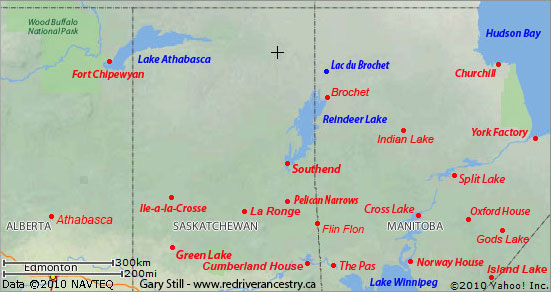 Building of The Hudson Bay Railroad began in 1908 at The Pas and by 1914 it had reached
Kettle Rapids (near Gillam), about half-way between Split Lake and York Factory on this map.
The Canadian National Railway then carried trappers' supplies on the weekly "Muskeg Special"
only to Mile 214 (Pikwitonei, located to the north of Cross Lake, east of Thompson).
From the Dauphin Herald, Oct 11, 1923 - Trip to Hudson's Bay: W.J. WARD, M.P. [William John WARD (1870-1972)] describes the country – The Nelson River a Mighty Stream: Excerpts: At 7:30 a.m., September 12th, we boarded the Hudson Bay Railway Express and at the terrific? speed of fifteen miles per hour we had soon left Le Pas, the busy metropolis of the north, far in the distance. - - We arrived at 214 (Pikwitonei), which is the terminus of the H.B.R. Express at 11:30 a.m. Sept. 13th. Here we found a thriving little village of about 75 inhabitants with four trading houses, a school house and post office, and the school is open too. Here we put ourselves into the hands of Luke CLEMONS, the general manager and superintendent of the Kettle Rapids, Ltd., a gas car which operates between 214 and Kettle Rapids, the end of the steel.
** READ ENTIRE ARTICLE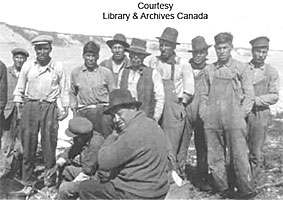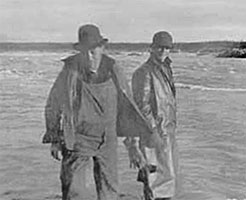 Left: Luke Clemons and a group of nine Cree men. Location: Unknown
Right:  Luke Clemons & Premier Bracken at Kettle Rapids, Sep 1, 1924.
John BRACKEN (1883-1969) was the Premier of Manitoba (PC) from 1922 to 1943.
In 1924, when the above photo was taken, Luke would have been about 46 years old.
Marriage to Nancy SINCLAIR
1927
On Oct 13, 1927 Luke married at The Pas to Nancy SINCLAIR. In 1931 son Gordon was born at York Factory.
On Apr 10, 1928 daughter Jeanette married in Winnipeg to Herbert GOODMAN.
In response to pressures from the West, the Government made a final effort to extend the railroad to the Bay. A crew of 3,000, working with pickaxe and wheelbarrow on frozen muskeg, brought it to Churchill on March 29. 1929.
In the 1930's, son Lafoy was born at at Bird (MB), Mile 352 on the Hudson Bay Railway. Bird is located NE of Gillam on the Nelson River (SW of York Factory). Lafoy said the family lived atYork Factory until moving to Pîkwitonei when he was seven years old.
Puzzling: On Feb 24, 1949 the Winnipeg Free Press published an article about Mrs. S. ANDERSON (Luke's former mother-in-law) of Peguis, celebrating her 93rd Birthday at her home. This article refers to her daughter as Mrs. L CLEMONS residing in Peguis. This is a real puzzler because Luke by this time had apparently been married for 22 years to Nancy SINCLAIR. That's a real head-scratcher!!
On 26 May 1950, Luke CLEMONS died while traveling from his home in Pikwitonei to The Pas at the age of 75.
Thanks to Sarah Ramsden, Luke CLEMONS would make the pages of the Manitoba Historical Society's Memorable Manitobans. ** MORE ABOUT LUKE CLEMONS - PIONEER, RAILWAYMAN
If you have any questions or comments about the CLEMONS Families, please post them here:
CLEMONS FAMILY FORUM
=========================== Family Details ===========================
Children by Mary Elizabeth ASHAM:
1. Aug 6, 1899 LORINDA CLEMONS (Died in infancy, age 2)
2. Nov 13, 1900 MARK TWAIN CLEMONS (Died age 19)
3. Nov, 1902 REGINALD CLEMONS
4. Jan, 1905 JEANETTE CLEMONS (m. Herbert GOODMAN)
5. Jun 20, 1908 WILLIAM ERNEST CLEMONS (Died in infancy)
Children by Catherine ANDERSON:
1. 1914 HELEN CLEMONS
2. EDWARD CLEMONS (m. Mildred "Toots" SABISTON)
3. SOPHIA CLEMONS
4. MARY CLEMONS
Children by Nancy SINCLAIR:
1. 1931 GORDON CLEMONS (m. MERCREDI)
2. 1930's LAFOY CLEMONS