GEORGE ANDERSON (1863-1892)
SOPHIA (nee BIRD) - SABEL (1856-1960)
(Last Updated: August 12, 2020)
George ANDERSON was born Sep 13, 1863 in Paisley, Ontario, son of Margaret ELLIOTT and Thomas ANDERSON (born about 1816 in Scotland).
Canadian Confederation
The Riel Rebellion
Manitoba becomes a Province
1867-1870
On July 1, 1867 the British colonies in North America were united under the British North American Act to become the Dominion of Canada. Sir John A MACDONALD (1815-1891) was appointed as Canada's first Prime Minister. William McDOUGALL (1822-1905) became the Minister of Public Works, and he began negotiations to acquire Rupert's Land from the HBC, sending out surveyors to prepare the way for an expected influx of settlers.
On Oct 11, 1869, Louis RIEL (1844-1885)placed his foot on the surveyors' chain to tell them their work was finished! This marked the beginning of another Red River Métis Rebellion.
On July 15, 1870 the Rebellion was essentially over, and Manitoba became the fifth province of Canada, the Canadian Government having acquired the territory previously governed by the HBC.
George moves to Manitoba
1875
In 1875 George's family moved from Guelph, Ontario, to Kildonan (Winnipeg), Manitoba. In the 1881 census George (age 16) was recorded there with his parents.
Marriage to Widow Sophie (nee BIRD) SABEL
1888


On July 30, 1888 George married in St Andrews to 32 year old Widow Sophia (nee BIRD) SABEL. Sophia was born on Feb 20, 1856 in St Andrews Parish, Red River, daughter of Isabella GIBSON and James BIRD (1824-1892).
** MORE ABOUT JAMES BIRD

She was the widow of William Turner SABEL (1851-1882) and had two children; Harry SABEL, age 6, and Mary SABEL, age 5. **MORE ABOUT SOPHIA BIRD AND WILLIAM TURNER SABEL
The ANDERSONs lived for a time at Devils Creek, East Selkirk, where they raised cattle and sheep.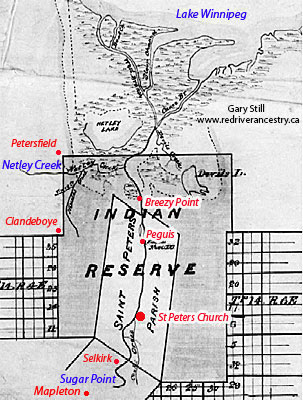 George ANDERSON Dies
1892
On July 9, 1892 George ANDERSON was killed near his home in Selkirk by a runaway team of horses that knocked fish boxes on him. Sophia, with five children, moved back to live with her widowed mother (Isabella) at Catfish Creek west of Clandeboye.Her farther (James BIRD) had died there on April 28 that year.
In 1904 daughter Mary SABEL married George Richard FLETT in Selkirk, son of Mary PEEBLES and James FLETT (1828-1906) an HBC clerk from the Orkneys of Scotland.
Census of 1906 in St Peters Parish: Widow Sophia ANDERSON, age 49. Children:  Harry (age 24), Edward (18), Catherine (16) and Georgina (age 14).
In 1907 son Henry SABEL married Margaret "Maggie" McRAE in St Andrews, said to be the daughter of Sarah BONER and Donald McRAE (1842-1895) from Scotland.
Census of 1911 in St Peters Parish: Widow Sophia ANDERSON, age 52. Children: Catherine (age 22) and Georgina (age 18). Also with her are son Henry (age 29), his wife Margaret (nee McRAE) and their children; Sybil(age 3) and Nellie (age 1). Also niece Verlie REID, age 3 (granddaughter of Sophia's sister, Isabella BIRD, and Murdoch REID (1844-1905).
On Dec 25, 1911 daughter Catherine married Luke CLEMONS, the son of Margaret BEAR & John Lefoi CLEMONS (1830-1917). ** MORE ABOUT LUKE CLEMONS
In 1913 daughter Georgina ANDERSON married Louis McLEOD.
World War I
1914-1918
On Aug 4, 1914 Great Britain (Canada on Aug 5) declared war on Germany and Austria-Hungary to uphold treaties with France and Belgium which were under German attack. This marked the beginning of World War I.
Census 1916: Manitoba (#10), SD-3 (St Peters Parish), pg 4, HH-40 (Lot 101, St Andrews): Widow Sophia ANDERSON, age 60
On Aug 11, 1918 son Edward Herbert George ANDERSON died a soldier at the Somme in France.
November 11, 1918, Armistice Day (Remembrance Day) marked the end of the First World War.
Census 1921: Selkirk (#35), SD-5 (RM of St Andrews), pg 4, HH-98 (Lot 101): Widow Sophie ANDERSON, age 101. Grandchildren: Helen (age 8), Matilda (7) and Edward (age 4).

Sophia (nee Bird) Anderson in her final years (From Newspaper articles about her birthdays)

On Dec 20, 1960 Sophia (nee BIRD) ANDERSON died in St Peters at the age of 104.
Comments and queries at this link: FORUM DISCUSSING THE GEORGE ANDERSON FAMILY
=========================== Family Details ===========================
Sophia's Children with William SABEL:
1. Nov 16, 1882 WILLIAM HENRY (McKENZIE) "HARRY" SABEL (m. Margaret "Maggie" McRAE)
2. Feb 16, 1883 MARY SABEL (m. George Richard FLETT)
Sophia's Children with George ANDERSON:
1. Feb 8, 1889 EDWARD HERBERT GEORGE (ELIJAH) ANDERSON (m. Ethel Elsie CAMERON)
2. Nov 9, 1890 CATHERINE ROBENA MARGARET LYDIA "KATE" ANDERSON (m. Luke CLEMONS)
3. Aug 2, 1892 GEORGINA ANDERSON (m. Louis McLEOD)