JAMES BIRD (1824-1892)
ISABELLA GIBSON (1829-1901)
(Last Updated: July 12, 2016)
James BIRD was born around 1824 in St Paul Parish (Birds Hill), son of Venus Rubina "Bennie" HAY & William BIRD (1803-1885). ** MORE ABOUT WILLIAM BIRD
Marriage to Isabella Sophia GIBSON
1847
Around 1847 James married Isabella GIBSON, daughter of Angelique CHALIFOUX and Hugh GIBSON (1790-1869) from the Orkneys of Scotland, at one time an HBC voyageur. ** MORE ABOUT HUGH GIBSON
On July 16, 1848 daughter Annie was born in St Andrews Parish.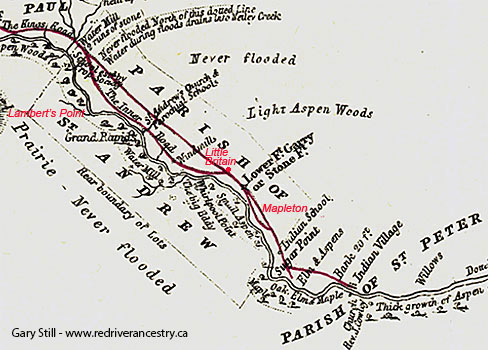 St Andrews Parish from Hind's Map of 1857
Around 1866 eldest daughter Isabella married Murdoch REID (1844-1905), a Scottish-born HBC labourer who would later settle in Selkirk, MB.
Canadian Confederation
The Riel Rebellion
Manitoba becomes a Province
1867-1870
On July 1, 1867 the British colonies in North America were united under the British North American Act to become the Dominion of Canada. Sir John A MACDONALD (1815-1891) was appointed as Canada's first Prime Minister. William McDOUGALL (1822-1905) became the Minister of Public Works, and he began negotiations to acquire Rupert's Land from the HBC, sending out surveyors to prepare the way for an expected influx of settlers.
Around 1867 daughter Annie became the second wife of Murdoch McLENNAN (1825-1916) from Scotland, a widower with five young children.
Around 1868 son James Jr. married Eliza FINLAYSON, daughter of Lisette LUCIER and Hector FINLAYSON (1820-1901), an HBC Carpenter and Boat Builder in St Peters at the time. They moved to the Battleford district in Saskatchewan after 1870. ** MORE ABOUT HECTOR FINLAYSON
On Oct 11, 1869, Louis RIEL (1844-1885) placed his foot on the surveyors' chain to tell them their work was finished! This marked the beginning of another Red River Métis Rebellion. RIELbegan to organize resistance to the anticipated transfer of the North-West to the Dominion of Canada without prearranged terms.His strongest and most ardent and outspoken opponents among the English speaking population were Dr SCHULTZ (1840-1896) and Thomas SCOTT (1842-1870).
Under the leadership of RIEL, the Métis soon after established their National Committee of the Métis of Red River. Then, on Nov 2, he and 120 armed men took control of Upper Fort Garry.
SCHULTZ fortified his house and store ("Fort Schultz"), and recruited about 50 followers as guards, but on Dec 7, RIEL captured and imprisoned the occupants in Fort Garry, including SCHULTZ and SCOTT. On Dec 10 the Métis raised a flag of the future Provisional Government over Fort Garry to the sound of musket and cannon fire. They continued to arrest 'Canadians' wherever they could find them.
James' daughter Sophia was about 14 years old in 1870. Many years later (as Mrs ANDERSON) she was able to recall when Louis RIEL came to the home of her parents, James & Isabella BIRD (Beyond the Gates of Lower Fort Garry, page 384). "Mrs BIRD housed some of Dr John SCHULTZ's men during the uprising of RIEL and his followers. For this Mrs BIRD was given a set of Stoneware dishes from Dr SCHULTZ, of which four plates still (1981) remain in the family. Long Jake PRINCE, son of Chief PEGUIS, was her neighbour for a while. He left her his wooden bed. Mrs ANDERSON spoke of the Parish of St Peters being called Eagle's Nest, Gilolo and Peguis. She noted that in those days people lived off the land, with ducks being plentiful and there was always lots of berries. Rabbit was served for Xmas breakfast. Mr BIRD raised cattle and sold hides. They had big gardens too."
In 1870 James' family were recorded on Lot 100-133 in St Peters Parish. Children recorded at that time were Sophie (age 15) and Charles (age 10).
On July 15,1870 Manitoba became the fifth province of Canada, the Canadian Government having acquired the territory previously governed by the HBC. On Aug 21, 1870, Colonel Garnet Joseph WOLSELY(1833-1913) and his soldiers arrived at Fort Alexander. On Aug 24 they forced their way into Upper Fort Garry. RIEL, having learned that the soldiers were planning to lynch him, fled, (to the USA) just a few hours before they arrived. The Rebellion was over.
The Manitoba Act of 1870 provided substantial land grants to the Métis (Half-breeds) at Red River. Section 31 set aside 1.4 million acres of land for distribution among the children of Métis heads of families residing in the province, while section 32 guaranteed all old settlers, Métis or white, "peaceable possession" of the lots they occupied in the Red River settlement prior to July 15, 1870.
St Peters
On July 10, 1875, both Isabella and James applied for Scrip.  They were living in St Peters at that time (in the Clandeboye area).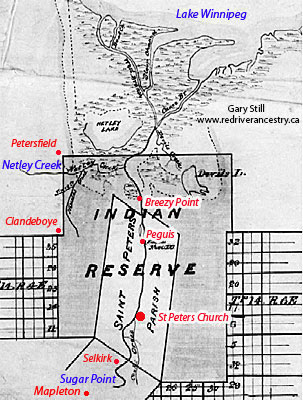 In 1879 son Charles married Anne "Annabella" MONKMAN, daughter of Isabella SETTER & Joseph "Ole Joe" MONKMAN (1810-1899). ** MORE ABOUT JOSEPH MONKMAN
In 1881 daughter Sophia married William SABEL, an Englishman who had settled for a time at Whytewold (north of Matlock, MB).
Around 1881 daughter Annie (wife of Murdoch McLENNAN) died; her six children were taken in by their grandparents. The census of St Andrews Parish that year recorded James BIRD (age 50); wife Isabella (age 47) and their McLENNAN grandchildren, Ann (age 13), Charles (10), Frank (8), John (6), Alfred (4) and Bella (age 2). These youngsters remained with their grandparents until their adulthood.
In 1882 son-in-law William SABEL died of typhoid fever in Winnipeg, and daughter Sophia remarried to George ANDERSON, son of Margaret ELLIOTT and Thomas ANDERSON (1816-1895) from the Kildonan area (born in Scotland).
Census 1891, St Andrews Parish: James BIRD, age 65; wife Isabella, age 64. McLENNAN grandchildren: Charles McLENNAN (age 18), Farquhar (16), John A (15), James (13) and Isabella McLENNAN (age 11).
On Apr 28, 1892 James BIRD died, and on May 15, 1901 his wife Isabella died. They were both buried in the Old St Andrews Church Cemetery.
Please post comments and queries at this link: FORUM DISCUSSING the JAMES BIRD FAMILY
=========================== Family Details ===========================
Children:
1. July 16, 1848 ANNIE BIRD (m. Murdoch McLENNAN)
** MORE ABOUT MURDOCH McLENNAN
2. Jan 28, 1848 JAMES BIRD (m. Eliza FINLAYSON)
3. Mar 4, 1849 ISABELLA "BELLA" BIRD (m. Murdoch James REID)
4. 1854 WILLIAM BIRD (Died age10)
5. Feb 20, 1856 SOPHIA MARGARET BIRD (m1. William Turner SABEL, m2. George ANDERSON)
** MORE ABOUT WILLIAM TURNER SABEL
6. Apr 25, 1860 CHARLES BIRD (m1. Anne "Annabella" MONKMAN)
7. 1864 ROBINA BIRD (Died in infancy)