JOSEPH "Ole Joe" MONKMAN SR (1810-1899)
ISABELLA SETTER (1817-1904)
(Last Updated: June 29, 2014)
Joseph "Ole Joe" MONKMAN was born June 10, 1810, a half-breed son of Mary (Cree Indian) and James MONKMAN (1775-1865), an Englishman who worked for the Hudson's Bay Company (HBC) as a Seaman and fur trader. The nickname "Ole Joe" was later used to distinguish him from his son of the same name. When Joe was born, his father was a Brig's Mate stationed at Fort Severn on Hudson Bay; in 1812 a Trader in the York Factory District (Fort Severn and Island Lake). ** MORE ABOUT JAMES MONKMAN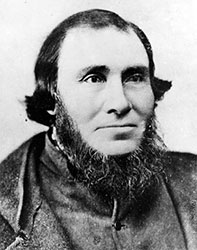 Joseph Monkman
(Archives of Manitoba)
Union of the Hudson's Bay Company and the North West Company
1821
In 1821 the North West Company (NWC) was absorbed by the Hudson's Bay Company (HBC) in a merger that ended many years of bitter and costly fur-trade rivalry that seriously affected their financial stability. As a result, many voyageurs and fur trade employees were either dismissed or retired. These retirees were mostly of Scotch, English, Irish and French Canadian origin. Most of them had acquired Indian wives early in their careers and their children were referred to as Half-breeds or Métis.
When Joe's father retired from the HBC the family settled in the Parish of St Paul. By that time Reverend David JONES (1796-1844) had built the Middle Church in that parish, about six miles downstream from the original mission at Upper Church (St John's). On Feb 22, 1825 Joseph (age 15) was baptized at St John's.
Marriage to Isabella SETTER
1835
On Dec 30, 1835 Joe married at St John's to Isabella SETTER from St Andrews. Isabella was the daughter of Margaret SPENCE, a half-breed, and Andrew SETTER (1777-1870) from the Orkneys of Scotland, a retired HBC voyageur.
Joe and his younger brother John continued to operate the Salt Works (at Salt Springs) up on Lake Winnipegosis that had been established by their father (James MONKMAN). Joseph's first child, Joseph Jr. was born there on Oct 15, 1836.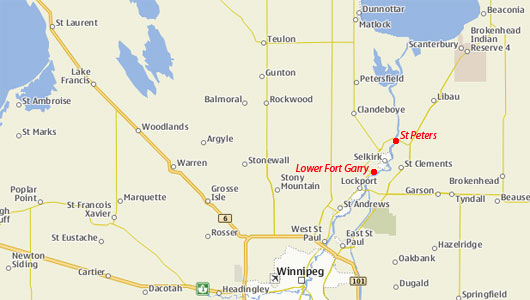 Census 1837:  Joe was 27 yrs old, living with his widowed sister Nancy Ann (widow of James WHITEWAY) in the St Paul (Middlechurch) area. His sister died in 1839.
HBCA: On Aug 15, 1854 Joseph entered the service of the HBC. From 1854 to 1858 he worked as a middleman voyageur.
In 1860 eldest son Joseph Jr. married Mary LELAND, daughter of Jane McDOUGALL & Richard LELAND.
On Aug 7, 1865 Joseph's father, James MONKMAN, died. He was buried at St Peters, Dynevor, MB.
Canadian Confederation
1867
On July 1, 1867 the British colonies in North America were united under the British North American Act to become the Dominion of Canada.  Sir John A MACDONALD (1815-1891) was appointed as Canada's first Prime Minister.
In 1868 William McDOUGALL (1822-1905) became the first Minister of Public Works for the new Dominion of Canada, and he began negotiations to acquire Rupert's Land from the HBC. Plans were already under way to create a new province in Red River territory.
One of McDOUGALL's first actions was to send John Allan SNOW (1824-1888), a Surveyor, to build the Dawson Road so settlers could have a shorter route from Ontario through Canadian territory to Red River. Colonel John Stoughton DENNIS (1820-1885), a soldier and a surveyor, was sent to delineate plots of land for settlers. He would introduce a new system of land surveys termed the Dominion Land Survey (DLS) using the Township System. The old system of long narrow river lots was discontinued.
SNOW, DENNIS, and their men became closely associated with Dr John Christian SCHULTZ (1840-1896), several of them staying at his home. There followed what a later commentator described as an "orgy of land-grabbing," with SCHULTZ, SNOW and MAIR, the road project's paymaster, staking off land claims which they hoped would be recognized when the transfer took place. It was little wonder that the Métis in particular regarded SCHULTZ with fear and hatred as epitomizing all that was menacing about the takeover by Canada.
In 1869 son Thomas married Mary INKSTER, and son Philip married Catherine HARPER, daughter of Eliza CUMMINGS and Thomas HARPER 1807-1877). ** MORE ABOUT THOMAS HARPER
Louis RIEL and the Red River Insurrection

L-R: Louis Riel, Ambroise Lepine, Dr John Christian Schultz and Thomas Scott
On Oct 11, 1869, Louis RIEL (1844-1885) placed his foot on the surveyors' chain to tell them their work was finished! This marked the beginning of another Red River Métis Rebellion. RIELbegan to organize resistance to the anticipated transfer of the North-West to the Dominion of Canada without prearranged terms.His strongest and most ardent and outspoken opponents among the English speaking population were Dr SCHULTZ (1840-1896) and Thomas SCOTT (1842-1870).
Under the leadership of RIEL, the Métis soon after established their National Committee of the Métis of Red River. Then, on Nov 2, he and 120 armed men took control of Upper Fort Garry. RIEL knew he would need the support of the English speaking settlers north of the Forks to support his actions. On Nov 6, he issued an invitation to the parishes to send 12 representatives to a meeting that would be held at Fort Garry.  The intention was to form one body with their Council to consider the present political state of their Country, and to adopt such measures as may be deemed best for their future mutual welfare. The English speaking settlers complied with his request, although with some reluctance. If not convinced that they should support RIEL, they saw no reason why they should not talk. The men selected to represent the northern Parishes were Donald GUNN (1797-1878) for St Andrews; Thomas BUNN (1830-1875) for St Clements (Mapleton); and Chief Henry PRINCE (1819-1902) for St Peters.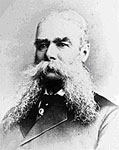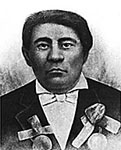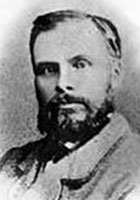 L-R: John Stoughton Dennis, Chief Henry Prince and Dr Thomas Bunn
** MORE ABOUT CHIEF HENRY PRINCE
** MORE ABOUT DR THOMAS BUNN
On Nov 16 William MacTAVISH (1815-1870), as Governor at Red River, issued a proclamation requiring the Métis to lay down their arms. On Nov 23 in response, RIEL proposed a further step to the convention: the formation of a provisional government to replace the Council of Assiniboia and to negotiate terms of union with Canada.
On Dec 1 McDOUGALL read his (illegal) Proclamation, "taking possession of the North-West Territory for Canada". He then appointed Colonel DENNIS, the Chief Surveyor, as 'Conservator of the Peace'. He moved his headquarters to the abandoned HBC Upper Fort Garry and began to raise an army.
DENNIS hurried to Lower Fort Garry, convinced the insurgents would seize upon that stronghold, some 20 miles north of Winnipeg, arriving there about 6 P.M. on December 1. He showed the master of the fort his commission, thus securing the eager co-operation of that officer. By eight that evening he had "some 70 young men assembled;" he then gave them an hour's drill and formed a guard for the fort. He also  assigned Joseph MONKMAN a commission to recruit Indian tribes to join in the war against the French Métis. Their plan was to arrest the rebel Métis' and occupy Upper Fort Garry.
From the beginning of the crisis in October, DENNIS had done all he could to see that the Indians of the North-West were inclined to the Canadian cause. Fittingly enough, then, on December 2 he received a reinforcement of 70 to 120 men, for the most part "civilized and Christianized Indians," from Chief PRINCE's band. Though DENNIS knew that McDOUGALL was averse to the use of Indians, and though he declared his feelings on this score to be those of his superior, he did keep PRINCE and 50 of his men in the fort "to serve as a permanent guard." He did not intend to get them involved "in any actual fighting just at the present," and contented himself with the reflection that, despite their lack of proper military procedure, his "red-skinned sentries" would prove effective sentinels indeed.
SCHULTZ fortified his house and store ('Fort Schultz), and recruited about 50 followers as guards, including Captain Charles Arkoll BOULTON (1841-1899) of the 46th militia regiment and a member of DENNIS' survey crew. SCHULTZ proposed to DENNIS that he be allowed to attack Upper Fort Garry and capture RIEL. Most of the English-speaking settlers refused to respond to a call to arms from DENNIS. On Dec 7, RIEL took this threat seriously; occupants of 'Fort Schultz' were captured (about 45 men and three women) and imprisoned in Fort Garry.On Dec 8, 1869, John BRUCE (1828-1893) was named president of an interim government, and on Dec 10 the Métis raised a flag of the future Provisional Government over Fort Garry to the sound of musket and cannon fire. In Winnipeg, on the ninth, the members of SNOW's road-building party were captured by the RIEL forces and confined in Fort Garry, along with SCHULTZ and the Canadians. The next day DENNIS heard the report that in Winnipeg "the French" continued "to arrest Canadians wherever they find them."
From Portage, DENNIS and a guide (probably MONKMAN) set off southward early on the morning of December 12, arriving in Pembina on December 15. The Colonel brought McDOUGALL, who had heard reports of the imprisonment of SCHULTZ and his men, full particulars of the unhappy events in the settlement. These persuaded McDOUGALL to leave for Canada, but he was anxious that DENNIS accompany him to help explain the course of events to the government. Consequently, the two set off on December 18.
1870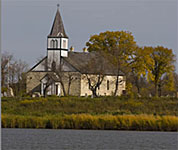 The Old St Peters Church
When the Census was taken in 1870, Joe's family was living in St Peters Parish. Children at home were John (age 39), James (age 23), Andrew (19), Mary (18), Albert (15) and Anne (age 11).
On Jan 23, 1870, SCHULTZ escaped from Upper Fort Garry. MAIR also escaped around the same time.
Gibbons: A knife was smuggled into the jail, hidden in a loaf of bread which had been baked by Mrs SCHULTZ and carried to her husband that day. Dr. SCHULTZ used the knife to cut up the buffalo robe which was his jail bed and bedding. He tied the strips together and used this fur "rope" to slide down the wall to freedom. He hurt his leg when the rope broke but, he was out, and limped his way first to the BARBER house on Euclid Street and then to the (Robert) McBEATH (1805-1886) house in Kildonan.
At the end of February, 1870, Dr. SCHULTZ, with Joseph MONKMAN as a guide, left Kildonan on snowshoes. He reached Duluth twenty-four days later, then finally Toronto and Ottawa. ** It is interesting to note that this was quite a feat of endurance for Ole Joe who was 60 years old in 1870. He was said to be over 6' tall and one of the strongest men in the country. This is undoubtedly when he became known as "The Guide".
In May of 1870 MONKMAN testified before the Special Senate Committee. He met Colonel WOLSELEY at Fort St. Frances with messages and intelligence, having obviously acted as a Canadian agent.
In 1871 Joseph MONKMAN was the Postmaster at Eagle's Nest Post Office in the St Peters Reserve. This Post Office was later known as the Peguis P.O. and the Gilolo/Gilulo P.O.
On Apr 10, 1872 son James married Mary TAIT, daughter of Catherine CUMMINGS & William TAIT (b-1827), both half-breeds. They settled in the St Peters Indian Reserve.
On Dec 24, 1873 daughter Mary married Henry COCHRANE, son of Elizabeth GIBSON & William COCHRANE (1811-1894).
In 1875 son Andrew married in St Peters to Nancy CHASTELLAINE, daughter of Nancy FINLAYSON & Narcisse CHASTELLAINE (1821-1880). ** MORE ABOUT NARCISSE CHASTELLAINE

In 1875 son Albert married Mary Ann MORWICK, daughter of Catherine THOMPSON and John MORWICK (1826-1905).
In 1875 Joe and Isabella (of St Peters Parish) both applied for their Half-breed Scrip.
In 1879 daughter Annabella married Charles BIRD, son of Isabella GIBSON and James BIRD (1824-1892).
Western Land Grants: Note: It is difficult to know if the following Josephs were Old Joe or his son
In 1882 Lot 95 (220 acres) and  Lot 97 (300 acres) in St Peters Parish were both patented by a Joseph MONKMAN. Both lots were vacant at the time (no occupants).
In 1883 Lot 151 (62 acres) and  Lot 152 (199 acres) in St Peters Parish were both patented by a Joseph MONKMAN. Both lots were vacant at the time (no occupants).
In 1887 Lot 96 (54 acres) in St Peters Parish was patented by a Joseph MONKMAN. The lot was vacant (no occupants).
In the Census of 1891 Joe was enumerated as age 81; wife Isabella as age 59. With them were grandsons Alfred (age 14) and George (age 12).
Ole Joe MONKMAN died on June 6, 1899; buried in the St Peters Dynevor Cemetery.
Census 1901: St Andrews Parish (Matlock area). An elderly Isabelle MONKMAN (85 yrs old) is living with her daughter Annabelle and her husband, Charles BIRD, in the Matlock area. Also living with them is a 6 yr old Alice MONKMAN b-1895 (granddaughter).  Alice was the daughter of Albert Paul Joseph.
Isabella MONKMAN died on March 4, 1904, age 88. She was buried with her husband in St Peters.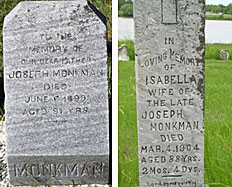 Please post queries and discussion at the following: Forum Topic for JOSEPH MONKMAN
======================= Family Details =======================
Children:
1. Oct 15, 1836 JOSEPH MONKMAN JR (m. Mary LELAND)
** MORE ABOUT JOSEPH MONKMAN JR
2. 1838 WILLIAM MONKMAN (Died 1868, St Andrews age 30)
3. 1842 GEORGE MONKMAN (Died in infancy)
4. Apr 27, 1845 THOMAS MONKMAN (m. Mary Murak INKSTER)
5. Apr 12, 1847 JAMES MONKMAN (m. Jane Mary TAIT)
** MORE ABOUT JAMES MONKMAN
6. Apr 11, 1849 PHILIP MONKMAN (m. Catherine HARPER)
** MORE ABOUT PHILIP MONKMAN
7. June 6, 1851 ANDREW MONKMAN (m1. Nancy CHASTELLAINE, m2 Catherine WHITESAND)
** MORE ABOUT the ANDREW MONKMAN FAMILY
8. Jun 14, 1853 MARY MONKMAN (m. Henry COCHRANE)
9. 1854 ALBERT PAUL JOSEPH MONKMAN (m1. Mary Ann MORWICK, m2. Flora A. FITCH)
10. Oct 16, 1856 NANCY MONKMAN (m. John IRVINE)
11. 1858 DAVID MONKMAN (Died in infancy, age 8)
12. Jan 26, 1860 ANNABELLA MONKMAN (m. Charles BIRD)
13. 1862 CORNELIUS MONKMAN (Died in infancy)