JOSEPH MONKMAN (1836-1910)
MARY LELAND (1836-1925)
(Last Updated: December 08, 2013)
Joseph MONKMAN was born Oct 15, 1836 at Salt Springs, MB (at Salt Point; shown on map below), the half-breed son of Isabella SETTER and Joseph "Ole Joe" MONKMAN SR (1810-1899). On Nov 13, 1836 he was baptized in Red River by Reverend David JONES (1796-1844). ** MORE ABOUT "OLE JOE" MONKMAN
In 1854 Joseph's father, 'Ole Joe' began to work for the Hudson's Bay Company (HBC) as a voyageur. Young Joe was about 18 years old then.
Marriage to Mary LELAND
1860
On Dec 27, 1860 Joseph married at St Andrewsto Mary LELAND, daughter of Jane McDOUGALL & Richard LELAND. In 1861, son Willie was born at Poplar Park (north of Libau).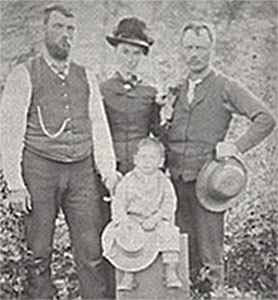 Joseph Monkman, Annie Bird and son Bill (Willie)
** Puzzling caption – who is the other man? Perhaps Annie's hubby, Charles Bird
(From Beyond the Gates of Lower Fort Garry)
Canadian Confederation
The Manitoba Riel Rebellion
1867-1869
On July 1, 1867 the British colonies in North America were united under the British North American Act to become the Dominion of Canada.  Sir John A MACDONALD (1815-1891) was appointed as Canada's first Prime Minister.
In 1868William McDOUGALL (1822-1905) became the first Minister of Public Works for the new Dominion of Canada, and he began negotiations to acquire Rupert's Land from the HBC. Plans were already under way to create a new province in Red River territory.
On Oct 11, 1869, Louis RIEL (1844-1885) placed his foot on the surveyors' chain to tell them their work was finished! This marked the beginning of another Red River Métis Rebellion. RIEL began to organize resistance to the anticipated transfer of the North-West to the Dominion of Canada without prearranged terms.His strongest and most ardent and outspoken opponents among the English speaking population were Doctor John Christian SCHULTZ (1840-1896) and Thomas SCOTT (1842-1870).
On Dec 1 McDOUGALL read his (illegal) Proclamation, "taking possession of the North-West Territory for Canada". He then appointed Colonel DENNIS, the Chief Surveyor, as 'Conservator of the Peace'. He moved his headquarters to the abandoned HBC fort and began to raise an army. He also armed a group of renegade Indians. Under DENNIS, they were to arrest the Métis and occupy Upper Fort Garry.
William McDOUGALL, ordered them to disperse but SCHULTZ disregarded the instructions as craven. He fortified his house and store ('Fort Schultz), and recruited about 50 followers as guards. He proposed an attack on Upper Fort Garry and the capture RIEL. On Dec 7, RIEL, after learning of the plot, took the threat seriously; occupants of 'Fort Schultz' were captured (about 45 men and three women) and imprisoned them in Fort Garry.
The SCHULTZ Escape
Manitoba becomes a Province
1870
On Jan 23, 1870, it was Joseph's younger brother, James MONKMAN (1847-1932), who helped John SHULTZ in his escape from Louis RIEL. ** MORE ABOUT JAMES MONKMAN and the RESCUE of SCHULTZ
About a month later, it was their father, "Ole Joe" who became the real hero. Acting as SCHULTZ's guide, he and SCHULTZ left Kildonan on snowshoes, and they reached Duluth 24 days later, then finally Toronto and Ottawa. That this was quite a feat of endurance for Ole Joe who was 60 years old in 1870. He was said to be over 6' tall and one of the strongest men in the country. This is undoubtedly when he became known as "The Guide".
On July 15,1870 Manitoba became the fifth province of Canada, the Canadian Government having acquired the territory previously governed by the HBC. On Aug 21, Colonel Garnet Joseph WOLSELY (1833-1913) and his soldiers arrived at Fort Alexander. On Aug 24 they forced their way into Upper Fort Garry. RIEL, having learned that the soldiers were planning to lynch him, fled, just a few hours before they arrived. The Rebellion was over.
In 1870 Young Joe's family was recorded on Lot 85 in St Peters Parish. Children were recorded as follows: William (age 9), Alexander (age 7), Isabel (age 5) and David (age 1).
Signing of Treaty Number One
1871
On Apr 16, 1871 young Joe MONKMAN was appointed as the first Mailman and Postmaster at the Peguis Post Office, formerly Eagle's Nest.
On Aug 3, 1871, Chief of the St Peters Indians, Henry Red Eagle (Mis-koo-ki-new) PRINCE (1819-1902) signed Treaty Number One. ** MORE ABOUT CHIEF HENRY PRINCE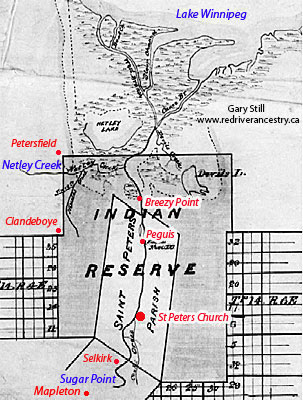 Plan showing St Peters Reserve after Treaty No.1
In 1875, Joseph and his wife Mary claimed Half-breed Scrip as residents of St Peters Parish. Joseph also claimed Half-breed Scrip for his children: William (age 14), Alexander (13), Isabella (10) and David (age 7).
In November of 1876 11 year old daughter Isabella and seven year old son David fell through the ice and drowned.  They were both buried in St Peters Cemetery. That same year, they also lost a three month old baby daughter Margaret Anne.
On Apr 16, 1878 Joseph resigned as the Peguis Post Master. Although he and his family were still living in the St Peters Indian Reserve, they were no longer entitled to remain there by virtue of having received Half-Breed Scrip. On Jan 30, 1879 he received a Half-breed Land Grant for 240 acres of land on the SE quarter of Section 35-14-4 Epm. This location is near Clandeboye.
Poplar Park
1881
By 1881 it seems that Joseph and his family had moved back to the Poplar Park area. That year they were recorded in St Clements Parish as follows: Joseph and his wife Mary (both age 43) with children as William (age 19), Alexander (17), John (9), Edward (6), Charles (4) and Frederick (age 2). On Dec 17 that year, daughter Elizabeth was born. She would be their last child who survived to adulthood.
In 1883 the Rural Municipality of St Clements was formed. Without going to a lot of detail, essentially the RM of St Clements now referred to the East side of the Red River and Lake Winnipeg all the way from Winnipeg to Grand Beach, extending eastward as far as Garson. Hereafter, St Andrews only referred to the west side of the river.
In 1885 eldest son William may have married Caroline ANDERSON,daughter of Elizabeth ISBISTER & James ANDERSON (1827-1867) from Balsam Bay (MB). ** MORE ABOUT JAMES ANDERSON
In 1887 son Alexander married Esther CLEMONS, daughter of Margaret BEAR and John CLEMONS (1830-1917) from St Peters. ** MORE ABOUT JOHN CLEMONS
In 1888 Joseph received another Land Grant for the NE quarter of Section 30-15-6-Epm (near the marshes, 2 mi SW of Poplar Park at the northern edge of the St Peters Reserve)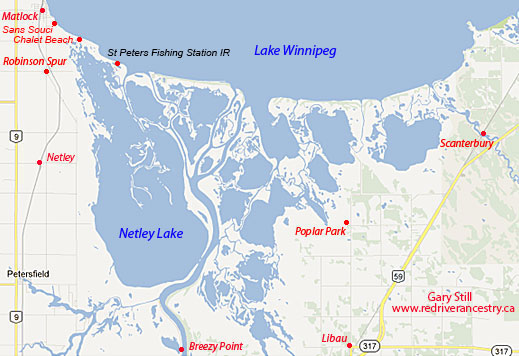 Census of St Clements Parish, 1891: Joseph MONKMAN (age 55) and his wife Mary (age 53). Children: John Henry (age 21), Edward (16), Albert Charles (14), Frederick (12) and Sarah Elizabeth (age 10).
In 1898 son Edward married Julia ORVIS aka SMITH, daughter of Mary Ann McLEAN and John Benson ORVIS (1844-1882). ** MORE ABOUT JOHN BENSON ORVIS
Also that year, son John Henry married in Selkirk to Margaret Jane SPENCE of unknown origins.
In 1899 Joseph's father, 'Ole Joe MONKMAN' died and was buried in the St Peters Dynevor Cemetery.
In 1900 son Albert married Catherine Jane FOLSTER in the Rainy River District of Ontario, daughter of Jane SINCLAIR and John FOLSTER (1845-1883).
In 1907 the St Peter's Indian Reserve was surrendered to the Government, and most of the native residents moved to present day Peguis Reserve (Fisher River/ Hodgson) by 1909.
On May 20, 1910 Joseph MONKMAN died in Selkirk 1910 in Selkirk, buried St Peters. 
In 1910 daughter Elizabeth married in Selkirk to Herbert BRYANT (1887-1954) who was born in London, England. 
In 1911 Widow Mary MONKMAN (age 70) was with son John Henry MONKMAN on Main Street in Selkirk.
In 1914 son Frederick married in Selkirk to Mary Agnes SMALDON of uncertain origins.
In 1916 Widow Mary MONKMAN (age 75) was with daughter Elizabeth and son-in-law Herbert BYRANT at 453 Stanley Ave in Selkirk.
On Jan 4, 1925 Mary (nee LELAND) MONKMAN died in Selkirk, age 88.
Please post comments and queries at this link: FORUM DISCUSSING the JOSEPH MONKMAN JR FAMILY
======================= Family Details =======================
Children:
1. Oct 1, 1861 WILLIAM LOWE "WILLIE" MONKMAN (m. Caroline ANDERSON or SINCLAIR?)
2. Aug 4, 1863 ALEXANDER GEORGE MONKMAN (m. Esther CLEMONS)
3. 1865 ISABELLA JANE MONKMAN (Drowned, age 11)
4. 1867 MARGARET ANN MONKMAN (Died in infancy)
5. 1869 DAVID THOMAS MONKMAN (Drowned, age 7)
6. May 27, 1870 JOHN HENRY MONKMAN (m. Margaret Jane SPENCE)
7. June 22, 1875 EDWARD MONKMAN (m. Julia ORVIS aka SMITH)
8. Jan 11, 1877 ALBERT CHARLES MONKMAN (m. Catherine Jane FOLSTER)
9. Nov 30, 1878 FREDERICK ARTHUR MONKMAN (m. Agnes Mary SMALDON)
10. Dec 17, 1881 ELIZABETH SARAH "LIZZIE" MONKMAN (m. Herbert BRYANT)
11. Aug 4, 1884 JOSEPH MONKMAN (Died in infancy)
12. Apr 30, 1886 WALTER ETHELBERT MONKMAN (Died in infancy)