JAMES ANDERSON (1827-1867)
ELIZABETH ISBISTER (1831-1914)
(Last Updated: June 23, 2015)
James ANDERSON was born Feb 1, 1827 in the Shetland Islands of Scotland (Birsay).
James in the service of the Hudson's Bay Company
Norway House
1842
In 1842 James was hired by the Hudson's Bay Company (HBC). For the rest of his life (except for a posting at Berens River in 1862-63) he remained at Norway House where he worked as a Labourer, Joiner (wood worker), Interpreter and Post Master. ** MORE ABOUT JAMES ANDERSON in HBC ARCHIVES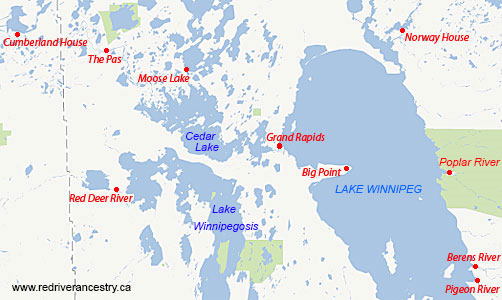 Marriage to Elizabeth ISBISTER
1849
Around 1849 James married Elizabeth ISBISTER, daughter of Frances SINCLAIR and John ISBISTER (1794-1884) from the Orkneys, the Post Master in Charge of the Nelson River District. ** MORE ABOUT JOHN ISBISTER
Tragic House Fire at Norway House
Decimation of the ANDERSON Family
February 14, 1867
On February 14 (Valentine's Day), 1867, a large fire broke out in the kitchen part of the ANDERSON house at Norway House. The fire would result in the death of four of their children, and on Oct 19 James ANDERSON himself died of heart failure. ** Note: The tragedy is described in greater detail in the HBC Journals as well as a story presented by Mabel DANWICH in the book 'East Side of the Red', published by the RM of St Clements.
Only five children would survive: Mary (age 10), Christina (7), Alexander (2), Caroline (1). Elizabeth was pregnant at the time of the fire, and baby John was born on May 18, 1867.
Widow Elizabeth moves to Prince Albert
1868
The following spring (1868), Elizabeth and her remaining children went to Grand Rapids by dog team. When the ice moved out, they went up the Saskatchewan to Prince Albert where Elizabeth had brothers living.
Widow Elizabeth re-marries to Eugene DERBY
1871
In 1871 at Prince Albert, Widow Elizabeth (nee ISBISTER) re-married to Eugene Woodbury DERBY (1845-1916) from Quebec.
In 1873 daughter Mary married James BRUCE in Prince Albert, a retired HBC Boat Builder who was born in 1840 in the Orkneys.
On Feb 11, 1875, daughter Ellen Isabella DERBY was born at Prince Albert.
Around 1878 daughter Christina married John Alfred FLETT in St Paul Parish (Red River), son of Euphemia HALCROW and Peter FLETT (1812-1905). ** MORE ABOUT PETER FLETT
This perhaps suggests that the ANDERSON-DERBY family had moved back to Manitoba by that time.
The ANDERSON-DERBY Family moves back to Manitoba
1881
By 1881 Elizabeth and Eugene DERBY had moved to Balsam Bay at the southeast end of Lake Winnipeg. From the census that year they were recorded as: Eugene DERBY (age 37) and his wife Elizabeth (age 51); children as Alexander (age 15), John (13), Caroline (11) and Isabella (age 7).  ** Note: All except Isabella were James ANDERSON's children)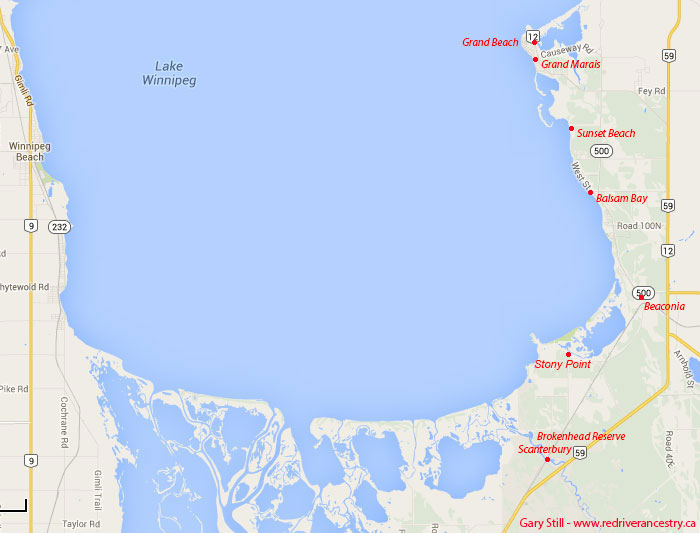 In 1883 son Alec married Matilda THOMAS, daughter of Mary and Richard THOMAS (1834-1923).
In 1888 son John married Eleanor THOMAS, daughter of Charlotte PARISIEN & Henry THOMAS (1848-1927) from the Grand Marais area.
Around 1884 Eugene DERBY donated land for the Balsam Bay Church and Cemetery (the actual church not built till the 1920's) 
In 1885 some sources indicate that daughter Caroline married William Lowe MONKMAN, son of Mary LELAND & Joseph MONKMAN JR (1836-1910). ** MORE ABOUT JOSEPH MONKMAN JR
Christian Brethren: By 1890 Richard VARDER and Alfred GOFF, both from England, were preaching as a team. VARDER had been mentored by Robert CHAPMAN and Henry DYER, and Alfred GOFF was saved under the preaching of Henry CRAIK. CHAPMAN, DYER, and CRAIK were friends and pioneers among the 'open' brethren in England, so the two young men had a common bond.  William MONKMAN was saved in 1890 at Gospel meetings conducted by Richard VARDER and Alfred GOFF in a home near Selkirk.  He immediately invited the two preachers to come north to his district at Balsam Bay on Lake Winnipeg. They came and shortly eight more people professed salvation. These nine - Mr. and Mrs. William MONKMAN, Mr. and Mrs. John FLETT Mr. and Mrs. Alex ANDERSON, Mr. and Mrs. Eugene DERBY, and Mrs. John RUPERT - were baptized in the waters of Lake Winnipeg by Richard VARDER and established the Balsam Bay Assembly in June 1890.
** MORE ABOUT the BALSAM BAY ASSEMBLY
** MORE ABOUT RICHARD VARDER
In 1895 Elizabeth's daughter, Ellen Isabella DERBY married John George RUPERT, son of Eliza HENDERSON and George RUPERT (1835-1912) from Fort Alexander (MB).
On Oct 12, 1914 Elizabeth DERBY died at the age of 83.

On Jan 20, 1916, Eugene Woodbury DERBY died at the age of 71.
Please post comments and queries at this link:
FORUM DISCUSSING the JAMES ANDERSON and EUGENE DERBY FAMILIES
============================ Family Details ============================
Children by Elizabeth ISBISTER and James ANDERSON:
1-4. FANNY, JANE, BELLA, GEORGE (All died re fire in Feb, 1867)
5. Mar 20, 1857 MARY PRUDEN ANDERSON (m. James BRUCE)
6. 1860 CHRISTINA ROSS "CHRISTIE" ANDERSON (m. John Alfred FLETT)
** MORE ABOUT JOHN ALFRED FLETT
7. Feb 12, 1865 ALEXANDER "ALEC" ANDERSON (m. Matilda THOMAS)
** MORE ABOUT ALEXANDER ANDERSON
8. 1866 CAROLINE "CARRIE" ANDERSON (m. William "Willy" Lowe MONKMAN)
9. May 18, 1867 JOHN ISBISTER ANDERSON (m. Eleanor "Ellen" THOMAS)
Child by Elizabeth ISBISTER-ANDERSON and Eugene DERBY:
1. Feb 11, 1875 ELLEN ISABELLA DERBY (m. John RUPERT)