JOHN ALEXANDER ISBISTER (1794-1884)
FRANCES "FANNY" SINCLAIR (c1813-1879)
(Last Updated: August 27, 2014)
John Alexander ISBISTER was born on Dec 27, 1794 in Harray (Orkneys), Scotland, said to have been the son of Helen and James ISBISTER (b-1770).
 In 1812 John's brother, Thomas ISBISTER (1793-1836) began service with the Hudson's Bay Company (HBC) and by 1817 he was a Labourer in the Cumberland House District.
Employed by the Hudson's Bay Company
1817
On May 28, 1817 John began his service with the HBC. He departed the Orkneys on June 14 aboard the Eddystone and arrived at Moose River on May 28 that year to begin his career as a labourer. His next relocation was to the Cumberland District where his brother (Thomas) was a Postmaster. ** MORE ABOUT JOHN ISBISTER in HBC ARCHIVES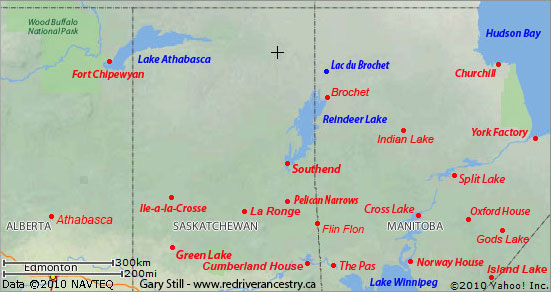 HBC – NWC Union
1821
In 1821 union of the North West Company (NWC) and the Hudson's Bay Company (HBC) occurred, ending years of bitter rivalry for dominance of the fur trade in Western Canada.George SIMPSON (1786-1860) became the Governor of Rupert's Land.
John remained in the Cumberland District until 1828 when he was transferred to Oxford House to be a Fisherman (Island Lake District).
John and Fanny SINCLAIR
1830
Around 1830 John was united with Fanny SINCLAIR in Red River (daughter Betsy was born in Feb, 1831). Fanny is said to have been the youngest daughter of Margaret NAHOVWAY NORTON and William SINCLAIR (1766-1818) who was also born in the Orkneys. ** Note: If Fanny's birthdate is correct, she was only 13 years old when she began to have babies. Based on Donna's information below, my guess is 1813. ** MORE ABOUT WILLIAM SINCLAIR
From Donna Sutherland's book 'Nahovway', page 194: Another child to claim William SINCLAIR as her father was Ben's younger sister Fanny (John ISBISTER). In 1885 Fanny applied for Metis Scrip, a one-time payment in cash or land made to people of mixed ancestry to extinguish their Aboriginal entitlement. On her application she listed her birth date as Mar 1, 1818 and her parents as Margaret and William SINCLAIR. Her mother was not NAHOVWAY, but a Cree woman who likely took the name Margaret after she accepted Christianity, and she was quite likely Ben's mother too. This woman was AISSAYSAIPEAU. - - Now, Scrip alone does not provide strong enough evidence to confirm Fanny's paternity since there was more than one William SINCLAIR who could have fathered her, and more importantly in the 1870 census Fanny claimed AISSAYSAIPEAU as her father. In that record she gave Oxford House 1816 as the place and year of her birth, and on her 1842 baptism record she claimed 1813 as her birth year, leaving some inconsistency in her claim.

** Another Note: Around 1824 NAHOVWAY took the SINCLAIR family to Red River.
 John ISBISTER continued his duties as Fisherman and Interpreter at Oxford House until 1836.
Post Master at Norway House
1836
In the fall of 1836 John became a Postmaster at Norway House (Nelson River/ Jack River District), where he remained until 1859.

HBC post at Norway House (Library of Archives Canada)
In 1840 Reverend James EVANS (1801-1846) arrived at Norway House. He was met by the HBC Chief Factor Donald ROSS (1798-1852) and his family. It was EVANS who invented the Cree Syllabic System.
** MORE ABOUT JAMES EVANS in DCBO
On Jul 17, 1842 Fanny was baptised, and she & John were married by clergy the same day.
1846 was the year of the Rossville Scandal (described in the above link).
Around 1849 daughter Elizabeth married James ANDERSON (1827-1867), an HBC employee from Scotland.
** MORE ABOUT JAMES ANDERSON
Around 1857 daughter Fanny married Baptiste PAQUETTE of uncertain origins (probably from Quebec).
St Paul Parish – Red River
1859
In 1859 John was a "Freeman". He moved south to settle in St Paul Parish (Middlechurch), Red River.
In 1859 son James married Margaret BEAR in Fort a la Corne (Saskatchewa), daughter of Margaret TAIT and William BEAR (1810-1875). ** MORE ABOUT WILLIAM BEAR
Some sources indicate that son Adam married a Frances BEAR of uncertain origins. ** Note: Unable to substantiate this union. Help needed. In 1860 it is more certain that son Adam married Ellen SMITH in St Paul (Red River), daughter of Mary SWAIN and William Robert SMITH (1797-1869). ** MORE ABOUT WILLIAM ROBERT SMITH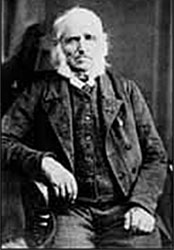 John Isbister (Glenbow Archives)
In 1860 daughter Mary married John Edward PRUDEN in St Paul, daughter of Josephte JOLICOEUR and Peter PRUDEN (1807-1889). ** MORE ABOUT PETER PRUDEN
Around 1862 son John Jr. married Caroline PRATT of uncertain origins.
Around 1862 daughter Fanny divorced Baptiste PAQUETTE, and in 1863 she began a relationship with her brother-in-law, Louis PRUDEN.
In 1866 son William married Mary Ann BEGG, daughter of Catherine SPENCE and Charles Robert BEGG (1814-1902). ** MORE ABOUT CHARLES ROBERT BEGG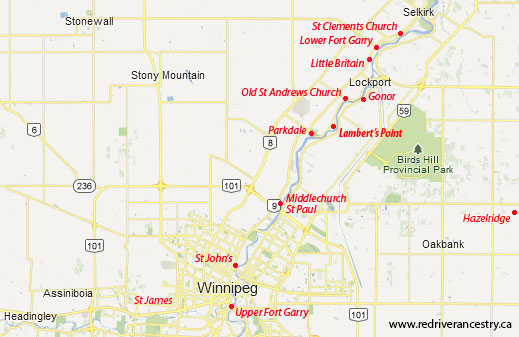 In 1870 the ISBISTER family was recorded on Lot 45, St Paul Parish; children as: Fanny (age 26), Alexander (19), George (17) and Benjamin (age 14).
Around 1871 daughter Fanny re-married to William COCHRANE, son of Elizabeth GIBSON and William COCHRANE (1811-1894).
Around 1873 daughter Ellen married John TAYLOR of uncertain origins (born around 1844 in Scotland).
In 1874 son Robert married Margaret DREAVER in Prince Albert, daughter of Marguerite BELANGER and James DREAVER of uncertain origins.
At some time before 1875 daughter Fanny married (her third spouse) Widower William COCHRANE of uncertain origins (he may have been a son of Harriet MONKMAN and James Asham COCHRANE (b-c1790).
In 1876 son Alexander married Emily SAUNDERS, daughter of Jane FORBES and Palm SAUNDERS (1820-1864).
Around 1877 son George married Mary Jane ANDERSON, daughter of Fanny GILL and James ANDERSON (1833-1888).
On Dec 13, 1879 the elder Fanny ISBISTER died in St Paul (Middlechurch).
In 1880 son Benjamin married Mary Jane FLETT in Little Britain, daughter of Margaret BIRSTON and James FLETT (1829-1912).
Census 1881:  St Paul/Lisgar: John ISBISTER, widowed, age 84 (born c1797 Scotland), farmer. Children/ grandchildren:  Alexander 28 and Emily 21 (nee SAUNDERS), and their children: John George 4; and Frances Jane 2.  Benjamin 23 and Jane Mary (nee FLETT), age 21 (his son and daughter-in-law).  Also John ANDERSON, age 14 (this is old John's grandson, son of his daughter Elizabeth and James ANDERSON who died in a fire in 1867, the year young John was born)
Aug 31, 1883: Age listed as 88 years, 9 months
On Oct 27, 1884 John ISBISTER died in St Paul at the age of 89.
In 1891 son Benjamin, widowed, re-married to Widow Emma (nee McLENNAN) SUTHERLAND in Winnipeg, daughter of Mary HUMPHREYVILLE and Joseph Archibald McLENNAN (1814-1865). Emma had previously been married to John George SUTHERLAND (1853-1888). In 1906 Emma died, and around 1909 son Benjamin married a third time to Margaret Ann LEWIS of unknown origins.
Please post comments and queries at this link: FORUM DISCUSSING the JOHN ISBISTER FAMILY
============================ Family Details ============================
Children:
1. Feb 7, 1831 ELIZABETH "BETSY" ISBISTER (m1. James ANDERSON, m2. Eugene DERBY)
2. Oct 5, 1832 JOHN ISBISTER JR (m. Caroline PRATT)
3. Nov 30, 1833 JAMES ISBISTER (m. Catherine Margaret "Maggie" BEAR)
4. Jan 8, 1835 WILLIAM ISBISTER (m. Mary Ann BEGG)
** MORE ABOUT WILLIAM ISBISTER
5. Nov 28, 1837 DAVID ISBISTER
6. Jan 4, 1839 FANNY ISBISTER (m1. Baptiste PAQUETTE, m2. Louis PRUDEN, m3. William COCHRANE)
** MORE ABOUT WILLIAM COCHRANE
7. Oct 26, 1839 ADAM ISBISTER (m1. Frances BEAR, m2. Helena Ellen SMITH)
8. Jan 31, 1844 MARY ISBISTER (m. John Edward PRUDEN)
** MORE ABOUT JOHN EDWARD PRUDEN
9. Nov 20, 1849 ROBERT MILES ISBISTER (m1. Margaret DREAVER, ?m2. Frances Sophie ROBERTSON)
10. Jan, 1850 ELLEN ISBISTER (m. John TAYLOR)
11. Jul 27, 1852 ALEXANDER ISBISTER (m1. Emily SAUNDERS; m2. Sarah MORAN)
12. Jan 27, 1855 GEORGE BANNERMAN ISBISTER (m. Mary Jane ANDERSON)
13. Oct 20, 1857 BENJAMIN ISBISTER (m1. Mary Jane FLETT, m2. Emma McLENNAN), m3. Margaret LEWIS)