WILLIAM SINCLAIR (1766-1818)
NAHOVWAY (1769-1863)
(Last Updated: February 21, 2016)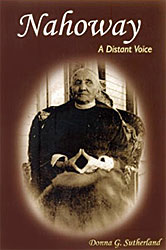 Fortunately, there is plenty of information about NAHOVWAY & William SINCLAIR to be found by using the standard Google searches on the internet, etc. A good place to start is Neil Ray's website. Here's the link:
** MORE ABOUT WILLIAM SINCLAIR by Neil Ray
Much credit is due to Donna G Sutherland and her book, NAHOVWAY, A Distant Voice, published in 2008. Donna is herself a descendant of NAHOVWAY & William SINCLAIR. I highly recommend her book which I find a valuable reference in my own endeavours.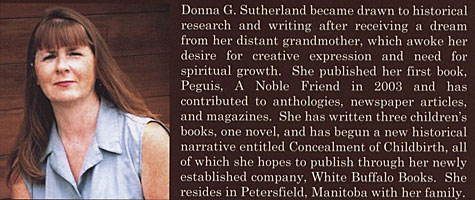 My main focus is on the Red River descendants of NAHOVWAY & William SINCLAIR, so I will only provide a few highlights of their story and provided a list of their children as a basis for doing some bios on some of their lesser known descendants of interest.
William SINCLAIR (The Elder) was born 1766 in East-on-quay (on the Isle of Ponoma), Parish of Harray, Orkneys, Scotland.
On July 5, 1782, at the age of 16, William began his service with the Hudson's Bay Company (HBC) when he sailed on King George as servant to Humphrey MARTEN (1729-1792) destined for York Factory (HBCA). MARTEN, the Chief Factor at York, was returning on the same ship after a years furlough in England.
On Aug 8, 1782 Governor Samuel HEARNE (1745-1792) has a visit from the French by means of three ships bearing all told, 146 guns. HEARNE was forced to surrender Fort Prince of Wales (Churchill) to the celebrated navigator Jean-Francois LaPEROUSE. HEARNE's fort was sacked and burned, and he and his men were taken prisoner aboard the French ship. LaPEROUSE next headed for York Factory. On Sep 10, 1782 Humphrey MARTIN and his men (including William SINCLAIR) were taken prisoner by LaPEROUSE, and Fort York was also destroyed.The prisoners were taken to France. By October the Company had received letters from the prison at Dinan Castle, France, asking for the ransom of the men. By May, the ransomed men were in London.
** MORE ABOUT LA PEROUSE and his HUDSON BAY EXPEDITION in Wikipedia
By 1783 the Company had persuaded MARTEN to take charge of York Factory once more. He arrived on Sep 15, 1783, twelve days after the signing of the Treaty of Paris. William SINCLAIR also returned to York that year.
SINCLAIR remained at York for the next nine years. In the fall of 1786 Humphrey MARTEN retired, and left York for good. William TOMISON (1739-1829) was MARTEN' successor as Chief Factor. However, TOMISON was ordered to reside inland. Consequently, Joseph COLEN (1751-1818) was appointed resident chief at York. Although in command at the factory, COLEN was subject to the orders of TOMISON when the latter visited York. On taking up his new appointment COLEN was directed by the HBC's London committee to forward "the building of a new Factory."
William & NAHOVWAY are 'Country Wed'
1790
Around 1790 William SINCLAIR was country wed (Indigenous ceremony) at York Factory to Nahovway (Echo) NORTON, daughter of Thucotch & George HOLT (1750-1784). ** MORE ABOUT FERDINAND JACOBS - GEORGE HOLT
In 1790 William SINCLAIR returned home on the Seahorse due to ill health. While there, he completed his education at Edinburgh University.
Donna suggests that daughter Phoebe may have been born in June of 1791, while William was abroad.
HBCA: In August of 1792 William returned to York Factory (now 26 yrs old) as a "Writer".
On Sep 22, 1794 Joseph COLEN sailed to England on the Prince of Wales to report to the Governor and London Committee on various matters, and to seek attention for a serious eye problem. George SUTHERLAND (b-c1760) then took charge at York Factory.
Daughter Catherine was born in 1795 at York Factory.
On Aug 28, 1795 COLEN returned to York on the King George accompanied by his nephew, Thomas COLEN, to resume as Chief. 
Daughter Anne was born in 1796.
It was around 1797 that daughter Phoebe began a connubial relationship with Thomas BUNN (1765-1852).
During 1797-98 William was trading inland along the Nelson River. Son William SINCLAIR Jr. was born on Dec 2, 1797.
William establishes Oxford House
1798-1812
In 1798 William was promoted to the position of a Master Trader, and Joseph COLEN instructed him to build the post that became Oxford House, located along the Hayes River trade route (see map below), midway between Norway House and York Factory. Then, on Sep 26, 1798 COLEN was recalled to England aboard the King George. He was replaced as Chief Trader at York by John BALLENDINE (1758-1817).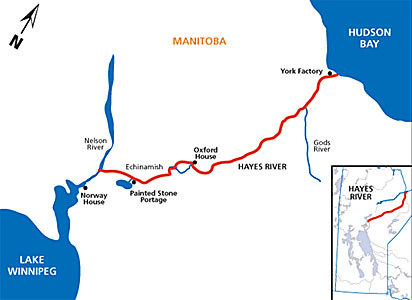 The Hayes River Route from York Factory to Lake Winnipeg
On pg 187 Donna notes the names of 11 other men who spent the winter of 1798-99 at Oxford House. Those of particular interest included Edward TOMISON (sawyer); William TATE; Magnus BIRSTON (steersman, age 29 in 1798); John MOAR (boat builder, age 26); George SPENCE; George BAKIE; Alexander BIRSTON (bowsman, age 23); and James LOUTIT (tailor).
William remained at Oxford House for the next 14 years during which he became the Chief Trader in charge of the York Inland District.
Donna thinks that son John may have been born about 1799 at Oxford House; daughter Jane by 1801; daughter Anne around 1802-03. At the time of writing (2008) Donna says the exact birth dates of John, Jane and Anne were unknown to her. On Dec 15, 1804, daughter Mary (Donna's great-great-great grandmother) was born; named after William's youngest sister.
Around 1809 William took his 15 year old eldest daughter Phoebe to York Factory to be 'country wed' to 43 year old Englishman Thomas BUNN (1765-1852), a widower with two young children.
In 1810 the HBC divided Rupert's Land into two new jurisdictions, the Northern and Southern Departments. Thomas THOMAS (1765-1828) was appointed Superintendant of the Southern Department (Fort Albany, Moose Factory and Eastmain Factory).William AULD (1770-1830) was appointed Superintendant of the Northern Department (Churchill, York Factory, Winnipeg and Saskatchewan Districts). William would then serve under AULD.
It was around 1810 that daughter Catherine became the wife of Joseph COOK (Indigenous ceremony). She was only about 15 years old at the time, and had given birth to their first child and whom he left funds to after his death.
The First SELKIRK Settlers Arrive
William takes charge at Jack River House
1811-1814
On Sep 24, 1811, the first group of Lord Selkirk's Settlers arrived at York Factory, bound for Red River led by Miles MacDONELL (1767-1828), the newly appointed Governor of what was to become the District of Assiniboia. He was accompanied by William HILLIER who was to assume responsibilities for the fur trade and competition with the North West Company (NWC). Due to their late arrival they were forced to spend the winter at York before embarking on the long journey south.
In June of 1812 William was instructed to go to York to guide the settlers on their journey up the Hayes River. On July 6, 1812 the first group started up the Hayes River from York.
On July 19, 1812, William SINCLAIR and his two sons and five other men arrived at Oxford House in company with James BIRD (1773-1856) and William HILLIER. On Aug 22 William, his boys, and several inland traders were back at York to assist another group of settlers. On Aug 26, 1812, about 20 able-bodied men led by Irishman Owen KEVENEY reached York Factory with the Advance Party of settlers (about 19 able-bodied men); they departed on Sep 6. On Sep 23 William arrived back home at Oxford and KEVENY arrived a few days later. On Sep 29 KEVENY continued on from Oxford in nine boats, accompanied this time by Peter FIDLER (1769-1822). Several other brigades of settlers headed south that summer, including Alexander KENNEDY (1781-1832). On Aug 30, 1812 the Advance Party led by MacDONELL and HILLIER arrived at the Red River Forks.
By the fall of 1812 William moved his centre of operations to Jack River (Norway House). Donna (pg 214) suggests that NAHOVWAY probably remained at Oxford House with their children who were Thomas, James, Mary, Ann, Jane and John (ranging in age from two to 13. William Jr, worked at Oxford and Jack River while Phoebe and Catherine lived with their husbands, Thomas BUNN and Joseph COOK respectively.
It is said that son Benjamin was conceived during the winter of 1813-14 at Oxford House and that the father was not William.
William returns to Scotland
1814-15
In the spring of 1814 William was sent to assist a new group of settlers from the Bay to Jack River. On April 6 Archibald McDONALD (1790-1853) left Churchill with 41 selected men and women(referred to as the Churchill Party), arriving at York Factory on April 13.
In early June of 1814 William arrived at York to learn of the resignation of William AULD and his replacement by Thomas THOMAS as Superintendant of the Northern Department.
In October of 1814, due to illness, William departed on a furlough aboard the Prince of Wales, first to England and from there to the Orkneys.
On Aug 27, 1815, his health somewhat improved, William arrived back at York Factory having been demoted from Chief Factor to "Inland Trader" due to his condition. Two months later he was assigned to Knee Lake (to the northeast of Oxford House).
Aug 12, 1816, son Colin Robertson was born Oxford House.
In October of 1817 William made a trip to York Factory where he became gravely ill he had to spend the winter there.
Death of William SINCLAIR
1818
On Jan 5, 1818 he wrote his last Will and Testament, and on Apr 20, 1818, William SINCLAIR died at York Factory. He was buried there in the Sloop Creek Cemetery, age 52. Widow Nahovway was only around 40 years old.
After the HBC – NWC Merger
1821
In 1821 the troubles at Red River seemed to be over when the HBC and NWC merged. George SIMPSON (1786-1860) became the new Governor of the HBC. After the merger, almost 1,300 employees lost their jobs since the single HBC organization that emerged had no need for most of the voyageurs and retired fur traders.
Sometime in 1821 during his first year in Rupert's Land, Governor George SIMPSON began a connubial relationship with William's daughter, Betsy SINCLAIR. On Feb 10, 1822 Betsy gave birth to a daughter, Maria SIMPSON, at York Factory. On Aug 27 Maria was baptised there by Rev John WEST (1778-1845) who had just arrived from Red River. SIMPSON felt no loyalty toward Betsy or his new daughter. That fall he had his assistant, John George McTAVISH (1778-1847), take Betsy and her baby to Rock Depot to be cared for by her sister Phoebe and her husband, Thomas BUNN. SIMPSON wrote "I do not wish to be troubled with a Lady during the busy season." He later wrote to McTAVISH requesting that he find a husband for Betsy. Sometime in the fall of 1822 Betsy married Robert Seaborn MILES (1796-1870).
In 1822 son William SINCLAIR JR. was country wed (indigenous ceremony) to Mary McKAY, daughter of Marguerite WADIN & Alexander McKAY (1771-1811).  A Christian wedding was performed on Jun 21, 1823 at Norway House by Rev John WEST on his way home from Red River where he had spent three years establishing the first church and school in Kildonan (St John's Mission).
In 1823 Nahovway was living at Oxford house with her three youngest children, Mary, Thomas and Colin. That year young Colin was sent to Orkney for schooling as his father had wished, much to the distress of Nahovway who did not want him to go.
Nahovway moves to Red River
1824
In 1824 the family convinced their 55 year old widowed mother Nahovway and her two youngest children, Mary (age 20) and Tom (age 14), to move to Red River. On Oct 27, 1824, daughter Catherine was church wed to Joseph COOK at St John's (by that time they had several children). On Feb 1, 1825 both Mary and Tom were baptized at St John's by Rev David JONES (1796-1844) who had recently replaced Rev John WEST.
On Jan 20, 1826, daughter Mary married at St John's to John INKSTER, son of Margaret GUNN & John INKSTER (1799-1874).
On pages 261-262 Donna discusses an 1827 marriage of Nahovway to a John FORBES from Ireland, after which they (and son Tom) moved to St Andrews (near Lockport). This is very interesting, but from a genealogical perspective is irrelevant because they did not have any children together.
On Dec 3, 1829 James married Elizabeth Maria BIRD, daughter of Elizabeth MONTOUR and James Curtis BIRD (1773-1856). The marriage was performed by Reverend David JONES (1796-1844).
** MORE ABOUT JAMES CURTIS BIRD

In 1832 son Tom married in St Andrews to Hannah CUMMINGS, daughter of Suzette & Cuthbert CUMMINGS (1787-1870). Hannah died in 1846 and in 1850 Tom remarried to Caroline PRUDEN, daughter of Nancy & John Peter PRUDEN (1778-1886). ** MORE ABOUT JOHN PETER PRUDEN
In 1848 son James married Mary CAMPBELL, daughter of Liza McGILLIVRAY and Colin CAMPBELL (1785-1853).
Nahovway died in 1863 at the home of her daughter Mary INKSTER at Seven Oaks. She was buried in St John's Cemetery. She was in her late 80's.
** Please post comments and queries at this link: NAHOVWAY & WILLIAM SINCLAIR
========================= Family Details =========================
Nahovway pg 193: Although William worked hard to conceal his private life from the Company, and perhaps his descendants, time has worked against him to expose enough fragments to reveal he practiced either polygamy or surrogacy. He didn't practice polygamy in the same way as men had during the time of Richard and Moses NORTON. To my knowledge William never had a European wife and from all accounts NAHOVWAY was his "beloved" or much loved wife, the term he affectionately used to describe her in his will of 1818, where he acknowledged fathering 10 children with her. However, there is evidence to suggest he fathered at least three other children with another woman.

The exact birth dates of some of these children are very simply not known by anyone (including Donna, by her own admission).
Children:
1. June, 1791 PHOEBE SINCLAIR (m. Thomas BUNN)
2. c1795 CATHERINE SINCLAIR (m. Joseph COOK)
3. Dec 2, 1797 WILLIAM SINCLAIR JR (m. Marie\Mary WADDEN-McKAY)
4. c1799 JOHN SINCLAIR (m. Eliza or Nancy UNKNOWN)
5. c1801 JANE SINCLAIR (m. James KIRKNESS)
6. 1802 ANNE SINCLAIR (m. John Hodges SPENCER)
** MORE ABOUT JOHN HODGES SPENCER
7. c1802 ELIZABETH "BETSY" SINCLAIR (m1. Governor George SIMPSON, m2. Robert Seaborn MILES)
** MORE ABOUT GOVERNOR GEORGE SIMPSON
8. Dec 15, 1804 MARY SINCLAIR (m. John INKSTER)
9. c1806 Un-named child (Died age 10)
10. c1810 THOMAS SINCLAIR (m1. Hannah CUMMINGS, m2. Caroline PRUDEN)
11. c1811 JAMES SINCLAIR (m1. Elizabeth Maria BIRD, m2. Mary CAMPBELL)
12. c1813 FANNY SINCLAIR (m. John ISBISTER)
**13. c1814 BENJAMIN SINCLAIR (m. Marguerite COLLINS)
14. June 12, 1816 CAPT COLIN ROBERTSON SINCLAIR