COLIN CAMPBELL (1787-1853)
ELIZABETH "LIZA" McGILLIVRAY (1791-1862)
(Last Updated: June 09, 2016)
Colin CAMPBELL was born in 1787 in Rivière-Beaudette, Quebec (north of Glengarry, Ontario; between Ottawa and Montreal). He was a son of Magdalena nee VAN SICE (Dutch origins) and Alexander CAMPBELL (1734-1800) of Scotland. ** MORE ABOUT ALEXANDER CAMPBELL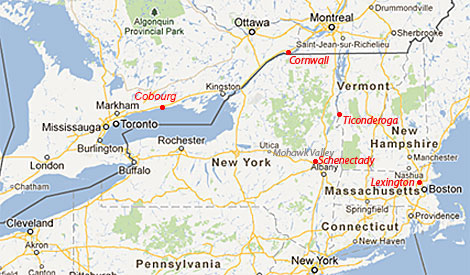 Colin with the North West Company
1804-1821
In 1804 Colin and his next younger brother, Richard, went to work for the North West Fur Trade Company in Northwestern Alberta (Peace River district). Older brother, John Duncan CAMPBELL (1773-1835) (my wife's ancestor), was a shareholding partner and played an important role in the NWC.
** MORE ABOUT COLIN CAMPBELL in the HBC ARCHIVES
In 1807 Fort William (at the west end of Lake Superior) became the operational headquarters of the NWC; the Nor'Wester' stronghold during the last bitter conflict between that company and the HBC to gain control of the fur trade in the Northwest. Fort William was named after William McGILLIVRAY (1764-1825) who was in charge of all NWC operations during the final years of its existence. William was a distant relative of Colin's wife-to-be.
Colin & Liza McGILLIVRAY
In the winter of 1810-11 Colin's future father-in-law, John McGILLIVRAY (1771-1855) moved to Fort Dunvegan to take charge of the NWC's important Athabasca Department. In the winter of 1812-13 Colin spent the winter at Dunvegan and he soon began a connubial relationship with McGILLIVRAY's daughter Elizabeth "Liza".
** MORE ABOUT JOHN McGILLIVRAY in DCBO
Early Fur Trade Routes in Peace River Country – Athabasca District
In 1814, according to a few sources a son named Alexander was born. It is difficult to verify this but there is no further evidence that would indicate he ever married or had children so the matter is perhaps irrelevant anyway. More certain is the birth of daughter Catherine in 1815 at Dunvegan.
During 1815-17 there were two attempts by the rival HBC to establish themselves on the Peace River, but they were turned back by the Nor'Westers with the loss of 17 HBC men and a large amount of trade goods. 
Union of the North West Company with the Hudson's Bay Company
1821
In 1821 the union of the North West Company (NWC) and the Hudson's Bay Company (HBC) occurred, ending their years of bitter rivalry.
At the time of the HBC-NWC union, (Sir) George SIMPSON (1786-1860) became the Governor of Rupert's Land. On May 20, 1822, SIMPSON reported to the board of governors of the HBC that he had established a fort at the junction of the Red and Assiniboine Rivers. He named it Fort GARRY (the Upper Fort). Around this fort was to grow the city of Winnipeg.
With peace restored, Colin continued on, now as a Clerk and Trader for the HBC in the Athabasca District. In 1825 Fort Dunvegan was closed for two years, during which Colin was the Clerk in Charge at Fort Vermilion. In 1828 Fort Dunvegan was reopened with Colin being promoted to the position of a Chief Trader. He would remained in the Athabasca District as such for the next 20 years.
In 1831 a young Benjamin McKENZIE (1807-1837) moved to Dunvegan to work as Colin's Clerk. Benjamin was a son of Angelique MALLOTTE and Roderick "Roddy" McKENZIE (1772-1859) who Colin knew well and had a lot in common. Both Colin & Roddy began to work for the NWC the same year (1804) and both became HBC employees after the 1821 company union. They both had large families who frequently socialized during annual meetings at Fort William.
It wasn't long before Roddy's son Benjamin McKENZIE began a connubial relationship with Colin's eldest daughter Catherine McKENZIE. When it became evident that Catherine was pregnant, her father and her father-in-law exercised their influence with SIMPSON to have Benjamin assigned, as a Clerk-Accountant, to the Columbia District.
** MORE ABOUT BENJAMIN McKENZIE
In 1832 construction of Lower Fort Garry was begun at Red River and the first Anglican Church was built at "The Rapids", a log structure at that time that would later be replace by the Old St Andrews Stone Church on the Red.On May 1, 1832, the Church was opened and dedicated, and Reverend David JONES (1796-1844) promoted the establishment of a boarding school near the church, "to educate the sons of the gentlemen of the fur trade". It was decided that girls could attend as well.

This establishment became known as the Red River Academy, the first English-speaking high school in the northwest. It was privately financed by JONES but was dependent on SIMPSON and the HBC's Northern Council for students and patronage. Construction of the academy's buildings, begun in October 1832, was completed the following summer. As well, a female seminary was set up within the academy. In August 1832 JONES had asked the Church Missionary Society to find a "Governess . . . of matured Christian experience" and a "Tutor . . . practically acquainted with Land Surveying." Mrs Mary LOWMAN and John MACALLUM arrived in the fall of 1833 to fill these positions.
This was good news for both Colin and Roddy McKENZIE who both had large families with youngsters in need of education. ** MORE ABOUT THE FIRST RED RIVER CHURCHES AND SCHOOLS
A Furlough Leave to Red River
1833-34
In 1833-34 Colin took a furlough leave in Red River, taking with him his youngest children. It is said that all of Colin's daughters (except perhaps Catherine) would eventually be boarded there and would attend MRS. McCALLUM's School, a boatload of handsome young girls.
Some references indicate that son John married a lady named Louisa BURLAND? However, so far no solid evidence has been found to support this and no clues as to her origins either. Another puzzlement is references to daughter Helena's marriage to a John MOAR of unknown origins. If anyone can substantiate these marriages, we would love to hear from you.
In 1837 son-in-law Benjamin McKENZIE died in the Hawaiian Islands, and in 1842 widowed daughter Catherine remarried to William CLOUSTON (1818-1877). ** MORE ABOUT WILLIAM CLOUSTON
In 1843 daughter Magdalena married William BUNN, son of Phoebe SINCLAIR and Thomas BUNN (1765-1852), a retired HBC Accountant from England. ** MORE ABOUT THOMAS BUNN
That same year, daughter Elizabeth married John GARRIOCH, a retired HBC voyageur, the son of Nancy COOK and William GARRIOCH (1779-1849), also an HBC employee from the Orkneys of Scotland.
** MORE ABOUT WILLIAM GARRIOCH
In 1846 daughter Ann married Alexander Hunter MURRAY (1815-1874) at St John's (Red River), an HBC clerk from Scotland who was working in the Mackenzie River District when he first met Ann.
In 1847-48 Colin was posted at Fort Chipewyan when he took a furlough leave, again to Red River.
In 1848 daughter Mary became the second wife of James SINCLAIR, son of NAHOVWAY and William SINCLAIR (1766-1818) from the Orkneys. ** MORE ABOUT WILLIAM SINCLAIR
In 1853 daughter Jessie became the second wife of George SETTER, son of Margaret SPENCE and Andrew SETTER (1777-1870) from the Orkneys. ** MORE ABOUT ANDREW SETTER
In 1856 daughter Margaret married William Cameron McKAY, son of TCHINOUK and Thomas McKAY (1796-1849). Also that year, daughter Flora married John TAYLOR, son of Mary INKSTER and James TAYLOR (1791-1878), a retired HBC voyageur from the Orkneys. ** MORE ABOUT JAMES TAYLOR
Kenogomissi – Retirement and Death
1858-1853
In 1848 Colin was transferred far to the east to become the Chief Trader at Kenogomissi Post in the Moose Factory district (east of Lake Superior). He was 60 years old now and this was his pre-retirement posting. In 1850 his last/ youngest child, son Archibald was born at Moose Factory.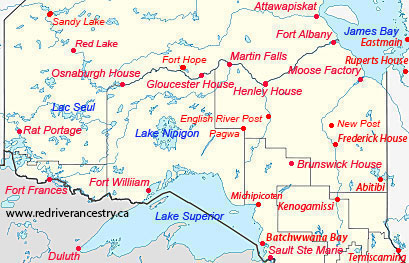 In 1853 Colin retired to Red River.
Gail Morin: Upon coming to Red River, Colin took fancy to the McDERMOT home - bought it - - house not yet repainted when Mr. CAMPBELL died (Nov 9, 1853). His widow (Liza), not caring about the place was glad to make the exchange, and Mr McDERMOT at once moved back in his old home, where he remained till 1870. ** My Notes: This would have been Andrew McDERMOT (1791-1881), the Colony's leading merchant and private fur trader whose partner was James SINCLAIR (1810-1856), Liza's son-in-law.
James SINCLAIR Party of Settlers to Oregon
1854
In 1854 son-in-law James SINCLAIR and his wife Mary (Colin's daughter) departed from Red River with a group of settlers bound for Oregon. Son John CAMPBELL wrote an account of the trip which was published in the Washington State Historical Quarterly, Vol. VIII (Jan, 1916). In it he includes five of Colin's children (including himself) who went to Oregon with SINCLAIR. Some of the children's names, birth dates and marriages in that article are confusing and contradictory and requires further scrutiny.
In 1862 Liza CAMPBELL died.
It is said that in 1865 son Duncan was the father of an illegitimate child (Frances Elizabeth) by Catherine HALCROW, the daughter of Charlotte KNIGHT & Thomas HALCRO (1815-1854).  That same year, Duncan married Frances Jane THOMAS, daughter of Eleanor BUNN & William THOMAS.
In 1867 ison James married Eliza SCOTT, daughter of Ann SETTER and William SCOTT (1815-1874).
Around 1869 youngest son Archibald married Catherine BROWN, daughter of Isabella SLATER and Henry BROWN (1795-1875), and HBC voyageur from the Orkneys. Catherine died around 1873, and in 1874 Archie re-married to Mary DREAVER of uncertain origins.
In 1872 son James married a second time to Barbara MILLER, daughter of Elizabeth SETTER and Robert MILLER (1802-1867). ** MORE ABOUT ROBERT MILLER
** Note: Some of the names and birth dates in the following list require further scrutiny and are good subjects for discussion on the Forum.
Please post comments and queries at this link: FORUM DISCUSSING the COLIN CAMPELL FAMILY
========================= Family Details =========================
Children:
?1. 1814 ALEXANDER CAMPBELL?
2. 1815 CATHERINE CAMPBELL (m1. BENJAMIN McKENZIE SR, m2. William CLOUSTON)

** MORE ABOUT BENJAMIN McKENZIE
** MORE ABOUT WILLIAM CLOUSTON
3. 1816 COLIN CAMPBELL JR
4. c1818 JOHN CAMPBELL (m. Louisa BURLAND)
5. c1820 HELENA CAMPBELL (m. John MOAR)
6. Jun 23, 1822 MAGDELENA CAMPBELL (m. William BUNN)
7. 1823 ANN CAMPBELL (m. Alexander Hunter MURRAY)
8. Jan 1, 1824 ELIZABETH "ELIZA" CAMPBELL (m. John GARRIOCH)
9. Jan 1, 1828 JESSIE ELLEN CAMPBELL (m. George SETTER)
10. Jan 1, 1832 MARY CAMPBELL (m. James SINCLAIR)
11.  Jan 8, 1833 MARGARET CAMPBELL (m. William Cameron McKAY) 
12. Jan 7, 1836 FLORA CAMPBELL (m. John TAYLOR)
13. 1840 JAMES CAMPBELL (m1. Eliza SCOTT, m2. Barbara MILLER)
14. 1842 RICHARD DUNCAN CAMPBELL (m1. Catherine HALCRO, m2. Frances Jane THOMAS) 
15. 1850 ARCHIBALD CAMPBELL (m1. Catherine BROWN, m2. Margaret (Mary) DREAVER)