GEORGE SETTER (1815-1899)
ISABELLA KENNEDY (1820-1846)
JESSIE ELLEN CAMPBELL (1824-1912)
(Last Updated: May 07, 2016)
George SETTER was born 1815 at Fort Ellice, son of Margaret SPENCE & Andrew SETTER (1777-1870) from the Orkneys of Scotland. ** MORE ABOUT ANDREW SETTER
In 1823 George was about eight years old when his father (Andrew) retired as a Hudson's Bay Company (HBC) voyageur and the SETTER family moved from Edmonton to Upper Red River (Winnipeg).
Marriage to Isabella KENNEDY
1835
On Dec 30, 1835 George married Isabella KENNEDY at St John's (Winnipeg), daughter of Mary Aggathas BEAR & Alexander KENNEDY (1781-1832) from the Orkneys of Scotland. ** MORE ABOUT ALEXANDER KENNEDY
George and Isabella settled in St Andrews Parish, directly across from the Old St Andrews Church. In 1837 son John James was born there.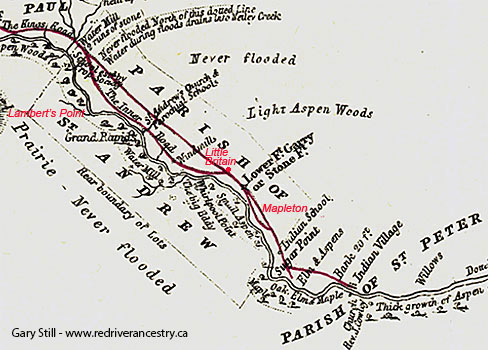 St Andrews Parish from Henry Hind's Map of 1857
River lots extend two miles east and west of the river
In 1840 daughter Caroline was born; in 1842 daughter Elizabeth.
In 1846 George's wife Isabella died.in St Andrews.
Marriage to Jessie Ellen CAMPBELL
1853
George re-married Jun 4, 1853 St Johns to Jessie Ellen CAMPBELL, daughter of Liza McGILLIVRAY and Colin CAMPBELL (1787-1853).
In 1860 eldest daughter Caroline married Donald McDONALD in Kildonan, son of Sarah SWAIN and John McDONALD (b-1791)
In 1862 eldest son John James married Ann MATHESON in Kildonan, daughter of Christiana and Hugh MATHESON (1811-1867) from Scotland. That same year, daughter Elizabeth married John NORQUAY in Portage la Prairie, son of Isabella TRUTHWAITE and John NORQUAY (1810-1849), a retired HBC voyageur.
Canadian Confederation
The Riel Rebellion
Manitoba becomes a Province
1867-1870
On July 1, 1867 the British colonies in North America were united under the British North American Act to become the Dominion of Canada.
In 1869 the historic Red River Rebellion began; led by Louis RIEL (1844-1885).
On July 15, 1870 Manitoba became the fifth province of Canada, the Canadian Government having acquired the territory previously governed by the HBC. The Rebellion was essentially over.
On Dec 27, 1870 Manitoba held its first provincial election. Son-in-law John NORQUAY elected for High Bluff District and would later become the first Premier of Manitoba.
In August of 1875 George was living in High Bluff (Marquette) when he claimed Scrip for his children with Jessie (George, Ellen and Alexander).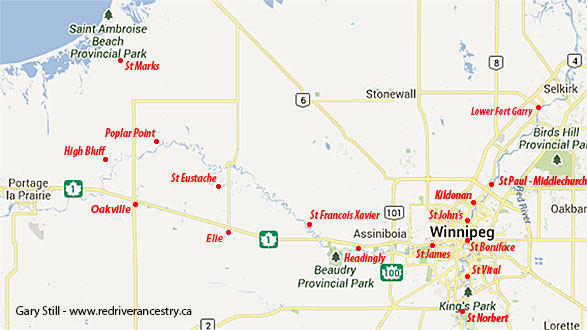 There are several records of Western Land Grants to George SETTER for properties in the High Bluff – Poplar Point area (Burnside – Marquette Districts) in the years 1879, 1880 and 1883.
In 1875 son Colin married Jemima HOURIE, daughter of Euphemia (born COOK) HALCROW and Philip HOURIE (1833-1914). Also around 1875 son Duncan married Catherine SUTHERLAND, daughter of Maria BIRD & James SUTHERLAND JR b-1817.
In 1879 son Roderick married his sister-in-law, Sarah Ann HOURIE.
In 1880 son Duncan died in High Bluff. His widow Catherine and their three children moved in with her parents (Maria and James SUTHERLAND) who were living nearby.
The Census of 1881 in that area recorded George SETTER (age 67), his wife Jessie (age 51); their son Alexander (age 17) and what appears to be grandchildren: Elizabeth BIRD ? (Age 10) and Roderick SETTER (age 6; Duncan's child).
In 1882 son Alexander married Elizabeth TAYLOR, daughter of Catherine McDONALD and Peter TAYLOR (1840-1920). ** MORE ABOUT PETER TAYLOR
The Census of 1891: George SETTER (age 79), wife Jessie (age 60) and their grandson Roderick (age 15).
On Dec 8, 1899 George SETTER died in Poplar Point.
In the 1911 census Widow Jessie SETTER (age 90) was recorded with the family of her son Roderick McKenzie SETTER in Poplar Point- High Bluff.
On Oct 20, 1912 Widow Jessie SETTER died at High Bluff where she had been living with her son Mackenzie (Mac).
Please post comments and queries at this link: FORUM DISCUSSING the GEORGE SETTER FAMILY
======================= Family Details =======================
Children George & Isabella KENNEDY: 
1. Apr 7, 1837 JOHN JAMES SETTER (m. Ann MATHESON)
2. July 4, 1840 CAROLINE SETTER (m. Donald McDONALD)
3. Feb 2, 1842 ELIZABETH SETTER (m. Premier John NORQUAY JR)
** MORE ABOUT PREMIER JOHN NORQUAY
Children George and Jessie CAMPBELL: 
1. Jul 23, 1852 DUNCAN RICHARD SETTER (m. Catherine SUTHERLAND)
2. Feb 26, 1854 COLIN CAMPBELL SETTER (m. Jemima HOURIE)
3. Oct 19, 1856 RODERICK McKENZIE SETTER (m. Sarah Ann HOURIE)
4. May 6, 1858 ALEXANDER (HUNTER) MURRAY SETTER (m. Elizabeth TAYLOR)
5. Jun 1, 1861 ((Twin) GEORGE WILLIAM SETTER (Died age 13)
6. Jun 1, 1861 (Twin) ELLEN MADELEINE "NELLIE" SETTER (Died age 13)