ANDREW SETTER (1777-1870)
MARGARET "PEGGY" SPENCE (1795-1868)
(Last Updated: June 09, 2016)
Andrew SETTER was born around 1777 in Westray, Orkney, Scotland, son of Margaret RENDALL and Thomas SETTER (b-1741).
Employed by the Hudson's Bay Company
1800
In 1800 Andrews began his employ with the Hudson's Bay Company (HBC) as a Labourer at York Factory on Hudson Bay.
** MORE ABOUT ANDREW SETTER in the HBC ARCHIVES
Although he was based at York, over the next 18 years Andrew made several voyages inland, most likely with William TOMISON (1739-1829) who was then the Chief Factor at York Factory (although he often resided inland).
Andrew and Margaret "Peggy" SPENCE
Around 1810
Around 1810 Andrew began a connubial relationship with Margaret "Peggy" SPENCE, daughter of Margaret Nestichio BATT & James SPENCE (1753-1795). ** MORE ABOUT JAMES SPENCE
Margaret "Peggy" SPENCE was born around 1795 at Buckingham House (see map below). Peggy's father, James SPENCE apparently died not long before she was born. Her mother and her three brothers were then left in the care of Chief Factor William TOMISON. In 1810 TOMISON retired home to Scotland.
It was around 1810 that son James was born (named after his grandfather). In 1813 daughter Margaret was born. In 1815 son George was born at Fort Ellice (on the Assiniboine River near Beaver Creek, an outpost of Brandon House).
Saskatchewan District
1815-16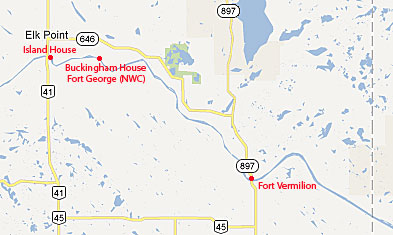 During the Outfit Year 1815-16 Andrew was stationed at the Paint River Post (also known as Fort Vermilion); located 15 km north of Marwayne, AB.
Edmonton
1816-1818
From 1816 to 1818 Andrew was based at Fort Edmonton. Daughter Isabella was born during this period.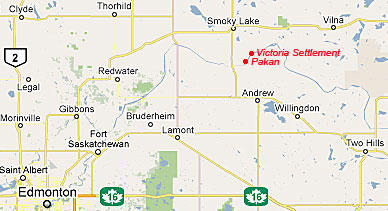 Voyageur in the Upper Red River District
1819
From 1819 to 1823 Andrew was a Steersman (voyageur) in the Upper Red River District.
Andrew & Margaret are Baptized and Wed by Reverend John WEST
Union of the North West Company with the Hudson's Bay Company
1821
On Jan 20, 1821 Reverend John WEST (1778-1845) arrived at Brandon House on his first trip west of Red River. WEST was the first HBC clergyman in Rupert's Land (Assiniboia). He continued on to Fort Qu'Appelle, and on Jan 23 at Beaver Creek he baptized and married Andrew and Margaret. He then baptized their four children (James, Margaret, George and Isabella).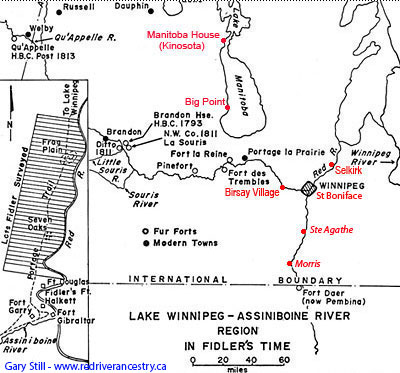 In 1821 the union of the North West Company (NWC) and the Hudson's Bay Company (HBC) occurred, ending years of bitter rivalry for dominance of the fur trade in Western Canada. (Sir) George SIMPSON (1786-1860) became the Governor of Rupert's Land. After the merger, almost 1,300 employees lost their jobs since the single HBC organization that emerged had no need for most of the voyageurs and retired fur traders.
In January of 1822 daughter Elizabeth was born.
Andrew Retires to Red River
1823
In 1823 Andrew (about 46 years old) retired from HBC service and he and his family became Red River settlers (St Andrews Parish).
In 1823 Reverend WEST departed Red River for good. His replacement was Reverend David JONES (1796-1844).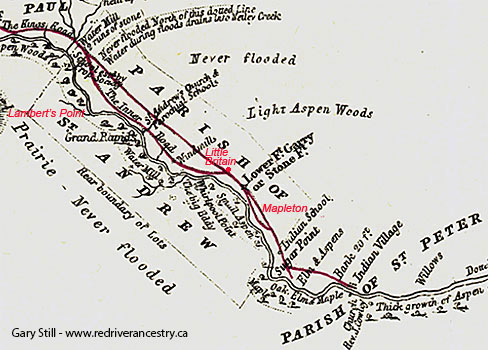 St Andrews Parish from Henry Hind's Map of 1857
In 1925 daughter Anne was born.
In 1826 teen-age daughter Margaret married George SETTER (1780-1868), an HBC Labourer from the Orkneys. (in 1829 and 1831 their daughters Nancy & Margaret were born at Brandon House and Qu'Appelle respectively). The fact that Margaret's husband was also a SETTER causes no end of grief to genealogists.
1827
In the 1827 Red River Census James and his wife were recorded with a family consisting of two adult sons (James & George) and six young daughters. He had a house, barn and stable; four horses, eight cows and two oxen. He had two carts, a plough and harrow and a canoe. He had five acres under cultivation. This enumeration is problematic and confusing (too many young daughters; at least two were actually granddaughters).
In 1835 daughter Isabella married Joseph MONKMAN, half-breed son of Mary (Cree Indian) and James MONKMAN (1775-1865), an Englishman who worked for the HBC as a Seaman and fur trader.
Also in 1835 son George married Isabella KENNEDY, daughter of Aggatghas BEAR and Alexander KENNEDY (1781-1832). ** MORE ABOUT ALEXANDER KENNEDY
In 1836 eldest son James married Jane MORWICK in St Andrews, daughter of Sarah SABISTON and James MORWICK (1778-1865). ** MORE ABOUT JAMES MORWICK
In 1840 daughter Elizabeth married Robert MILLER (1802-1867), an HBC voyageur from the Orkneys.

Around 1842 daughter Anne married William SCOTT (1815-1874), another HBC voyageur from the Orkneys.
In 1853 son George re-married to Jessie CAMPBELL, daughter of Liza McGILLIVRAY and Colin CAMPBELL (1787-1853). ** MORE ABOUT COLIN CAMPBELL
In 1855 son Thomas Alexander married Isabella LOUTIT, daughter of Nancy (Indian) and Henry LOUTIT (b-c1790) from the Orkneys.
Around 1859 son John married Elizabeth GOWLER, daughter of Mary NEVILLE and Oliver GOWLER (1805-1865) from England.
In 1860 daughter Mary married William REED (1828-1910) from the Orkneys.
Daughter Catherine married a David ANDERSON of uncertain origins.
On Mar 2, 1868 Peggy died.
On Feb 18, 1870 Andrew SETTER died at Poplar Point.
Please post comments & queries at this link: FORUM DISCUSSING the ANDREW SETTER FAMILY
=========================== Family Details ===========================
Children:
1. 1810 JAMES SETTER (m. Jane MORWICK)
** MORE ABOUT JAMES SETTER
2. July, 1813 MARGARET SETTER (m. George SETTER)
3. 1815 GEORGE SETTER (m1. Isabella KENNEDY, m2. Jessie Ellen CAMPBELL)
4. Jan 31, 1816 ISABELLA "BELLA" SETTER (m. Joseph "Ole Joe" MONKMAN)
** MORE ABOUT JOSEPH MONKMAN
5. Jan 1, 1822 ELIZABETH SETTER (m. Robert MILLER)
6. Mar 3, 1825 ANN SETTER (m. William SCOTT)
7. Mar 6, 1830 MARY SETTER (m. William REED)
8. 1831 THOMAS ALEXANDER SETTER (m. Isabella LOUTIT)
9. Jul 2, 1832 JOHN SETTER (m1. Elizabeth GOWLER)
10. 1837 CATHERINE SETTER (m. David ANDERSON)