JAMES MORWICK (1778-1865)
SARAH SABISTON (1800-1872)
(Last Updated: July 16, 2015)
James MORWICK was born around 1778 in Kirkwall, (in the Orkney Islands of Scotland), son of an Orkney woman and James MORWICK SR who was born around 1753 in the Orkneys (of uncertain origins).
** MORE ABOUT JAMES MORWICK SR
James and Sarah SABISTON
1819
It is difficult to determine when James MORWICK came to Red River country, but by 1819 he was married to Sarah SABISTON, most likely the daughter of Margaret (Cree Indian) and Hugh SABISTON (1785-1810), a half-breed voyageur and fur trader with the Hudson's Bay Company (HBC) who died in 1810 in the Swan River District. According to her Scrip affidavit, daughter Jane was born about 1819 in the Northwest, most likely in St Andrews Parish.
Union of the North West Company with the Hudson's Bay Company
1821
In 1821 the union of the North West Company (NWC) and the Hudson's Bay Company (HBC) occurred, ending the years of bitter rivalry for dominance of the fur trade in Western Canada. George SIMPSON (1786-1860) became the Governor of Rupert's Land. Reverend John WEST (1778-1845) arrived from England as the first HBC Chaplain in the northwest.
In 1831 Reverend William COCKRAN (1798-1865) and his wife moved to "The Rapids" (now St Andrews) where he built the first Anglican Church (a log structure). On May 1, 1832, the Church was opened and dedicated, and Reverend David JONES (1796-1844) promoted the establishment of a boarding school near the church, "to educate the sons of the gentlemen of the fur trade". It was decided that girls could attend as well.
In 1835 James was recorded on Lot 74 in St Andrews (north of the Old St Andrews Church). There were nine persons in his household. He had two horses, seven cattle, two farm implements and two carts. He had eight acres under cultivation.
In 1836 eldest daughter Jane married James SETTER at the Old St Andrews Church on the Red, the eldest son of Margaret SPENCE, a half-breed, and Andrew SETTER (1777-1870), an HBC voyageur from the Orkneys. 
** MORE ABOUT ANDREW SETTER
On Dec 23, 1840 James MORWICK and Sarah SABISTON were church-wed (according to some sources).
In 1854 son James Jr. married Margaret THOMPSON at St Johns, daughter of Half-breed Mary DANIEL and Andrew THOMPSON from Scotland.
In 1857 son George married Mary ATKINSON, daughter of Nancy KIPLING and George ATKINSON JR (1815-1846).
** MORE ABOUT GEORGE ATKINSON JR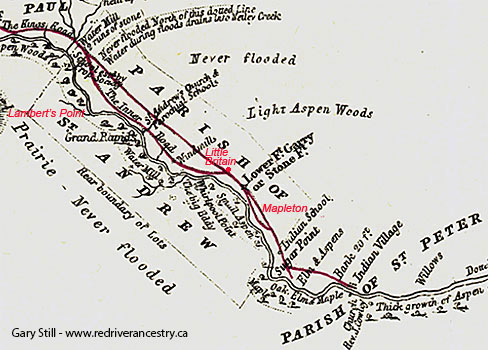 St Andrews Parish from Henry Hind's Map of 1857
Around 1857 son John married his sister-in-law, Catherine THOMPSON, also a daughter of Mary DANIEL & Andrew THOMPSON.
On Oct 28, 1865 James MORWICK died in Red River.

Around 1866 son Robert fathered a child with a lady named Ann. The child, Sarah Jane died in 1872 at the age of six. It seems that wife Ann must have died around that time as well, because Robert soon after married Margaret McDONALD of uncertain origins.
Canadian Confederation
A Red River Rebellion
Manitoba becomes a Province
1867-1870
On July 1, 1867 the British colonies in North America were united under the British North American Act to become the Dominion of Canada.  Sir John A MACDONALD (1815-1891) was appointed as Canada's first Prime Minister. William McDOUGALL (1822-1905) became the Minister of Public Works, and he began negotiations to acquire Rupert's Land from the HBC; surveyors were sent to Red River to prepare the way for an expected influx of settlers.
On Oct 11, 1869, Louis RIEL (1844-1885) placed his foot on the surveyors' chain to tell them their work was finished! This marked the beginning of the historic Red River Métis Rebellion.
On July 15, 1870 the Rebellion ended when RIEL's Provisional Government accepted the terms of the Manitoba Act and Manitoba became the fifth province of Canada.
Census of 1870 in St Andrews Parish lists the MORWICK brothers as follows: John (age 44), Thomas (37), Kenny (Alrx; age34), Peter (31) and Robert (age 31 with his daughter Sarah (age 4).
On Jan 13, 1872 Sarah (nee SABISTON) MORWICK died in Poplar Point.
In 1881 son Peter married his sister-in-law Jane (nee ATKINSON) SANDERSON, daughter of Nancy KIPLING and George ATKINSON (1795-1845). Jane ATKINSON had previously been married to William SANDERSON (1840-1916+).
Comments and queries at this link: FORUM DISCUSSING THE FAMILY of JAMES MORWICK JR
============================ Family Details ============================
Children:
1. 1819 JANE MORWICK (m. James SETTER)
2. Feb 25, 1821 JAMES MORWICK (m. Margaret THOMPSON)
3. 1825 SARAH MORWICK
4. Feb, 1826 JOHN MORWICK (m. Catherine THOMPSON)
5. 1833 THOMAS MORWICK
6. May, 1836 ALEXANDER MORWICK
7. July 3, 1839 PETER MORWICK (m. Jane ATKINSON)
8. Jun 16, 1840 ROBERT MORWICK (m1. Ann; m2. Margaret McDONALD)
9. 1842 GEORGE MORWICK (m. Mary ATKINSON)