JAMES SETTER (1810-1857)
JANE MORWICK (1819-1903)
(Last Updated: July 12, 2015)
James SETTER was born in 1810, the eldest son of Peggy SPENCE, a halfbreed, and Andrew SETTER (1777-1870), an HBC voyageur from the Orkneys.  ** MORE ABOUT ANDREW SETTER
On Jan 20, 1821 Reverend John WEST (1778-1845) arrived at Brandon House on his first trip west of Red River. WEST was the first HBC clergyman in Rupert's Land (Assiniboia). He continued on to Fort Qu'Appelle, and on Jan 23 at Beaver Creek he baptized and married James' parents (Andrew and Margaret). He then baptized their four children (James, Margaret, George and Isabella).  James would have been about 11 years old then.
In 1823 James' father (Andrew) retired with the family to Red River where they settled in the vicinity of Lower Fort Garry.
Marriage to Jane MORWICK
1836
On Dec 27, 1836 James married MORWICK at the old St Andrews Church, daughter of Sarah SABISTON and James MORWICK (1778-1865) from the Orkneys of Scotland. Daughter Margaret was born in 1837.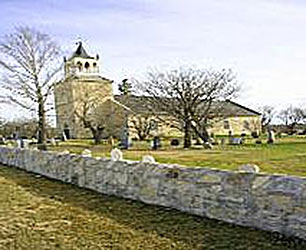 Old St Andrews Church on the Red River
In 1842 daughter Margaret died at the age of five.
James SETTER Dies
1857
On Jan 8, 1857 James SETTER died at the age 47; buried in the St Andrews Church Cemetery. Jane was left a 42 year old widow with seven living children: Sally (age 16), Nancy (13), William (10), Jane (8), Isabella (6), John (3) and Alex (age 1).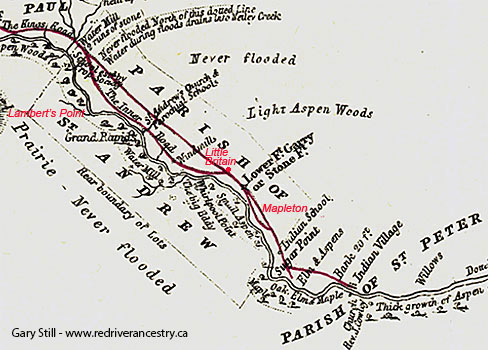 St Andrews Parish from Henry Hind's Map of 1857
In 1858 daughter Sally married John McDONALD, son of Elizabeth CALDER & Kenneth McDONALD SR (1796-1869) from Scotland.
In 1864 son John had died at the age of ten.
In 1866 daughter Nancy married her brother-in-law Kenneth McDONALD JR, brother of John who married her sister Sally.
Canadian Confederation
A Métis Rebellion
Manitoba becomes a Province
1867-1870
On July 1, 1867 the British colonies in North America were united under the British North American Act to become the Dominion of Canada. Sir John A MACDONALD (1815-1891) was appointed as Canada's first Prime Minister. William McDOUGALL (1822-1905) became the Minister of Public Works, and he began negotiations to acquire Rupert's Land from the HBC. Surveyors were sent to Red River to prepare the way for an expected influx of settlers.
In 1869 daughter Jane married Thomas GRIEVE, son of James GRIEVE (b-c1797), an HBC Labourer and Fisherman from the Orkneys.
On Oct 11, 1869, Louis RIEL (1844-1885) placed his foot on the surveyors' chain to tell them their work was finished! This marked the beginning of another Red River Métis Rebellion. RIEL began to organize resistance to the anticipated transfer of the North-West to the Dominion of Canada without prearranged terms.
On July 15,1870 Manitoba became the fifth province of Canada, the Canadian Government having acquired the territory previously governed by the HBC. In December of 1870 a Census of Red River was completed. The results recorded 5, 757 French-speaking Métis; 4, 803 white settlers and 558 Indians in the census region. This information would be later used to determine who would be eligible for Land Grants and Scrip.
In 1871 son William married Frances "Fanny" PEEBLES, daughter of Elizabeth MORRISON and James PEEBLES (1811-1882).
In 1875 Widow Jane SETTER, of St Andrews, filed for her Half-breed Scrip.
Around 1877 daughter Isabella married Adam McDONALD, son of Margaret MOWAT & William McDONALD (1824-1872).
In the census of 1881 Widow Jane (age 61) was with her youngest son Alex in the Cloverdale area, west of Lower Fort Garry.
In 1887 son Alex married Isabella SUTHERLAND, daughter of Margaret INKSTER and William Richard SUTHERLAND (1833-1906).
Widow Jane remained with son Alex until she died on Sep 14, 1903.
Please post comments & queries at this link: FORUM DISCUSSING the JAMES SETTER FAMILY
============================ Family Details ============================
Children:
1. 1837 MARGARET SETTER (Died age 5)
2. 1841 SARAH "SALLY" SETTER (m. John McDONALD)
3. Jan, 1844 NANCY SETTER (m. Kenneth McDONALD JR)
4. May 3, 1847 WILLIAM "BIG THUNDER" SETTER (m. Frances PEEBLES)
** MORE ABOUT WILLIAM SETTER
5. June 15, 1849 JANE "JEANNIE" SETTER (m. Thomas GRIEVE)
6. Jan 15, 1852 ISABELLA SETTER (m. Adam McDONALD)
7, 1854 JOHN THOMAS SETTER (Died Age 10)
8. Jan 1, 1856 ALEXANDER SETTER (m. Isabella Anne SUTHERLAND)