THOMAS GRIEVE (1845-1925)
JANE "JEANNIE" SETTER (1849-1931)
(Last Updated: March 30, 2014)
Thomas GRIEVE was born around 1845 at Island Lake (MB), son of James GRIEVE (b-c1797), an HBC Labourer and Fisherman from the Orkneys.
Recruited by the Hudson's Bay Company
Island Lake District
1860
In 1860 Tom began to work for the Hudson's Bay Company (HBC) as an Apprentice boat builder in the Island Lake District. From 1864 to 1867 he became a voyageur (middleman in canoe).
** MORE ABOUT THOMAS GRIEVE in the HBC ARCHIVES
Canadian Confederation
Manitoba becomes a Province
1867-1870
On July 1, 1867 the British colonies in North America were united under the British North American Act to become the Dominion of Canada. Sir John A MACDONALD (1815-1891) was appointed as Canada's first Prime Minister. William McDOUGALL (1822-1905) became the Minister of Public Works, and he began negotiations to acquire Rupert's Land from the HBC. Surveyors were sent to Red River to prepare the way for an expected influx of settlers.
On July 15,1870 Manitoba became the fifth province of Canada, the Canadian Government having acquired the territory previously governed by the HBC.
Marriage to Jane SETTER
Norway House District
1869-1876
On Feb 14, 1869 Tom married Jane SETTER from Red River, the daughter of Jane MORWICK and James SETTER (1810-1857). ** MORE ABOUT JAMES SETTER
At the time of his marriage, Tom was still working in the Norway House District. He was a carpenter during his last three years with the HBC until he retired in 1876.
Ridgely, Manitoba
1876
In 1876 Tom retired from the HBC to begin a life of farming at Ridgely, west of Selkirk (MB). In the 1881 census his children were recorded as Sarah Jane (age 11), Alice (8), Donald (6) and George (age 3).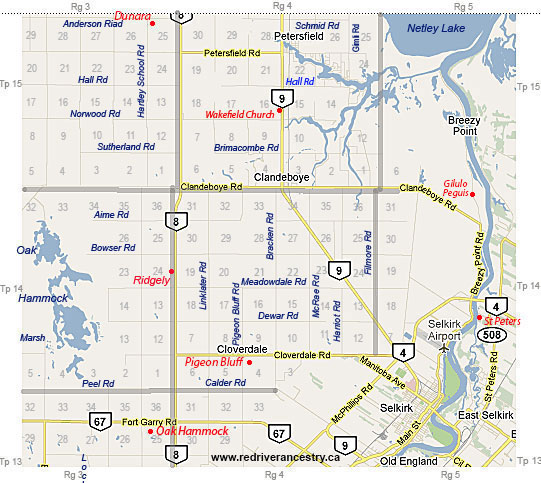 Census of 1891 in St Andrews Parish: Thomas GRIEVE, age 46; wife Jane, age 41. Children: Sarah Jane (age 21), Alice (18), Donald (16), George (13), Alexander (8), John Thomas (6), Alfred (4) and Reginald, a baby. Nephew: Thomas GRIEVE, age 22.
In 1893 son John Thomas died at the age of 9. The Census of 1901 at Ridgely recorded the complete surviving family all together; children as Sarah Jane (age 30), Alice (27), Donald (25), George (23), Alexander (19), Alfred (14), Reginald (10) and Ethel Ellen (age 9).
In 1902 son Donald married Sarah MOORE, daughter of Mary JORDAN and John MOORE (1840-1926), an HBC post master from the Orkneys. Also that year, son George married Horetta Margaret PEEL of uncertain origins.
World War I
1914-1919
On Aug 4, 1914 Great Britain (Canada on Aug 5) declared war on Germany and Austria-Hungary to uphold treaties with France and Belgium which were under German attack. This marked the beginning of World War I.
Census of 1916 at Ridgely: Thomas GRIEVE, age 71; wife Jan, age 67. Children: Sarah (age 46), Alice (44), Alfred (29), Reginald (25) and Ethel (age 24). Farm laborer: Andrew BENNETT, age 27 (born in Scotland).
On July 4, 1917 son Alfred enlisted for War service at Winnipeg. He served with the 8th Battalion.
November 11,1919, Armistice Day (Remembrance Day) marked the end of the First World War.
Census 1921 at Ridgely: Thomas GRIEVE, age 76; wife Jane, age 72. Children still at home: Alice (age 49), Alfred James (39), Reginald (30) and Ethel Ellen (age 24).
On Dec 30, 1925 Thomas GRIEVE died in St Andrews, age 80.
In 1927 son Alfred married Edith MOWAT in St Andrews, daughter of Mary Ann TAYLOR and Thomas MOWAT (1865-1924).
On Mar 30, 1931 Jane (nee SETTER) GRIEVE died in St Andrews, age 81.
Comments and queries at this link: FORUM DISCUSSING the THOMAS GRIEVE FAMILY
============================ Family Details ============================
Children: 
1. Feb 15, 1870 SARAH JANE GRIEVE
2. May 30, 1873 ALICE GRIEVE
3. Nov 14, 1875 DONALD CHARLES RODERICK GRIEVE (m. Sarah MOORE)
4. Sep 23, 1877 GEORGE GRIEVE (m. Horetta Margaret "Etta" PEEL)
5. Sep 27, 1881 ALEXANDER GRIEVE (Died age 24)
6. Jul 4, 1884 JOHN THOMAS GRIEVE (Died age 9)
7. Oct 11, 1886 ALFRED JAMES GRIEVE (m. Edith MOWAT)
8. Sep 10, 1890 REGINALD GRIEVE
9. Feb 14, 1892 ETHEL ELLEN GRIEVE