WILLIAM "BIG THUNDER" SETTER (1847-1926)
FRANCES HANNAH ANNE "FANNY" PEEBLES (1851-1933)
(Last Updated: January 20, 2013)
William "Big Thunder" SETTER was born May 3, 1847 in St Andrews Parish (near Lower Fort Garry), eldest son of Jane MORWICK and James SETTER (1810-1857). ** MORE ABOUT JAMES SETTER
In 1857 William was only 10 years old when his father (James SETTER) died.
Canadian Confederation
A Métis Rebellion
Manitoba becomes a Province
1867-1870
On July 1, 1867 the British colonies in North America were united under the British North American Act to become the Dominion of Canada. Sir John A MACDONALD (1815-1891) was appointed as Canada's first Prime Minister. William McDOUGALL (1822-1905) became the Minister of Public Works, and he began negotiations to acquire Rupert's Land from the HBC. Surveyors were sent to Red River to prepare the way for an expected influx of settlers.
On Oct 11, 1869, Louis RIEL (1844-1885) placed his foot on the surveyors' chain to tell them their work was finished! This marked the beginning of another Red River Métis Rebellion. RIEL began to organize resistance to the anticipated transfer of the North-West to the Dominion of Canada without prearranged terms.
On July 15,1870 Manitoba became the fifth province of Canada, the Canadian Government having acquired the territory previously governed by the HBC. In December of 1870 a Census of Red River was completed. The results recorded 5, 757 French-speaking Métis; 4, 803 white settlers and 558 Indians in the census region. This information would be later used to determine who would be eligible for Land Grants and Scrip.
Riverlot Occupancy 1870 St Andrews Parish:  One William SETTER lived on Lot 30, south of St Andrews Church, about halfway to the north boundary of St Paul Parish (Lambert's Point area).
Marriage to Frances "Fanny" PEEBLES
1871
On Feb 9, 1871 William married Frances "Fanny" PEEBLES, daughter of Elizabeth MORRISON and James PEEBLES (1811-1882), a half-breed HBC voyageur.
On Nov 22, 1871 Fanny started her family off with the birth of twin daughters Elizabeth (died in infancy) and Mary born at Lambert's Point.
The rest of their children (with birth dates) were Margaret (1875), John (1877), Andrew (1880), Colin (1884) and finally Ada born in 1886.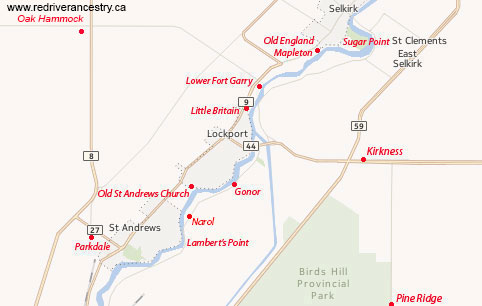 In 1894 daughter Margaret married John James CORRIGAL, son of Maria HALCRO and John Henry CORRIGAL (1836-).   
In 1901 son Andrew married Maria BRASS.
In 1906 daughter Ada married Arthur ANDREWS (born 1875 in England; immigrated to Canada in 1891).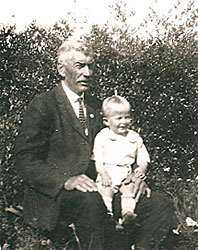 William Setter and his grandson Arthur William Andrews
When the 1911 census was taken, William SETTER (age 64) and his wife Frances (age 58) were recorded near Meadowdale (25-14-3-Epm) with children as John (age 33) and Colin (age 28). Also with them was grandson Bert SETTER (age 10).
World War I
1914-1919
On Aug 4, 1914 Great Britain (Canada on Aug 5) declared war on Germany and Austria-Hungary to uphold treaties with France and Belgium which were under German attack. This marked the beginning of World War I.
Census 1916: William SETTER (age 70); wife Frances (age 64) and sons John (age 39) and Colin (age 31). Also Grandson Herbert SETTER (age 15) and granddaughter Jean TAYLOR (age 9).
In 1917, when son Colin enlisted he stated next of kin as his father William SETTER of Meadowdale.
November 11, 1919, Armistice Day (Remembrance Day) marked the end of the First World War.
On Nov 29, 1926 William SETTER died at Meadowdale; buried in St Andrews Church Cemetery.
In 1929 son John married Flora CALDER, daughter of Sarah CHASTELLAINE & Albert CALDER (1858-1927).
In 1933 Widow Frances SETTER died at the age of 81.
Please post comments & queries at this link: FORUM DISCUSSING the WILLIAM SETTER FAMILY
============================ Family Details ============================
Children:
1. Nov 22, 1871 ELIZABETH JANE SETTER (Died in infancy, 2 mos)
2. Nov 22, 1871 MARY MATHILDA ISABELLA SETTER
3. Oct 22, 1875 MARGARET ANNE "MAGGIE" SETTER (m. John James CORRIGAL)
4. Sep 28, 1877 JOHN FREDERICK (JACK) SETTER (m. Flora Isabella CALDER)
5. May 2, 1880 ANDREW McKENZIE SETTER (m. Maria BRASS)
6. Mar 14, 1884 COLIN HERBERT SETTER
7. Nov 8, 1886 ADA THEODORA (EDITH) CHRISTINA SETTER (m. Arthur ANDREWS)