GEORGE ATKINSON (1815-1846)
NANCY KIPLING (1815-1889)
(Last Updated: July 16, 2015)
George ATKINSON was born around 1815 in northern Quebec, son of Margaret and George ATKINSON SR (1777-1830).
** MORE ABOUT GEORGE ATKINSON SR
In 1828, when George was about 13 years old, the ATKINSON family moved from northern Quebec to Red River where his father (George Sr) died in 1830.
George and Nancy KIPLING
1834
By about 1834 George's wife was Nancy KIPLING, daughter of an Indian woman and George KIPLING of uncertain origins.
Around 1846 George ATKINSON died.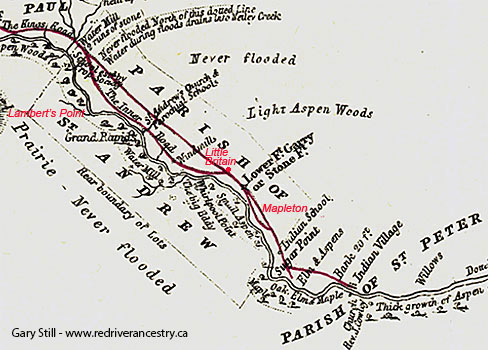 St Andrews Parish from Henry Hind's Map of 1857
Around 1855 daughter Eleanor married John FLETT in St Andrews, son of Betsy (Indian) and William FLETT (1786-1852) from the Orkneys. ** MORE ABOUT WILLIAM FLETT
In 1857 daughter Mary married George MORWICK in St Andrews, son of Sarah SABISTON and James MORWICK (1778-1865) from the Orkneys. ** MORE ABOUT JAMES MORWICK
In 1859 daughter Jane married William SANDERSON at Stanley Mission (SK), son of Jane HENDERSON and George SANDERSON (1815-1885). ** MORE ABOUT GEORGE SANDERSON
By1862 daughter Catherine was married to Reverend John SINCLAIR (1834-1897), a native clergyman of uncertain origins.

Canadian Confederation
A Red River Rebellion
Manitoba becomes a Province
1867-1870
On July 1, 1867 the British colonies in North America were united under the British North American Act to become the Dominion of Canada.  Sir John A MACDONALD (1815-1891) was appointed as Canada's first Prime Minister. William McDOUGALL (1822-1905) became the Minister of Public Works, and he began negotiations to acquire Rupert's Land from the HBC; surveyors were sent to Red River to prepare the way for an expected influx of settlers.
Around 1869 daughter Sarah married James JOHNSTON of uncertain origins, probably in Poplar Point.
On Oct 11, 1869, Louis RIEL (1844-1885) placed his foot on the surveyors' chain to tell them their work was finished! This marked the beginning of the historic Red River Métis Rebellion.
On July 15, 1870 the Rebellion ended when RIEL's Provisional Government accepted the terms of the Manitoba Act and Manitoba became the fifth province of Canada.
In 1875 Nancy claimed her Half-breed Scrip as the widow of George ATKINSON.
By 1881 daughter Jane had married a second time to her brother-in-law Peter MORWICK, son of Sarah SABISTON and the aforementioned James MORWICK (1778-1865) from the Orkneys. In the census that year her widowed mother Nancy was recorded with them.
On June 3, 1889 Nancy (nee KIPLING) ATKINSON died n St Clements Parish at the age of 85.
Around 1889 widowed daughter Eleanor (FLETT) remarried to John BROWN, a gardener who was born 1838 in England.
Comments and queries at this link: FORUM DISCUSSING the FAMILY OF GEORGE ATKINSON JR
============================= Family Details =============================
Children:
1. Mar, 1835 MARY ATKINSON (m. George MORWICK)
2. Mar 26, 1835 ELEANOR (ELLEN) ATKINSON (m1. John FLETT, m2. John BROWN)
3. 1836 CATHERINE ATKINSON (m. Rev John SINCLAIR)
4. March, 1846 JANE (JANET) ATKINSON (m1. William SANDERSON, m2. Peter MORWICK)
5. 1846 SARAH ATKINSON (m. James JOHNSTON)