GEORGE "SNEPPY" ATKINSON (1777-1830)
MARGARET MABESWAYWENID (1780-1843)
MARGARET WINNEPAIG-OSQUAI
(Last Updated: July 16, 2015)
George "Sneppy" ATKINSON was born on March 15, 1777 at Eastmain (Quebec), the eldest son of NECUSHIN (Indian) and George ATKINSON SR (1751-1792) of the Hudson's Bay Company (HBC) who was born in England and died in 1792 at Eastmain (PQ). His father was a sailor (sloop master).
** MORE ABOUT GEORGE ATKINSON SR by JENNIFER BROWN in DCBO

** MORE ABOUT GEORGE (SNEPPY) ATKINSON in DCBO by Glyndwr Williams
Jennifer Brown: ATKINSON sent his son Sneppy to England in 1790, where he acquired his baptismal name George, in the hope that he would "shake off a little of the Indian and in so doing make him exert himself like a Man" on his return to Eastmain.
In 1792 George returned to the Bay as an employee of the Hudson's Bay Company (HBC).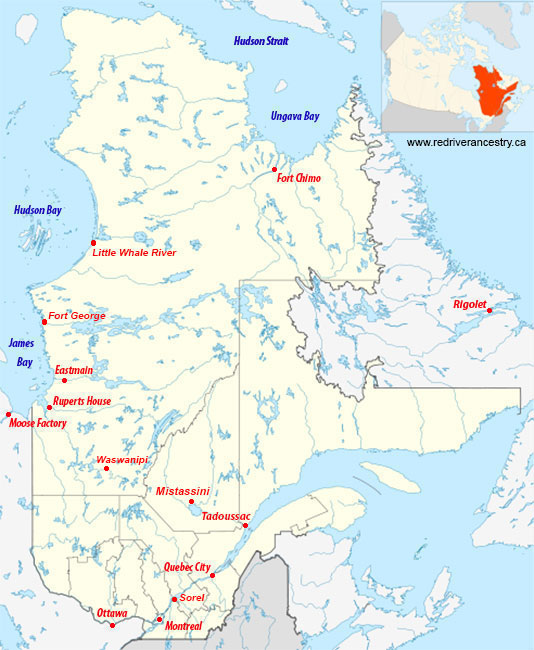 In 1793 George accompanied an exploration party to the rival North West Company post at Lac Chesaquacheston (Windsor House) on the western shore of Lac du Goeland, south of the outlet to the Nottaway River (Southeast of Ruperts House).
The rest of George's travels and exploits are described in the above mentioned Bio in DCBO, and also in a Bio by Lawernce J Barkwell.
Eastmain was George's main base, but his travels took him to such as La Grande Riviere Post (East of Fort George on map above); Great and Little Whale Rivers; Upper Seal Lake; and the Ungava Peninsula.
George ATKINSON dies in the Red River Settlement
1828-1830
Around 1828 George retired to the Red River Settlement where he died on Sep 25, 1830.
George apparently had two different Cree wives, but very little is known about their origins. Family trees on Ancestry.com name his wife as Margaret MABESWAYWENID. According to Barkwell, Gerorge's will mentions his Cree wife Margaret WINNEPAIG-OSQUAI and 15 children. ** Listed below are 11 children of note who are found in the various sources
Children's Marriages
In 1831 daughter Nancy married Andrew ROBERTSON, son of Nancy (Indian) and George ROBERTSON (1771-1855), a retired HBC voyageur from the Orkneys.
Around 1834 eldest son George Jr. married Nancy KIPLING in St Andrews, daughter of Margaret (Indian) and George KIPLING (b-1815).
In 1835 eldest daughter Betsy became the second wife of Alexander BIRSTON at St Johns (Red River), the eldest son of an Indian woman and Alexander BIRSTON SR (1775-1829). ** MORE ABOUT ALEXANDER BIRSTON SR
In 1839 daughter Sarah married William FLETT in the St Andrews Anglican Church, son of Margaret WHITFORD and George FLETT (1774-1850) from Scotland.
In 1845 son John married his sister-in-law Margaret FLETT at St Johns, daughter of Peggy WHITFORD and George FLETT (1774-1850).
Around 1848 son Henry married Scholastique VILLENEUVE, daughter of Marguerite LAMONTAGNAISE and Charles VILLENEUVEof uncertain origins.
It was probably in the 1850's that son Joseph married to Sarah LAMBERT, the daughter of Margaret FAVEL and Michel LAMBERT (1792-1875). ** MORE ABOUT MICHEL LAMBERT
In 1853 youngest daughter Charlotte married Charles FIDLERin Fort a la Corne, son of Ann SAUNDERS and Charles FIDLER SR (1798-1886). ** MORE ABOUT CHARLES FIDLER SR

In 1856 daughter Sarah (widowed) re-married to James McCORRISTER in Red Rover, son of Catherine JONES and Alexander McCORRISTER (1784-1845).** MORE ABOUT ALEXANDER McCORRISTER
In 1860 son Thomas married Rosalie HAMELIN, daughter of Therese DUCHARME & Joseph HAMELIN (b.c1810).  In 1868 Thomas re-married to Josephte (Suzette) MORISSETTE in SFX, daughter of Philomene FAVEL & Francois MORISSETTE (b-1814).
Around 1860 son John (widowed) re-married to Mathilda GUNN, daughter of Margaret SWAIN and Donald GUNN (1797-1878). ** MORE ABOUT DONALD GUNN
Comments and queries at this link: FORUM DISCUSSING the GEORGE ATKINSON FAMILY
============================= Family Details =============================
Children (of 15):
1. 1809 RICHARD ATKINSON
2. 1813 NANCY ATKINSON (m. Andrew ROBERTSON)
3. 1815 GEORGE ATKINSON JR (m. Nancy KIPLING)
** MORE ABOUT GEORGE ATKINSON JR
4. 1815 BETSY ATKINSON (m. Alexander BIRSTON)
5. 1820 JOSEPH ATKINSON (m. Sarah LAMBERT)
?6. 1821 WILLIAM ATKINSON (m. Louise)
7. 1824 HENRY ATKINSON (m. Scholastique VILLENEUVE)
8. 1825 JOHN "COOTETIS" ATKINSON (m1. Margaret FLETT, m2. Mathilda GUNN)
9. 1825 SARAH (SALLY) ATKINSON (m1. William FLETT; m2. James McCORRISTER)
10. 1825 THOMAS ATKINSON (m1. Rosalie HAMELIN, m2. Josephte (Suzette) MORISSETTE)
11. 1831 CHARLOTTE ATKINSON (m. Charles FIDLER)