ALEXANDER McCORRISTER (1784-1845)
CATHERINE JONES (1795-1875+)
(Last Updated: July 23, 2015)
Alexander (Towanass) McCORRISTER was born at York Factory around 1783-84, said to be the only child of a Native woman (probably Cree) and Englishman Alexander McCORRISTER SR (b-1756).
** MORE ABOUT ALEXANDER McCORRISTER SR
Alex's father (Alex Sr.), an HBC armourer, was taken prisoner to England by French navigator LAPEROUSE after he attacked York Post around the time Alex Jr. was born. His father never returned, and Alex was raise by his native mother who was probably a member of the Home Guard Cree, a term that is coined by Parks Canada who described them as follows: The immediate area around the Factory was inhabited by the Cree who trapped, hunted and fished for the Company. A native community was situated one kilometer downstream of the fort. There are also communities scattered throughout the immediate vicinity of York Factory, for example, Ten Shilling Creek, Crooked Bank, Kaska and Port Nelson just to name a few.
Early HBC Forts
Alex marries Catherine JONES
1810
Alex and Catherine were united around 1810 in the York Factory district. Catherine was a half-breed daughter of an Indian woman and John JONES (b-1761), an Englishman who, like Alex's father, was an HBC armourer who returned to England in 1793 (HBCA).
Alex's first child, Charles, was born about 1811, followed by Andrew, James, Samuel and Henry, all born in the York Factory district prior to 1821.
Union of the North West Company with the Hudson's Bay Company
Ales and his family move to Red River
1821
In 1821 the union of the North West Company (NWC) and the Hudson's Bay Company (HBC) occurred, ending the years of bitter rivalry for dominance of the fur trade in Western Canada..(Sir) George SIMPSON (1786-1860) became the Governor of Rupert's Land around that time, and Reverend John WEST (1778-1845) arrived from England as the first Chaplain in the northwest.
It was in 1821 that daughter Nancy was born in Red River Settlement.
In 1822 Governor SIMPSON reported to the board of governors of the HBC that he had established a fort at the junction of the Red and Assiniboine Rivers. He named it Fort GARRY (the Upper Fort). Around this fort was to grow the city of Winnipeg.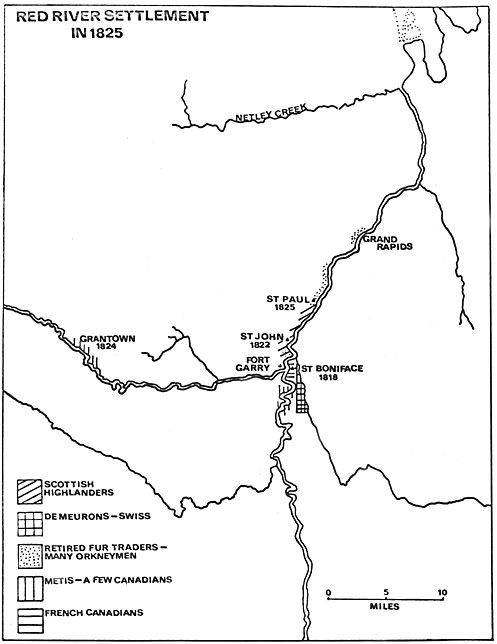 Grand Rapids on this map later became St Andrews and Lockport where Alex and his family finally settled.
In 1823 Reverend David JONES (1796-1844) replaced Reverend John WEST as HBC chaplain in Red River, and in 1825 Reverend William COCKRAN (1798-1865) arrived as his assistant.
** MORE ABOUT REVEREND DAVID JONES in DCBO
** MORE ABOUT REVEREND WILLIAM COCKRAN in DCBO
In 1827 Alexander McCORRISTER and Catherine JONES were church-wed at St Johns in Red River.
By 1835 Alex's family consisted of 10 children (ages approximate) as follows: Charles (age 24), Andrew (21), James (19), Samuel (18), Henry (15), Nancy (14), John (11), Frances (9), Alexander (8) and Catherine (age 5).
In 1835 son Andrew married Mary DONALD at St Johns, the daughter of Nancy BOLLEN and William DONALD (1795-1866).  ** MORE ABOUT WILLIAM DONALD
Also around 1835 son James married Sophia SINCLAIR of uncertain origins.
In 1842 eldest son Charles married Charlotte HARCUS in St Andrews, daughter of Margaret RICHARDS and David HARCUS (1798-1845) from Orkneys.
Also in 1842 daughter Nancy married Alexander BIRSTON in St Andrews, son of Native INDIAN and Alexander BIRSTON (1775-1829).
In 1843 son Henry married Marie TAIT at St Johns, daughter of Mary BEAR & William TAIT (1792-1878). 
** MORE ABOUT WILLIAM TAIT / TATE
Son John married Ann DONALD, daughter of Nancy BOLLEN and William DONALD (1784-1866).
On May 17, 1845 Alexander McCORRISTER died in St Andrews Parish.
In 1854 daughter Frances married Murdock McDONALD (1825-1868) from Scotland.
In 1856 son James married a second time to Widow Sarah (nee ATKINSON) FLETT, daughter of Margaret and George ATKINSON (1777-1830). ** MORE ABOUT GEORGE ATKINSON
In 1862 son Alexander Jr. married Jane COX, daughter of Nancy "Anne" TAYLOR & John COX (1796-1872) from the Orkneys. ** MORE ABOUT JOHN COX
In 1847 daughter Catherine married Alexander McKAY in St Andrews, son of Harriet BALLENDINE and John Richards McKAY (1792-1877). ** MORE ABOUT JOHN RICHARDS McKAY
Canadian Confederation
A Red River Rebellion
Manitoba becomes a Province
1867-1870
On July 1, 1867 the British colonies in North America were united under the British North American Act to become the Dominion of Canada. Sir John A MACDONALD (1815-1891) was appointed as Canada's first Prime Minister. William McDOUGALL (1822-1905) became the Minister of Public Works, and he began negotiations to acquire Rupert's Land from the HBC; surveyors were sent to Red River to prepare the way for an expected influx of settlers.
On Oct 11, 1869, Louis RIEL (1844-1885) placed his foot on the surveyors' chain to tell them their work was finished! This marked the beginning of the historic Red River Métis Rebellion.
On July 15, 1870 the Rebellion ended when RIEL's Provisional Government accepted the terms of the Manitoba Act and Manitoba became the fifth province of Canada.
In 1875 Catherine (of St Andrews Parish) applied for Scrip as Alex's widow.
Comments and queries at this link: FORUM DISCUSSING the FAMILY OF ALEXANDER McCORRISTER JR
============================ Family Details ============================
Children:
1. 1811 CHARLES McCORRISTER (m. Charlotte HARCUS)
2. 1814 ANDREW McCORRISTER (m. Mary DONALD)
3. 1816 JAMES McCORRISTER (m1. Sophia SINCLAIR, m2. Sarah ATKINSON)
4. 1817 SAMUEL McCORRISTER (m. Lucy ATKINSON)
5. 1820 HENRY McCORRISTER SR (m. Marie TAIT)
** MORE ABOUT HENRY McCORRISTER
6. 1821 NANCY McCORRISTER (m. Alexander BIRSTON)
7. 1824 JOHN McCORRISTER (m. Ann "Nancy" DONALD)
8. 1826 FRANCES McCORRISTER (m. Murdock McDONALD)
9. 1827 ALEXANDER McCORRISTER (m. Jane COX)
10. 1830 CATHERINE McCORRISTER (m. Alexander McKAY)