HENRY McCORRISTER (1820-1879)
MARIE (MARIA) TAIT (1818-1905)
(Last Updated: October 27, 2016)
Henry McCORRISTER, a halfbreed, was born around 1820 in the York Factory district, son of Catherine JONES and Alexander McCORRISTER (1784-1845). In 1821 the McCORRISTER family moved to Red River.
** MORE ABOUT ALEXANDER McCORRISTER
On Sep 25, 1826 Henry was baptized at St Johns (Winnipeg).
Marriage to Marie TAIT
1843
On Nov 30, 1843 Henry married Marie TAIT at St Johns, daughter of Mary BEAR and William TAIT (1792-1878), a retired half-breed fur trader (HBC) who was born in the York Factory district. At that time Marie TAIT was apparently a Treaty Indian and a member of the St Peters Indian Band. (She later obtained a Discharge from Treaty in order to receive Half-breed Scrip).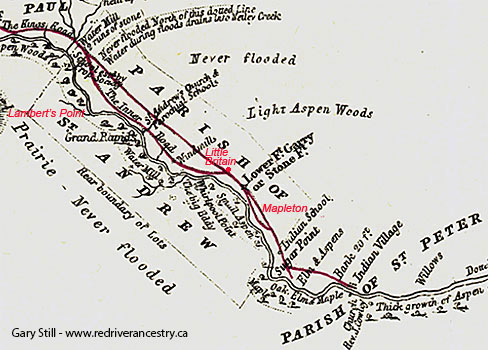 St Andrews Parish from Henry Hind's Map of 1857
By 1862 Henry and Marie had 10 children as follows (ages only approximate): Jane Mary (age 18), William (16), Frances (15), Henry (13), James (12), Catherine (10), Harriet (9), Sarah (6), Alexander (age 4) and baby Charles.
In 1865 daughter Frances married Charles SWAIN in St Andrews, son of Margaret RACETTE and James SWAIN (1799-1887). ** MORE ABOUT JAMES SWAIN
Canadian Confederation
A Red River Rebellion
Manitoba becomes a Province
1867-1870
On July 1, 1867 the British colonies in North America were united under the British North American Act to become the Dominion of Canada.  Sir John A MACDONALD (1815-1891) was appointed as Canada's first Prime Minister. William McDOUGALL (1822-1905) became the Minister of Public Works, and he began negotiations to acquire Rupert's Land from the HBC; surveyors were sent to Red River to prepare the way for an expected influx of settlers.
Before 1869 eldest daughter Jane Mary married James NORQUAY in Kildonan. He was born about 1841 in the Orkneys of Scotland.
On Oct 11, 1869, Louis RIEL (1844-1885) placed his foot on the surveyors' chain to tell them their work was finished! This marked the beginning of the historic Red River Métis Rebellion.
On July 15, 1870 the Rebellion ended when RIEL's Provisional Government accepted the terms of the Manitoba Act and Manitoba became the fifth province of Canada.
Little Britain (St Andrews - Lockport)
1870
Census of 1870 in St Andrews Parish (Lot 156): Henry McALSTER (McCORRISTER), age 50; wife Marie, age 50. Children: Henry (age 22), James (20), Marie (17), Harriet (14) and Charles (age 8). An 1870 map of St Andrews Parish shows Lot 156 to be located in Little Britain (south of the Lockport Bridge), then occupied by William DONALD. Nearby Lot 150 was occupied by William McCORRISTER (Henry's brother). There are several McCORRISTER family ties to the DONALD's.
In 1870 Henry was recruited by the Hudson's Bay Company (HBC) as a voyageur (canoe middleman), a three-year contract ending in 1873.
Treaty Number One
1871
Treaty #1 Revisited, by D.J. Hall:  Traditional Treaty 1 of 1871 has been downplayed as a mere extension into the west of the principals of the Robinson treaties of 1850, and Treaty 3 is seen as the first major breakthrough for Indian rights in the treaty-making process. - - Rev Hy COCHRANE, 4 appeared as interpreter for the Commissioner and party, and did nearly all the translating during the Treaty, and Henry McCORRISTER appeared on behalf of the Indians.
** MORE ABOUT HENRY PRINCE and TREATY NUMBER ONE
Photo titled: Chief Henry PRINCE, Councilors and interpreter, St. Peters, Man.
(LAC: Date 1880; Photographer: Dr Robert Bell; photo adjustments by G. N. Still)
Sitting off to the side in this photo in the 'interpreter', probably Henry McCorrister
The St Peters Indian Band probably chose Henry as their interpreter because he had family ties to the BEAR families who were prominent members of the band. His wife, Maria (nee TAIT) was a registered member of the band, and a granddaughter of WHITE BEAR (1780-1844) who settled in St Peters with his family in the early 1820's.
In 1872 daughter Sarah married William Charles CORRIGAL in St Andrews, son of Eliza FIRTH & John Charles CORRIGAL (1816-1891). ** MORE ABOUT JOHN CHARLES CORRIGAL
In 1874 son Henry Jr. married Margaret CAMPBELL at Dunvegan (AB), daughter of Marie Marguerite CALLIHOO and Louis CAMPBELL (1829-1882).

Around 1874 son James married Elizabeth CORRIGAL in St Andrews, daughter of Eliza FIRTH and John Charles CORRIGAL (1816-1891). ** MORE ABOUT JOHN CHARLES CORRIGAL
On Jun 28, 1879 Henry McCORRISTER died in north St Andrews; buried in St Clements.
Around 1882 daughter Catherine married Donald McLEOD who was born 1856 in Scotland.
Archives Canada records indicate that sometime between 1890 and 1897 Maria McCORRISTER received a Discharge from Treaty as a member of the St Peters Indian Band in order to receive Half-breed Scrip.
Census of 1901 in the Little Britain area: Maria McCORRISTER (age 82) a "lodger" in household of Jane (nee MOWAT) and Thomas SMITH (1853-1936).
On Feb 22, 1905 Maria (nee TAIT) McCORRISTER diedin St Clements Parsh (Little Britain), age 85.
Comments and queries at this link: FORUM DISCUSSING the HENRY McCORRISTER FAMILY
========================== Family Details ==========================
Children:
1. 1844 JANE MARY McCORRISTER (m. James NORQUAY)
2. 1846 WILLIAM McCORRISTER
3. Jul 24, 1847 FRANCES McCORRISTER (m. Charles SWAIN)
4. May 10, 1849 HENRY McCORRISTER (m. Margaret CAMPBELL)
5. Nov 30, 1850 JAMES McCORRISTER (m. Elizabeth CORRIGAL)
** MORE ABOUT JAMES McCORRISTER
6. 1852 CATHERINE McCORRISTER (m. Donald McLEOD)
7. Oct 23, 1853 HARRIET ANN McCORRISTER
8. Mar 4, 1856 SARAH MARIE McCORRISTER (m. William Charles CORRIGAL)
9. 1858 ALEXANDER GEORGE McCORRISTER
10. 1862 CHARLES ANDREW McCORRISTER