JAMES SWAIN (1799-1887)
MARGARET RACETTE (1809-1883)
(Last Updated: December 05, 2016)
James SWAIN was born Feb 14, 1799 at Severn House (on Hudson Bay), son of an Indian woman and James SWAIN SR (1775-1829) from England. ** MORE ABOUT JAMES SWAIN SR
From 1809 to 1811 the HBC Archives indicate that James worked for the HBC as an Interpreter and Net Maker, but notes that he was not under HBC contract during that period. At that time his father (Jams St) was a Master Trader at Fort Severn and Inland.
From 1811 to 1813 James Jr. was officially an HBC Interpreter and Assistant in the Severn District (most likely working under his father).
From 1813 to 1819 James Jr. was indicated as an Assistant Trader variously in the Severn and York Districts.
During 1819-1821 he is shown as an Interpreter in the Manitoba District.
Union of the North West Company with the Hudson's Bay Company
1821
In 1821 the union of the North West Company (NWC) and the Hudson's Bay Company (HBC) occurred, ending the years of bitter rivalry for dominance of the fur trade in Western Canada. After the merger, almost 1,300 employees lost their jobs since the single HBC organization that emerged had no need for most of the voyageurs and fur traders.
George SIMPSON (1786-1860) became the Governor of Rupert's Land. On May 20, 1822, SIMPSON reported to the board of governors of the HBC that he had established a fort at the junction of the Red and Assiniboine Rivers. He named it Fort GARRY (the Upper Fort). Around this fort was to grow the city of Winnipeg.
From 1821 until 1823 Jams was a Clerk at Lac La Ronge in the Ile-a-la-Crosse District (SK).
A Colonist in Red River Settlement
Marriage to Marguerite RACETTE
1823-1826
1823: James SWAIN, a Freeman (retired), Colonist in Red River Settlement. Where, on Oct 3, 1826 he married Marguerite RACETTE at St Johns, the daughter of Josephte (Indian) and Charles RACETTE (1766-1833).
** MORE ABOUT CHARLES RACETTE
Red River Census of 1827:River Lot 662 (Little Britain area): James SWAIN, age 28 with a wife. He has a house and a canoe, and he has one acre under cultivation.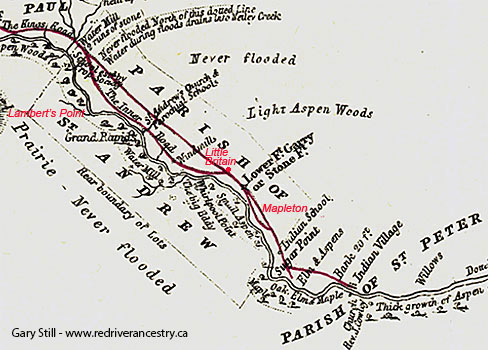 St Andrews Parish from Hind's Map of 1857
An 1835 list of Landowners in St Andrews Parish included James on Lot 163. There are six people in his household. He has two cattle and has one acre under cultivation.
In 1847 daughter Marguerite married John FAVELin St James (Winnipeg), son of Isabelle (Elizabeth) SHORT & John James FAVEL (1797-1870).
In 1861 daughter Elizabeth married Michael WAGNER in St Andrews. He was born 1826 in Germany.
In 1865 son Charles married Frances McCORRISTER in St Andrews, daughter of Maria TATE and Henry McCORRISTER (1820-1879). ** MORE ABOUT HENRY McCORRISTER
Canadian Confederation
A Red River Rebellion
Manitoba becomes a Province
1867-1870
On July 1, 1867 the British colonies in North America were united under the British North American Act to become the Dominion of Canada.  Sir John A MACDONALD (1815-1891) was appointed as Canada's first Prime Minister. William McDOUGALL (1822-1905) became the Minister of Public Works, and he began negotiations to acquire Rupert's Land from the HBC; surveyors were sent to Red River to prepare the way for an expected influx of settlers.
In 1868 daughter Sarah married George FLETT in St Andrews, son of Charlotte TOURANGEAU and George FLETT SR (1815-1896).
On Oct 11, 1869, Louis RIEL (1844-1885) placed his foot on the surveyors' chain to tell them their work was finished! This marked the beginning of the historic Red River Métis Rebellion.
On July 15, 1870 the Rebellion ended when RIEL's Provisional Government accepted the terms of the Manitoba Act and Manitoba became the fifth province of Canada.
Census of 1870 in St Andrews Parish (Lot 164): James SWAIN, age 72; wife Marguerite, age 60. Children: Charlotte (age 41) and William (age 18).
In 1870 daughter Matilda married John HOURIE in St Andrews, son of Christy ANDERSON and Robert HOURIE (1815-1911). ** MORE ABOUT ROBERT HOURIE
Margaret (RACETTE) of St Andrews was James' wife when she applied for Scrip in 1875; and in 1877, when James also applied for Scrip on her behalf. In his application, James states that never received Treaty, except twice (in 1871 and 1872), but he refunded the money to the Indian Commissioner for Provencher for the last year 1872. Scrip was allowed; issued Mar 19, 1879 ($160).
In 1876 son William Robert married Sarah Ann OMAND in St Andrews, daughter of Sarah Ann McDONALD and Thomas OMAND (1835-1908).
Census of 1881in St Clements/ Lisgar:James SWAIN, age 82; wife Margaret, age 70. Children: Charlotte (age 52) and William Robert (age 29), his wife Sarah Ann (age 19) and baby Sarah Margaret.
On May 6, 1883 Margaret SWAIN died and on Sep 9, 1887 James SWAIN died, both in St Andrews.
Comments and queries at this link: FORUM DISCUSSING THE FAMILY OF JAMES SWAIN
========================= Family Details =========================
Children:
1. c1826 CHARLOTTE SWAIN (m. Richard CLARK)
2. 1827 MARGUERITE SWAIN (m. John FAVEL)
3. c1828 MARY SWAIN (m. John FAVEL)
4. c1830 JAMES SWAIN (m. Elisabeth DESMARAIS)
5. Mar 20, 1834 ELIZABETH SWAIN (m. Michael WAGNER)
6. Jun 25, 1839 CHARLES SWAIN (m. Frances McCORRISTER)
7. 1841 CATHERINE SWAIN (Died in infancy, age 5)
8. 1844 ANN SWAIN (Died in infancy, age 2)
9. July 16, 1846 SARAH SWAIN (m. George FLETT)
10. 1849 THOMAS SWAIN (Died in infancy, age 5)
11. Mar 17, 1852 WILLIAM ROBERT SWAIN (m. Sarah Ann OMAND)
12. Mar 17, 1855 MATILDA SWAIN (m. John HOURIE)