CHARLES RACETTE (1766-1833)
JOSEPHTE SAULTEAUX (1780-?)
(Last Updated: March 03, 2016)
On Apr 11, 1766 Charles RACETTE was born in St Augustine des Desmaires, Quebec (west of Quebec City), son of Marie Angelique DEFOY and Pierre RACETTE (1715-1788).
Marriage to Josephte (Indian)
Qu'Appelle
1795
It was around 1795 that Charles married a Salteaux Indian woman named Josepthte. In 1796 son Charles Jr. was born near Qu'Appelle (SK).
Around 1800 son George was born at Fort Pelly (SK). In 1803 daughter Angelique was born.
Lake Winnipeg – Red River
1809
In 1809 daughter Margaret was born somewhere around Lake Winnipeg (MB), probably Grand Rapids.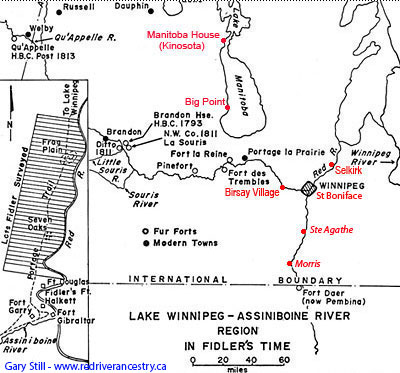 In 1813, according to Scrip records, daughter Angelique gave birth to a child (Louise). Many years later in her Scrip affidavit Louise's father was indicated as Joseph ADAM (1785-1873), son of Josephte MONTAGNAISE and Jean Baptiste ADAM (born about 1741 in Belgium). ** This picture is problematic in that Angellique would have only have been about 10 years old in 1813. There are indications that she also later had children with Robert HENRY and George McPHERSON. This is all under review. If anyone can clear this up, please let us know on the Forum.
Red River Metis Rebellion
1815-1816
The historic Red River Metis Rebellion led by Cuthbert GRANT (1796-1854) began around 1815 and ended in 1816 with the Seven Oaks Massacre at Frog Plain. ** MORE ABOUT CUTHBERT GRANT and the METIS REBELLION
Heather Devine: In 1819 'old RACETTE' and his family were camped at the Grand Rapids of the Saskatchewan River (Lake Winnipeg) when he witnessed the beating and abduction of Benjamin Joseph FROBISHER (1782-1821), North West Company partner, by servants of the HBC. FROBISHER died while trying to escape. RACETTE was called back to Lower Canada to testify in the court case that followed. (RACETTE testified on Oct 29, 1819)
** MORE ABOUT BENJAMIN JOSEPH FROBISHER
Union of the North West Company with the Hudson's Bay Company
1821
In 1821 the union of the North West Company (NWC) and the Hudson's Bay Company (HBC) occurred, ending the years of bitter rivalry for dominance of the fur trade in Western Canada. After the merger, almost 1,300 employees lost their jobs since the single HBC organization that emerged had no need for most of the voyageurs and fur traders. George SIMPSON (1786-1860) became the Governor of Rupert's Land.
In 1826 daughter Margaret married James SWAIN at St Johns (Red River), son of a Native woman and James SWAIN SR (1775-1829) from England. ** MORE ABOUT JAMES SWAIN SR


Red River Census of 1827: Charles RASSETTE, age 61. Two adult sons and one young daughter. He has a house, a horse and a cow, and a cart. He has two 2 acres of land under cultivation.
In 1829 son George married Francois GILBEAU in St Boniface, daughter of Angelique (Saulteaux) and Pierre GILBEAU (b-1770).
In 1830 son Charles married Reine BOUCHER in St Boniface, daughter of Francoise ST GERMAIN and Paul BOUCHER (1781-1876).

In 1833 Charles RACETTE died.
Comments and queries at this link: FORUM DISCUSSIONG THE FAMILY OF CHARLES RACETTE
========================== Family Details ==========================
Children:
1. 1796 CHARLES RACETTE (m. Reine BOUCHER)
2. 1800 GEORGE RACETTE (m. Francoise GILBEAU)
3. 1803 MARIE ANGELIQUE RACETTE (m1. Joseph ADAM; m2. Robert HENRY, m3. George McPHERSON)
4. 1809 MARGARET RACETTE (m. James SWAIN)