MICHAEL WAGNER (1826-?)
ELIZABETH SWAIN (1834-?)
(Last Updated: March 03, 2016)
Michael (Michel) WAGNER was born about 1826 in Germany. ** Some sources indicate his father's name was Benjamin WAGNER. The 1870 census indicates his father as Panedie (?) WAGNER (poor handwriting).
Marriage to Elizabeth SWAIN
1861
On June 20, 1861 Michael married Elizabeth SWAINin St Andrews Parish, Red River, daughter of Margaret RACETTE and James SWAIN (1799-1887). ** MORE ABOUT JAMES SWAIN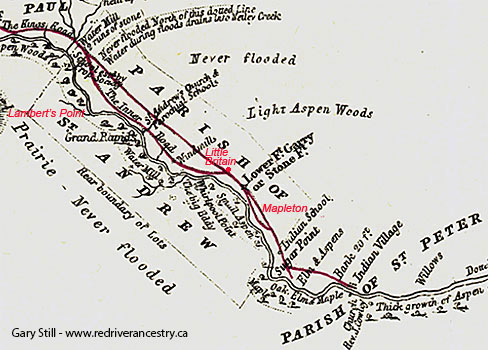 St Andrews Parish from Hind's Map of 1857
From 1862 to 1865 Michael worked under contract as a labourer for the Hudson's Bay Company (HBC).
Canadian Confederation
A Red River Rebellion
Manitoba becomes a Province
1867-1870
On July 1, 1867 the British colonies in North America were united under the British North American Act to become the Dominion of Canada.  Sir John A MACDONALD (1815-1891) was appointed as Canada's first Prime Minister. William McDOUGALL (1822-1905) became the Minister of Public Works, and he began negotiations to acquire Rupert's Land from the HBC; surveyors were sent to Red River to prepare the way for an expected influx of settlers.
On Oct 11, 1869, Louis RIEL (1844-1885) placed his foot on the surveyors' chain to tell them their work was finished! This marked the beginning of the historic Red River Métis Rebellion.
On July 15, 1870 the Rebellion ended when RIEL's Provisional Government accepted the terms of the Manitoba Act and Manitoba became the fifth province of Canada.
Census of 1870 in St Clements Paresh (Lot 138): Michel WAGNER, age 44; wife Elizabeth, age 34. Children: Mary (age 12), Tuvins (10), Marguerite (8), Elizabeth (6) and Charlotte (age 4).
Riverlot Occupancy 1870 St Andrews Parish:  Mich. WAGNER on Lot 138 (across from Lower Ft Garry). This lot was patented by John McLEOD in1881.
In 1893 daughter Matilda married William BENTLEY in Pembina, North Dakota.
** We have very little information regarding Michael WAGNER' family after 1870. After Charlotte (b-1866) there is a 10 year gap of information prior to the birth of Matilda in 1876. If anyone has more information, please let us know on the following Forum.
Comments and queries at this link: FORUM DISCUSSING the FAMILY OF MICHAEL WAGNER
========================== Family Details ==========================
Children:
1. 1858 MARY WAGNER
2. 1860 TUVINS WAGNER
3. 1862 MARGUERITE WAGNER
4. 1864 ELIZABETH WAGNER
5. 1866 CHARLOTTE WAGNER
6. 1876 MATILDA WAGNER (m. William BENTLEY)