ROBERT HOURIE(1815-1911)
ANGELIQUE RACETTE (1817-?)
CHRISTIANA "CHRISTY" ANDERSON (1825-1876)

(Last Updated: December 06, 2016)
Robert HOURIE was born about 1815 in Red River, the son of Margaret BIRD and John HOURIE (1779-1857) from the Orkneys of Scotland. ** MORE ABOUT JOHN HOURIE
Robert and Angelique RACETTE
1835
In 1835 Robert married Angelique RACETTE of uncertain origins. ** This comes primarily from Sprague & Frye and is somewhat dubious and perhaps irrelevant.
Marriage to Christiana ANDERSON
1837
On Nov 28, 1837 Robert married Christiana Jane ANDERSON in St Andrews, daughter of Mary Suzette DEMORAN and James ANDERSON (1775-1854). ** MORE ABOUT JAMES ANDERSON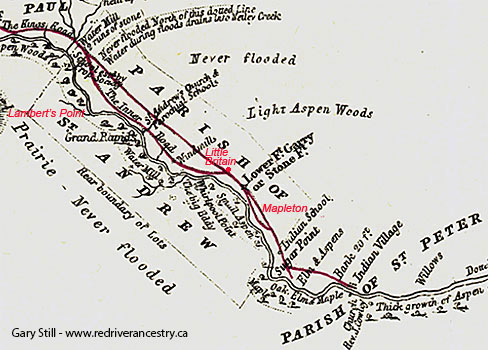 St Andrews Parish from Hind's Map of 1857
In 1861 son Thomas married Agnes BIRD in St Paul (Middlechurch), daughter of Sarah BULL'S HEART and James "Jimmy Jock" BIRD (1798-1892). ** MORE ABOUT JAMES "JIMMY JOCK" BIRD
In Mar 8, 1866 son Robert Jr. married Sarah JOHNSTON in St Peters, daughter of Nancy DANIEL and Donald JOHNSTON (1805-1875+). ** MORE ABOUT DONALD JOHNSTON

Around 1866 daughter Catherine was married to William SHANNON from Ireland, son of Timothy SHANNON.
Around 1866 daughter Elizabeth married Thomas PRINCE of uncertain origins, said to have been a grandson of Chief PEGUIS (1774-1864). ** MORE ABOUT CHIEF PEGUIS
Canadian Confederation
A Red River Rebellion
Manitoba becomes a Province
Signing of Treaty Number One
1867-1871
On July 1, 1867 the British colonies in North America were united under the British North American Act to become the Dominion of Canada.  Sir John A MACDONALD (1815-1891) was appointed as Canada's first Prime Minister. William McDOUGALL (1822-1905) became the Minister of Public Works, and he began negotiations to acquire Rupert's Land from the HBC; surveyors were sent to Red River to prepare the way for an expected influx of settlers.
On Oct 11, 1869, Louis RIEL (1844-1885) placed his foot on the surveyors' chain to tell them their work was finished! This marked the beginning of the historic Red River Métis Rebellion.
On July 15, 1870 the Rebellion ended when RIEL's Provisional Government accepted the terms of the Manitoba Act and Manitoba became the fifth province of Canada.
In 1870 son Peter married Nancy DENNETT of uncertain origins who died during childbirth (with her child) in 1871.
Also in 1870 son John married Matilda SWAIN in St Andrews, daughter of Marguerite RACETTE and James SWAIN (1799-1887). ** MORE ABOUT JAMES SWAIN
Census of 1870 in St Peters: Robert HOURIE, age 45; wife Christine, age 46. Children: Isabel (age 14), Philip (16), Henri (12), Maria (10) and Joseph (age 8).
In 1871 Chief Henry PRINCE or RED EAGLE (1819-1902) signed Treaty Number One on behalf of the St Peters Indians.
** MORE ABOUT CHIEF HENRY PRINCE
Around 1874 son Peter (widowed) re-married to Margaret (nee THOMAS) PEEBLES (widow of Robert PEEBLES who died in 1866), daughter of Eleanor and Richard THOMAS (1800-1861).  ** MORE ABOUT RICHARD THOMAS
In 1875 Robert claimed his Half-breed Scrip in St Clements Parish.
On Feb 21, 1876 Christie (nee ANDERSON) HOURIE died in St Clements Parish.
In 1880 daughter Euphemia married William FIDLER, son of Nancy BREMNER and Edward FIDLER (1826-1913).
In 1882 son Peter (widowed again) married a third time to Eliza SANDERSON in the Fort a la Corne district of Saskatchewan.
In 1887 son Joseph married Ann Elizabeth ADAMS in Prince Albert, son of Elizabeth BRUCE and James ADAMS (1844-1925).
In 1911 Robert HOURIE diedin the St Catherines District of Saskatchewan (west of Prince Albert)..
Comments and queries at this link: FORUM for DISCUSSING THE FAMILY OF ROBERT HOURIE
=========================== Family Details ===========================
Children:
1. 1840 ROBERT HOURIE JR (m. Sarah JOHNSTON)
2. 1843 JANE MARY HOURIE (Died in infancy)
3. 1844 THOMAS HOURIE (m. Agnes BIRD)
4. Dec 24, 1845 CATHERINE HOURIE (m. William SHANNON)
5. Feb 3, 1846 ELIZABETH ANN HOURIE (m. Thomas PRINCE)
6. 1849 PETER HOURIE (m1. Nancy DENNETT; m2. Margaret (nee THOMAS) PEEBLES; m3 Elizabeth SANDERSON)
7. 1850 ISABELLE HOURIE
8. April, 1852 JOHN HOURIE (m. Matilda SWAIN)
9. May 15, 1855 PHILIP HOURIE
10. Mar 5, 1857 EUPHEMIA HOURIE (m. William FIDLER)
11. 1858 HENRY HOURIE
12. Apr, 1859 MARIE HOURIE
13. May 25, 1862 ALFRED JOSEPH "JOE" HOURIE (m. Elizabeth Ann ADAMS)