DONALD JOHNSTON (1805-1875+)
NANCY DANIEL (1810-1882)

(Last Updated: December 05, 2016)
Donald JOHNSTON was born around 1805, son of Jane and an Indian named Thomas JOHNSTON (born around 1785 re Sprague & Frye).
Marriage to Nancy DANIEL
1836
Around 1836 Donald married Nancy DANIEL, daughter of Mary (Indian) and Griffith DANIEL (1785-1869).
** MORE ABOUT GRIFFITHS DANIEL
By 1854 Nancy & Donald had eight children, all born in St Andrews Parish.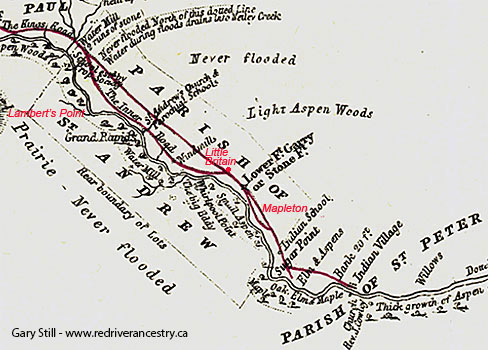 St Andrews Parish from Henry Hind's Map of 1857
Around 1856 daughter Mary married Donald McLEOD of uncertain origins. Around 1865 Mary married a second time to Michael O'DONNELL who was born around 1830 in Ireland.
Around 1861 son Joseph married Sarah BRUYERE in Fort Alexander, daughter of Francoise MAINVILLE and Joseph BRUYERE (1815-1906). ** MORE ABOUT JOSEPH BRUYERE
In 1862 daughter Nancy became the second wife of James IRWIN (1816-1903) from England.
Also in 1862 daughter Matilda married in St Andrews to Kenneth McLEOD (born 1834 in Scotland).
In 1866 daughter Sarah married Robert HOURIE in St Peters, son of Christy ANDERSON and Robert HOURIE SR (1815-1911). ** MORE ABOUT ROBERT HOURIE SR
Canadian Confederation
A Red River Rebellion
Manitoba becomes a Province
1867-1870
On July 1, 1867 the British colonies in North America were united under the British North American Act to become the Dominion of Canada.  Sir John A MACDONALD (1815-1891) was appointed as Canada's first Prime Minister. William McDOUGALL (1822-1905) became the Minister of Public Works, and he began negotiations to acquire Rupert's Land from the HBC; surveyors were sent to Red River to prepare the way for an expected influx of settlers.
On Oct 11, 1869, Louis RIEL (1844-1885) placed his foot on the surveyors' chain to tell them their work was finished! This marked the beginning of the historic Red River Métis Rebellion.
On July 15, 1870 the Rebellion ended when RIEL's Provisional Government accepted the terms of the Manitoba Act and Manitoba became the fifth province of Canada.
Census of 1870 in St Andrews Parish (Lot 73): Donald JOHNSTON, age 75; wife Nancy. Children: John (age 40), William (26), Elizabeth (17) and Marguerite (age 15). ** Lot 75 is north of the Old St Andrews Church in Red River.
In 1875 Scrip was claimed by both Donald and his wife Nancy, living in St Andrews Parish.
In 1875 daughter Elizabeth married George HOLDGATE (1852-1927) from London, England. HOLDGATE operated the Selkirk – East Selkirk Ferry for many years.
Sometime after 1875, and before 1881, Donald JOHNSTON died.
In 1876 daughter Margaret married William PRUDEN, son of Maria FIDLER & William Albert PRUDEN (1832-1890).
** MORE ABOUT WILLIAM ALBERT PRUDEN
In 1881 Widow Nancy JOHNSTON (age 70) with son William in St Andrews Parish.
On Oct 4, 1882 Nancy (nee DANIEL) JOHNSTON died in St Andrews, age 70.
Comments and queries at this link: FORUM DISCUSSING THE DONALD JOHNSTON FAMILY
============================ Family Details ============================
Children:
1. c1837 MARY JOHNSTONE (m1. Donald McLEOD, m2. Michael O'DONNELL)
2. 1837 JOHN J JOHNSON
3. c1843 NANCY JOHNSTON (m. James IRWIN)
4. Aug 18, 1843 JOSEPH JOHNSTONE (m. Sarah BRUYERE)
5. 1845 WILLIAM JOHNSTON
6. 1847 MATILDA JOHNSTON (m. Kenneth McLEOD)
7. 1851 ELIZABETH JOHNSTON (m. George HOLDGATE)
8. Mar 21, 1854 MARGUERITE (MARGARET) JOHNSTON (m. William PRUDEN)