JOSEPH BRIERE aka BRUYERE (1815-1906)
FRANCOISE MAINVILLE (1827-1863+)
AGNES GREENLEAF (1851-?)

(Last Updated: December 07, 2016)
Joseph BRUYERE aka BRIERE was born May 15, 1815 in Quebec, baptized in 1820 in Cap-de-la-Madelaine, son of Therese LEFEBVRE dit LACROIX and Mathurin BRIERE (1793-1870).
Marriage to Francoise MAINVILLE
Fort Frances – Rainy Lake
1840
Around 1840 Joseph was married to Francoise MAINVILLE, daughter of Margaret (Saulteaux Indian) and Francois MAINVILLE (1798-1881) ) from the Lakes Region of Minnesota, USA. In 1841 son William was born in the Fort Frances - Rainy Lake area.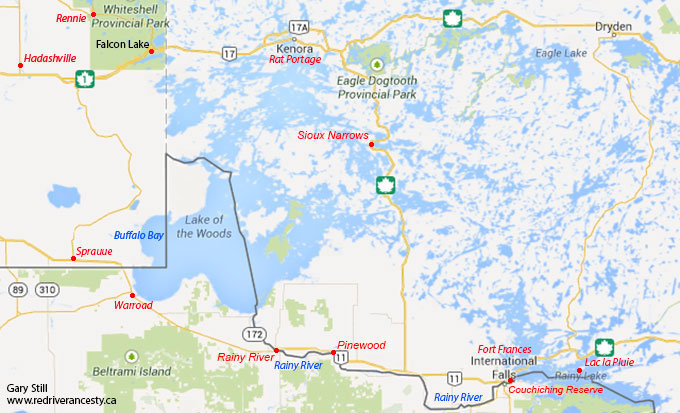 In 1843 and 1846 daughters Elizabeth and Sarah were also born in the Fort Frances area.
Fort Alexander
1850
By 1850 Joseph and his family had moved to Fort Alexander along the Winnipeg River near Lake Winnipeg. Son Alexander was borner there that year.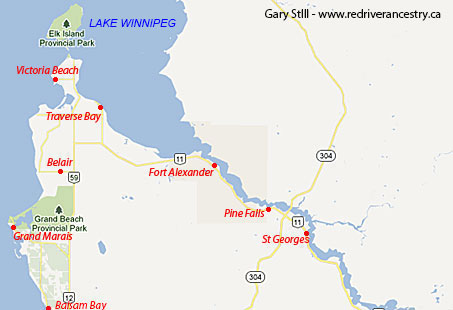 In 1852 and 1860 sons Joseph and Louis were born in Fort Alexander. In 1892, when son Louis made application for a Discharge from Treaty, he indicated that he was born in January of 1860 and that his parents were Joseph BRUYERE, a French Canadian, and Francois MAINVILLE, a French Half-breed.

In 1861 son Francis was born, and in 1863 daughter Philomene was born. It is believed that Joseph's wife Francoise probably died sometime after 1863and before 1875 by which time he had re-married.
By about 1861 daughter Sarah was married to Joseph JOHNSTON, in Fort Alexander, the son of Nancy DANIEL and Donald JOHNSTON (1805-11875+). ** MORE ABOUT DONALD JOHNSTON
Around 1864 son William was married to a Saulteaux woman named Cecile in the Lake Winnipeg area.
Canadian Confederation
A Red River Rebellion
Manitoba becomes a Province
1867-1870
On July 1, 1867 the British colonies in North America were united under the British North American Act to become the Dominion of Canada.  Sir John A MACDONALD (1815-1891) was appointed as Canada's first Prime Minister. William McDOUGALL (1822-1905) became the Minister of Public Works, and he began negotiations to acquire Rupert's Land from the HBC; surveyors were sent to Red River to prepare the way for an expected influx of settlers.
On Oct 11, 1869, Louis RIEL (1844-1885) placed his foot on the surveyors' chain to tell them their work was finished! This marked the beginning of the historic Red River Métis Rebellion.
On July 15, 1870 the Rebellion ended when RIEL's Provisional Government accepted the terms of the Manitoba Act and Manitoba became the fifth province of Canada.
Signing of Treaty Number One
1871
In 1871 KAKAKEPENAISE (William MANN) signed Treaty Number One (The Stone Fort Treaty) on behalf of the Sagkeeng (Fort Alexander) First Nation people. Thereafter many Fort Alexander residents became Treaty Indians by taking Treaty annuities.
In 1873 son Alexander married Maria Ann CALDER in St Clements, daughter of Maria GIBSON and James CALDER (1826-1896). ** MORE ABOUT JAMES CALDER
Around 1874 son Joseph Jr. married Elizabeth SIPI/BIRD, possibly the daughter of Cecile SAULTEAUX and Paul SIPI (b-1826).
Marriage to Agnes GREENLEAF
1875
By 1875 Joseph had re-married to Agnes GREENLEAF of uncertain origins, born about 1851 in Balsam Bay (shown on above map).
Around 1875 daughter Elizabeth married Maxime COURCHENE in Fort Alexander, son of Genevieve CANARD and Jean Baptiste COURCHENE (1820-1900).
In 1880 son Louis married Philomene CANARD, daughter of Margaret HENDERSON and Baptiste CANARD (b-1821)
Census of 1881 in Fort Alexander: Joseph BRIERE, age 62; wife Agnes, age 30. Children: Francois (age 20); Philomene (18), Baptiste (6), Caroline (4) and Elodie (age 2).
Census of 1891 in Fort Alexander: Joseph BREAR, Lumberman, age 69; wife Agnes, age 40. Children: Baptiste (age 17), Caroline (14) and Elodie (age 12).
Around 1895 son Baptiste married Henriette RAMSAY of uncertain origins.
In 1897 daughter Elodie married Peter THOMAS in Fort Alexander, son of Adelaide MORAN and George THOMAS (1852-1927). ** MORE ABOUT GEORGE THOMAS
Daughter Caroline married Alexander LAND of uncertain origins, born around 1868.
Census of 1901 in Fort Alexander: Joseph BRUYERE, age 85; wife Edwidge (?).
Around 1901 son Frank married Catherine DAUBE of uncertanin origins in Fort Alexander.
In 1906 Joseph BRUYERE died in the Fort Alexander Indian Reserve.
Comments and queries at this link: FORUM DISCUSSING THE FAMILY OF JOSEPH BRUYERE SR
========================== Family Details ==========================
Children with Francoise MAINVILLE:
1. 1841 GUILLAUME (WILLIAM) BRIERE/ BRUYERE (m. Cecile SAUTEUSE)
2. 1843 ELIZABETH BRUYERE (m. Maxime COURCHENE)
3. 1846 SARAH BRUYERE (m. Joseph JOHNSTONE)
4. 1850 ALEXANDER BRIERE/ BRUYERE (m. Maria Ann CALDER)
** MORE ABOUT ALEXANDER BRUYER
5. 1852 JOSEPH BRIERE aka BRUYERE JR (m. Elizabeth (Alice) SIPI/BIRD)
** MORE ABOUT JOSEPH BRUYERE JR
6. Jan, 1860 LOUIS (LOUISON) BRUYERE (m. Philomene CANARD)
7. 1861 FRANCOIS (FRANCIS, FRANK) BRIERE/ HRUYERE (m. Catherine DAUBE)
8. 1863 PHILOMENE BRIERE/ BRUYERE
Children with Agnes GREENLEAF:
1. May 5, 1875 BAPTISTE BRIERE/ BRUYERE (m. Henriette RAMSAY)
2. 1877 CAROLINE BRIERE/ BRUYERE
3. Sep 24, 1879 ELODIE BRIERE/ BRUYERE (m. Pierre Richard "Peter" THOMAS)