ALEXANDER BRIERE aka BRUYERE (c1850-1933)
MARIA ANN CALDER (1855-1915)
UNIEL (nee GUIMOND) CHATELLAINE (1871-1941)

(Last Updated: December 07, 2016)
Alexander BRUYERE aka BRIERE was born around 1850 in the Fort Alexander Reserve (MB), son of Francoise MAINVILLE and Joseph BRUYERE (1815-1906) from Quebec. ** MORE ABOUT JOSEPH BRUYERE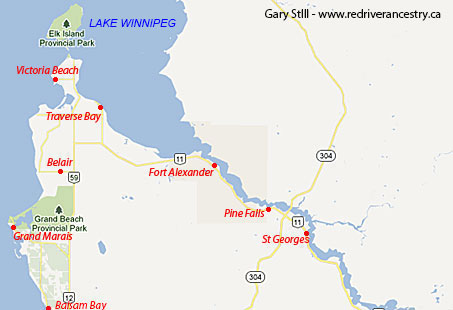 Canadian Confederation
A Red River Rebellion
Manitoba becomes a Province
Signing of Treaty Number One
1867-1871
On July 1, 1867 the British colonies in North America were united under the British North American Act to become the Dominion of Canada.  Sir John A MACDONALD (1815-1891) was appointed as Canada's first Prime Minister. William McDOUGALL (1822-1905) became the Minister of Public Works, and he began negotiations to acquire Rupert's Land from the HBC; surveyors were sent to Red River to prepare the way for an expected influx of settlers.
On Oct 11, 1869, Louis RIEL (1844-1885) placed his foot on the surveyors' chain to tell them their work was finished! This marked the beginning of the historic Red River Métis Rebellion.
On July 15, 1870 the Rebellion ended when RIEL's Provisional Government accepted the terms of the Manitoba Act and Manitoba became the fifth province of Canada.
In 1871 KAKAKEPENAISE (William MANN) signed Treaty Number One (The Stone Fort Treaty) on behalf of the Sagkeeng (Fort Alexander) First Nation people.
Marriage to Maria Ann CALDER
1873
On Jun 11, 1873 Alex married in St Clements to Maria Anne CALDER, daughter of Maria GIBSON and James CALDER (1826-1896). ** MORE ABOUT JAMES CALDER
Census of 1881 in the Fort Alexander (Sagkeeng) Indian Reserve: Alexander BRUYERE, age 31; wife Maria, age 25. Children: Charles (age 8), Edward (6), Marie Jane (4) and Gabriel (age 2).
Transferred from Fort Alexander Band to Couchiching Band
1891
In 1891 Alex and his family were transferred from Fort Alexander to the Couchiching Indian Reserve at Fort Frances, Ontario.

Census of 1891 in the Couchiching Indian Reserve: Alexander BRUYERE, age 30; wife Maria Ann, age 31. Children: Charles (age 17), Mary Jane (13), Gabriel (12), Alexander (9), Alfred (7), Joseph (5) and Christy (age 2).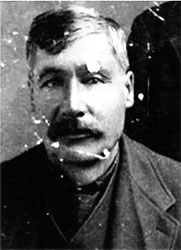 Band No. 46 – Couchiching First Nation (Algoma University)
Alex Bruyere Sr (1854-1933)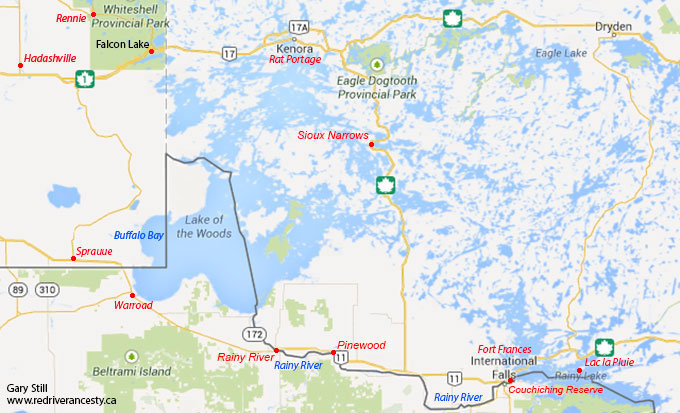 Census of 1901 (Couchiching Agency): Alex BRUYAR (BRUYERE), age 47; wife Maria Ann, age 45. Children: Alexander (age 19), Alfred (17), Joseph (15), Christie (10), Morris (8), Louis (6) and Margaret (age 4).
In 1904 son Alfred married Eliza LINKLATER, daughter of Elizabeth MAINVILLE and David LINKLATER (1861-1896).
Around 1908 son Alexander Robert married Josephine (nee POT) VINCENT, daughter of NOTINAHEQUOTOOKE and Jack ake: SHAWAYKEEJICK POT (b-1861 in Seine River First Nation).
Census of 1911 in the Couchiching Reserve:  Alexander BRUYERE, age 58; wife Mary Anne, age 55. Children: Christine (age 23), Morris (21), Louis (18) and Margaret (age 16).
Around 1912 son Alfred (widowed) re-married to Esther SINCLAIR, daughter of Elizabeth THOMAS & William SINCLAIR (1856-1924). ** MORE ABOUT WILLIAM SINCLAIR
Around 1913 daughter Christina married Alexander MORRISSEAU, son of Isabelle JOURDAIN and William MORRISSEAU (1859-1931).
World War I
1914-1918
On Aug 4, 1914 Great Britain (Canada on Aug 5) declared war on Germany and Austria-Hungary to uphold treaties with France and Belgium which were under German attack. This marked the beginning of World War I.
In 1914 son Louis married Mary Ann COCHRANE in the Rainy River district, daughter of Maggy and Thomas COCHRANE (b-1859).
Around 1914 son Maurice married Mary GUIMOND, daughter of Susan McGINNIS and Joseph GUIMOND (1866-1943).
In 1915 Maria Ann (nee CALDER) BRUYERE died in the Couchiching Reserve.
On Jan 17, 1916 son Maurice enlisted at Fort Frances.
November 11,1918, Armistice Day (Remembrance Day) marked the end of the First World War.
Marriage to Uniel (nee GUIMOND) CHASTELLAINE
Alexander's second wife was Uniel (nee GUIMOND) CHASTELLAINE, daughter of Elizabeth LINKLATER and Joseph GUIMOND (1831-1904). Uniel was the widow of Xavier CHASTELLAINE (b-1849) who died before 1901.
Census of 1921 in the Couchiching Reserve: Alex BRUYERE, widowed Ojibway hunter, age 68.
Around 1922 son Maurice (widowed) married Annie (nee ADAMS) CYR, daughter of Mary AYZHEQUAYWEDUMOKE SKY and Harlon "Andrew" ADAMS (1881-1908). Annie was the widow of Bruno McPHERSON (CYR), son of Marianne QUESANCE JOURDAIN and Pierre CYR (b-1882).
Around 1922 daughter Margaret was married to Henry PERREAULT, son of Rosette MAINVILLE and Jean Baptiste PERREAULT (1848-1931).
In 1924 son Gabriel married his sister-in-law, Veronica Sarah MORRISSEAU, in the Rainy River District, daughter of Isabelle JOURDAIN and William MORRISSEAU (1859-1931).
On May 2, 1933 Alexander BRUYERE died in the Couchiching Reserve. In 1941 his wife Uniel died there too.
 Comments and queries at this link: FORUM for DISCUSSING THE FAMILY OF ALEXANDER BRUYERE
========================= Family Details =========================
Children:
1. 1873 CHARLES BRUYERE
2. 1875 EDWARD BRUEYRE
3. 1877 MARIE JANE BRUYERE (Died age 23)
4. 1879 GABRIEL BRUYERE (m. Veronica Sarah MORRISSEAU)
5. 1882 ALEXANDER ROBERT SANDY BRUYERE (m. Josephine (nee POT) VINCENT)
6. 1884 ALFRED BRUYERE (m1. Eliza LINKLATER; m2. Esther SINCLAIR)
7. 1886 JOSEPH BRUYERE (Died age 21)
8. 1891 CHRISTIE BRUYERE (m. Alexander MORRISSEAU)
9. Jul 5, 1892 MAURICE NORMAN BRUYERE (m1. Mary GUIMOND; m2. Annie (nee ADAMS) CYR)
10. 1895 LOUIS BRUYERE (m. Mary Ann COCHRANE)
11. 1897 MARGARET BRUYERE (m. Henry PERRAULT)
12. 1901 MARIE JOSEPHINE BRUYERE (Died in infancy)
13. 1905 GILBERT BRUYERE (Died in infancy)